First published in Country Music People- October 1971
I feel sure that many country fans don't realise the importance of Slim Whitman, who has become such a fixture on the scene that he is taken for granted by all but his fanatical followers. Born Otis Dewey Whitman Junior on January 20, 1924, in Tampa, Florida, Slim made his first recordings in early 1949, under the guidance of Colonel Tom Parker. Parker had just made a lot of money with Eddy Arnold, and has since made much more with Elvis Presley. These recordings were made for the RCA Victor Company, ten sides were cut, all of which are now available on a Camden album. Although the songs and performances were good, nobody seemed interested in these records by Slim Whitman, which were soon deleted. Slim returned to Shreveport to appear regularly on the Louisiana Hayride, where he was one of the star performers.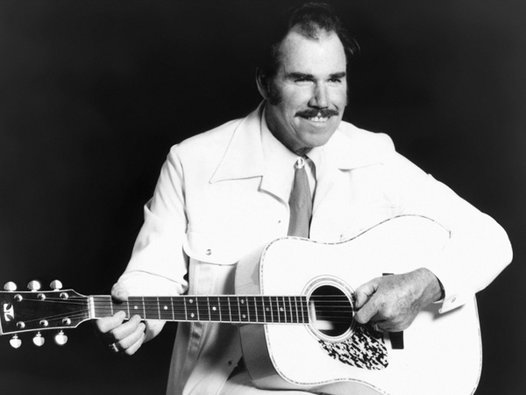 Early in 1952, due to his success on the 'Hayride' he was signed by Imperial Records of Hollywood, and so began a search for suitable songs to adapt to his unique vocal style. His first recording for Imperial was an old 'lost' song from the 1930s, Love Song Of The Waterfall written by Bob Nolan, leader of the Sons of the Pioneers, provided Slim Whitman with his first major hit in America.
The success of this recording was due to two things, the 'singing' steel guitar and Slim's controlled singing which could effortlessly soar into falsetto. What many people didn't realise, especially in Britain, was that Whitman didn't provide the 'singing steel guitar' himself, in fact on most of Slim's early recordings the steel was played by Host Rains, who was also a member of Slim's group The Stardusters.
Very soon after Love Song Of The Waterfall, Slim Whitman began his unique knack of taking an established pop song and turning it into a country song. Many will argue that this isn't possible, but in late 1952 Whitman topped the country charts with The Indian Love Call taken from the musical Rose Marie. In the next few years he was to repeat this success many times with such diverse material as Beautiful Dreamer, Secret Love, Song Of The Old Waterwheel, Danny Boy, North Wind, Cattle Call and Serenade. Several of these provided Slim with hit-parade success in Britain and in November 1956 he was the first country artist to tour Britain on his own, and to play and fill the famous London Palladium.
Slim Whitman was a very popular artist in Britain in the mid-1950s and the fans from this era have never forgotten the six foot plus yodelling country singer. His record releases in Britain over the past 20 years outnumber any other country star, although he has not been in the best sellers since 1958. When he returned to the States after his successful 1957 tour of Britain which lasted eight months, his record sales over there also suffered. This only affected sales of his singles, and Slim has since concentrated on albums, with most single releases being culled from his albums. Several of these singles were minor hits in the country charts but none achieved the success of Rose Marie and Indian Love Call.
Slim's choice of songs was still as varied as before, ranging from his outstanding version of Bob Nolan's Cool Water, to more pop influenced recordings of Careless Hands and The Wiffenpoof Song. Although in the late 1950s Whitman retained the steel guitar in the forefront of his recordings, it was slowly beginning to take a back seat to his vocal. He was, like many country stars, experimenting with the use of orchestra and choral effects, but this was always tastefully done, with the orchestra well in the background, and Slim's vocal and guitar to the fore.
In 1963 he recorded his Yodelling album, considered by many to be his finest recording. Surprisingly the steel guitar was completely missing, replaced by an excellent country group, that complemented Slim's excellent vocal work which soared up and down the scale to perfection. After this album though, Slim's recordings began for the first time to really stray from his basic country style with the orchestra being evident on all his recordings, and the steel guitar really dropping out of favour.
In 1964 he made a brief return to the country charts with an Australian song Reminiscing, and has regularly appeared in the charts since with More Than Yesterday, Happy Street, Rainbows Are Back In Style, and last year [1970] with Tomorrow Never Comes. Unlike so many other country singers Slim doesn't fall into the trap of recording all the current country hits. He appears to take time in sifting through suitable songs, and has even introduced many English pop songs to Nashville. It was Slim's insistence that persuade Sonny James to record Tom Springfield's I'll Never Find Another You. Last year he recorded I Pretend, which had been a hit for Des O'Conner in Britain.
Also last year he made his third successful tour of Britain, and although he was unable to bring his own musicians over, he recreated his early sound from the 1950s admirably. This was due to Gerry West's fine oscillating steel guitar work, which Slim was really pleased with.
Because of the lack of yodelling on Slim's later recordings many thought the yodel would be missing from his act, but this was not to be. True it was not as strong as 13 years previous, but by experienced 'mic' technique Slim proved what a fine artist he is. He has now been a near fixture in country music for over 20 years, and it appears that Slim Whitman is destined to just go on and on.
- Alan Cackett