First published in Country Music People, October 1973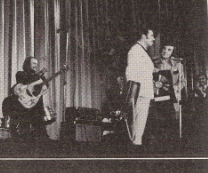 To sustain a successful recording career for twenty-five years is a unique achievement and to commemorate Slim Whitman's quarter-century as a major recording artists a special 'live' album was recorded on his last visit to Britain during the spring. It was only fitting that many of the songs that Slim sang at this concert were the ones that formed the foundation of his career.
Slim Whitman is one of the most popular country artists to have visited Britain and one often wonders why. His music has not got the excitement of Johnny Cash, not the extra polish of Jim Reeves, and he doesn't have the good looks of Glen Campbell. The success of Whitman in Britain is a combination of nostalgia and consistency. The nostalgia stems from his golden period of the mid-1950s when he not only topped the British pop charts with
Rose Marie
but also undertook sell-out concert appearances right across the country—a first for a country artist, and at a time when country music was not altogether popular.
Anyone who can still command a regular following after more than twenty years must be consistent, and Slim Whitman is. He still avoids any songs that may be controversial, songs of broken marriages, drink and other vices are out, Slim likes to keep his repertoire nice and clean, this is what the fans have come to expect. Basically, the songs he records today are the same as those at the beginning. He adapts popular songs to suit his own individual style and also takes in both current and older country songs. His style upsets a lot of people. The only concession with modern times is that the production of his later recordings fits nicely into the modern Nashville sound. Apart from that Slim Whitman sticks to the style that made him a household name around the world.
His rise to the top was quick though. He began his recording career wit RCA Victor at the end of 1948 but it wasn't till four years later and a move to the Imperial label that he began to make his mark as a recording artist. His first record for the new label was
Love Song Of The Waterfall
, an old Sons of the Pioneers song that began a long line of Slim Whitman hits during the 1950s which were all characterised by effortless yodelling and falsetto work with the famous 'singing' steel guitar adding the commercial effect that meant success instead of failure.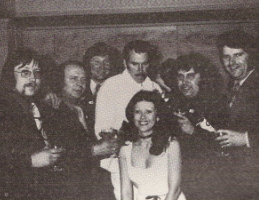 Whitman was shrewd from the beginning. There was no denying that he had a good voice, but to begin with, his records gained attention because of the unusual blending of oscillating steel guitar with the yodel—in the trade it was known as a gimmick. Whitman built on that gimmick, but never strayed from the safety of country music. True many of his songs can hardly be termed country, but then Slim Whitman proved from the very beginning that you can turn any song into a country recording by the feel you have for the music and the way you perform it. With this in mind he took show songs like
Rose Marie
and
Indian Love Call
and topped the country charts, so much was his feel for the music that many country fans began to think that these were in fact country songs.
This has been Slim Whitman's way throughout his career. He has been an individual in country music, though there are and have been other yodellers in country music, there's none quite like Slim Whitman. His choice of material has been wide, his yodelling technique being equally fitting on western ballads, Jimmie Rodgers songs or even contemporary pop songs. In Britain he is a legend and not a legend of the past, during the past four or five years he has built up a nice new following due to his very successful tours of Britain.
The Slim Whitman Appreciation Society is most probably the best organised and supported fan club for a country artist, and his record company have carefully taken note of this keen interest in Slim Whitman and carefully geared up their releases to appeal to his many fans. Slim Whitman has been involved in country music for twenty-five years and I can't see this involvement ending for a long time yet. It seems his career will just go on and on.