Skip Ewing - The Nashville Cats
First Published in Country Music International, August 1997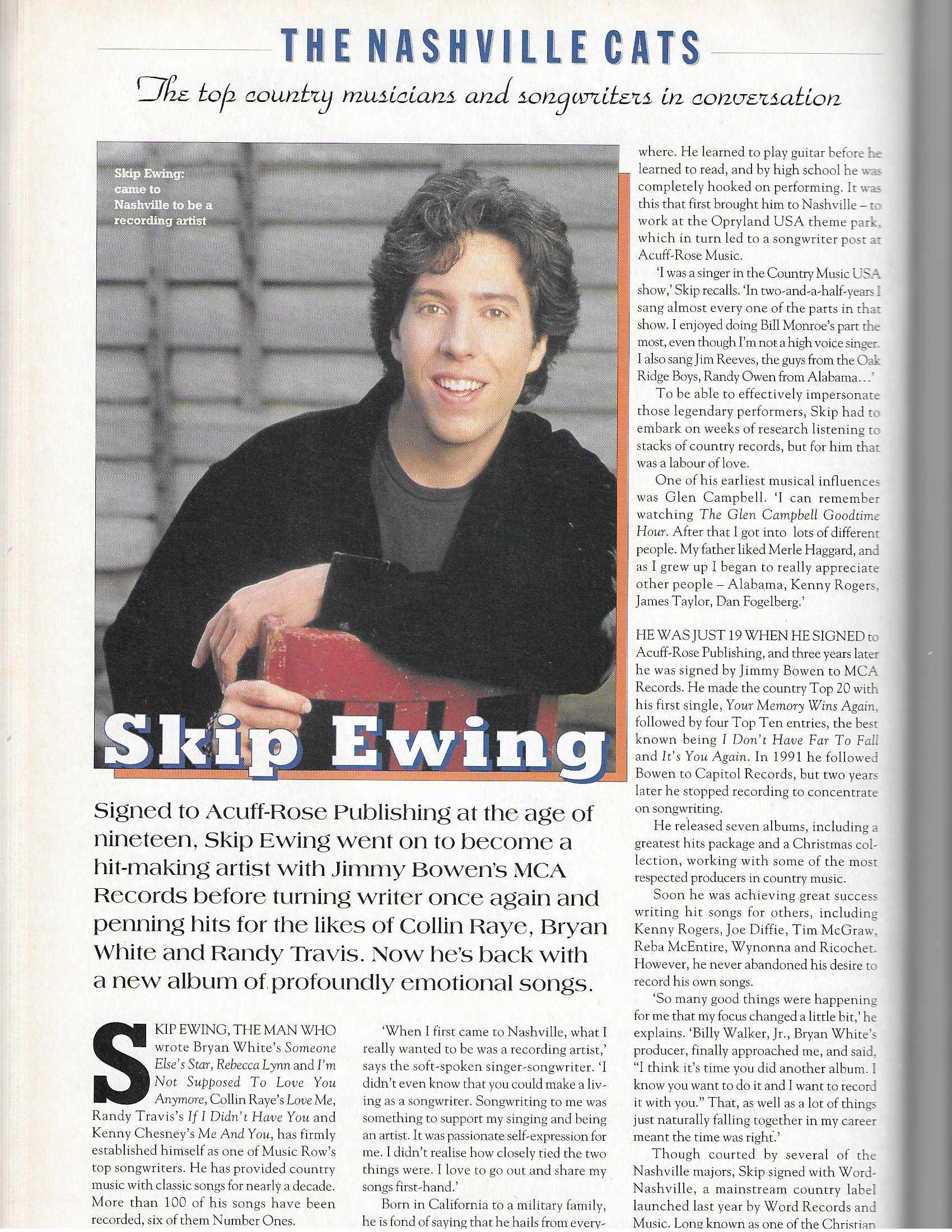 Signed to Acuff-Rose Publishing at the age of nineteen, Skip Ewing went on to become a hit-making artist with Jimmy Bowen's MCA Records before turning writer once again and penning hits for the likes of Collin Raye, Bryan White and Randy Travis. Now he's back with a new album of profoundly emotional songs.
Skip Ewing, the man who wrote Bryan White's Someone Else's Star, Rebecca Lynn and I'm Not Supposed To Love You Anymore, Collin Raye's Love Me, Randy Travis' If I Didn't Have You and Kenny Chesney's Me And You, has firmly established himself as one Music Row's top songwriters. He has provided country music with classic songs for nearly a decade. More than 100 of his songs have been recorded, six of them number ones.
"When I first came to Nashville, what I really wanted to be was a recording artist," says the soft-spoken singer-songwriter. "I didn't even know that you could make a living as a songwriter. Songwriting to me was something to support my singing and being an artist. It was passionate self-expression for me. I didn't realise how closely tied the two things were. I love to go out and share my songs first-hand."
Born in California to a military family, he is fond of saying that he hails from everywhere. He learned to play guitar before he learned to read, and by high school he was completely hooked on performing. It was this that first brought him to Nashville—to work at Opryland USA theme park, which in turn led to a songwriter post at Acuff-Rose Music.
"I was a singer in the Country Music USA show," Skip recalls. "In two-and-a-half-years I sang almost every one of the parts in that show. I enjoyed doing Bill Monroe's part the most, even though I'm not a high voice singer. I also sang Jim Reeves, the guy from the Oak Ridge Boys, Randy Owen from Alabama ..."
To be able to effectively impersonate those legendary performers, Skip had to embark on weeks of research listening to stacks of country records, but for him that was a labour of love.
One of his earliest musical influences was Glen Campbell. "I can remember watching the Glen Campbell Goodtime Hour. After that I got into lots of different people. My father liked Merle Haggard, and as I grew up I began to really appreciate other people—Alabama, Kenny Rogers, James Taylor, Dan Fogelberg."
He was just 19 when he signed to Acuff-Rose Publishing, and three years later he was signed by Jimmy Bowen to MCA Records. He made the country top 20 with his first single, Your Memory Wins Again, followed by four top ten entries, the best known being It's You Again. In 1991 he followed Bowen to Capitol Records, but two years later he stopped recording to concentrate on songwriting.
He released seven albums, including a greatest hits package and a Christmas collection, working with some of the most respected producers in country music.
Soon he was achieving great success writing hit songs for others, including Kenny Rogers, Joe Diffie, Tim McGraw, Reba McEntire, Wynonna and Ricochet. However, he never abandoned his desire to record his own songs.
"So many good things were happening for me that my focus changed a little bit," he explains. "Billy Walker Jr., Bryan White's producer, finally approached me, and said: 'I think it's time you did another album. I know you want to do it and I want to record it with you.' That, as well as a lot of things just naturally falling together in my career meant the time was right."
Though courted by several of the Nashville majors, Skip signed with Word-Nashville, a mainstream country label launched last year by World Records and Music. Long known as one of the Christian music industry's most successful major labels, Word is now a part of Gaylord Entertainment, the huge Nashville company that also owns Opryland Music Group, formerly known as Acuff-Rose Publishing, with whom Skip signed a dozen years ago and has stayed ever since.
"Billy's played on almost everything I've recorded," Skip says, "and we've developed a wonderful friendship." From working in the studio together, the two moved on to co-write some songs, and subsequently, Ewing played guitar on two of Walker's critically acclaimed jazz album.
"I started playing guitar when I was four years old and I've played it all my life," he says. "I've played on some pretty big records, including Randy Travis's
If I Didn't Have You, 
and I've just finished playing on Clint Black's new album, NOTHING BUT TAIL LIGHTS. He and I wrote a song for the album together called
Something That We Do. 
We met backstage at the Country Radio Seminar here in Nashville. We just got talking and said we should get together, and something really good happened out of it."
Skip's new album, UNTIL I FOUND YOU, finds him teaming up with some of Nashville's finest writers, including Kent Blazy, Tim Johnson, Victoria Shaw, Gary Chapman and Donny Kees. Over the years he has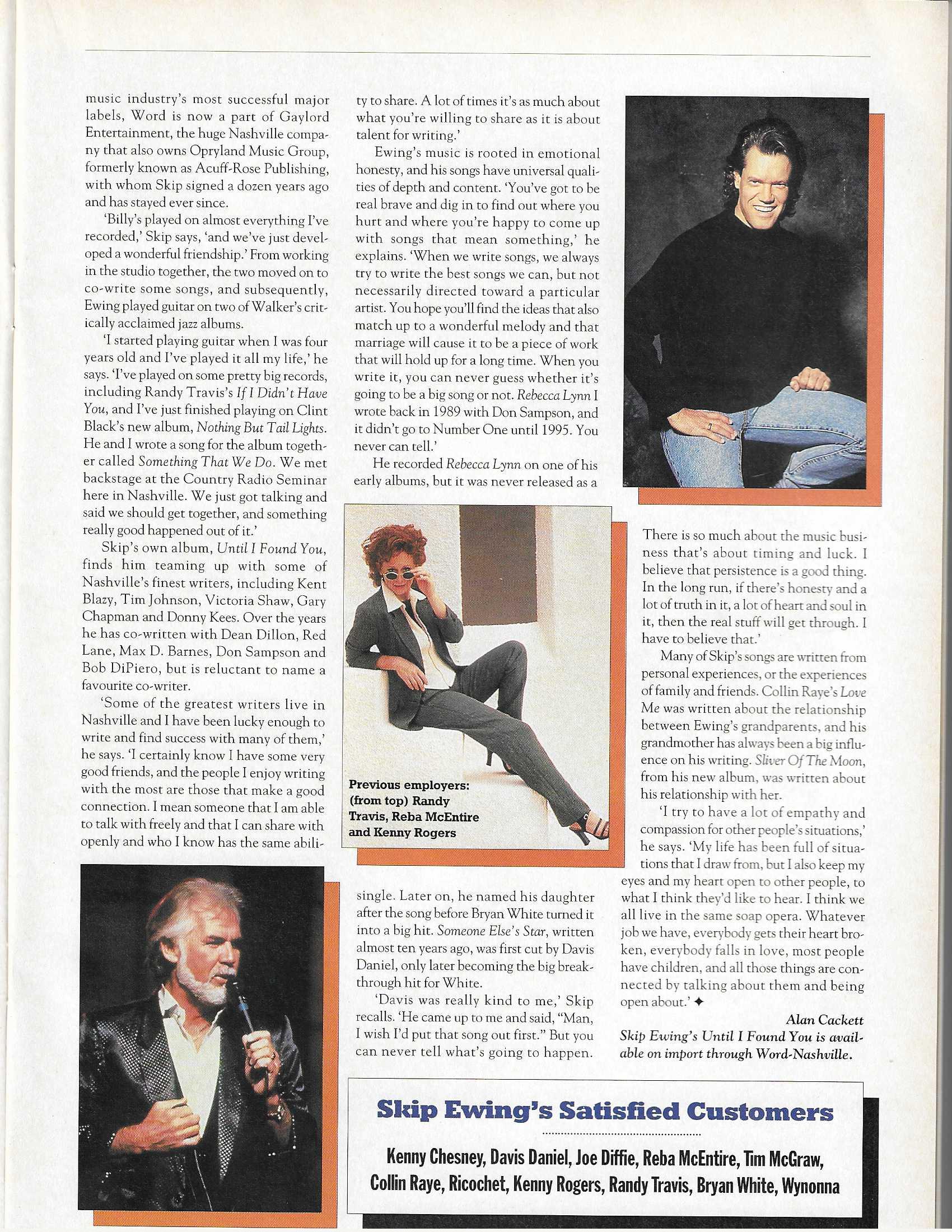 co-written with Dean Dillon, Red Lane, Max D. Barnes, Don Sampson and Bob DiPiero, but is reluctant to name a favourite co-writer.
"Some of the greatest writers live in Nashville and I have been lucky enough to write and find success with many of them," he says. "I certainly know I have some very good friends, and the people I enjoy writing with the most are those that make a good connection. I mean someone that I am able to talk with freely and that I can share with openly and who I know has the same ability to share. A lot of times it's as much about what you're willing to share as it is about talent for writing."
Ewing's music is rooted in emotional honesty, and his songs have universal qualities of depth and content. "You've got to be real brave and dig in to find out where you hurt and where you're happy to come up with songs that mean something," he explains. "When we write songs, we always try to write the best songs we can, but not necessarily directed toward a particular artist. You hope you'll find the ideas that also match up to a wonderful melody and that marriage will cause it to be a piece of work that will hold up for a long time. When you write it, you can never guess whether it's going to be a big song or not. Rebecca Lynn I wrote back in 1989 with Don Sampson, and it didn't go to number one until 1995. You never can tell."
He recorded Rebecca Lynn on one of his early albums, but it was never released as a single. Later on, he named his daughter after the song before Bryan White turned it into a big hit. Someone Else's Star, written almost ten years ago, was first cut by Davis Daniel, only later becoming the big breakthrough hit for White.
"Davis was really kind to me," Skip recalls. "He came up to me and said, 'Man, I wish I'd put that song out first.' But you can never tell what's going to happen. There is so much about the music business that's about timing and luck. I believe that persistence is a good thing. In the long run, if there's honesty and a lot of truth in it, a lot of heart and soul in it, then the real stuff will get through. I have to believe that."
Many of Skip's songs are written from personal experiences, or the experiences of family and friends. Collin Raye's Love Me was written about the relationship between Ewing's grandparents, and his grandmother has always been a big influence on his writing. Sliver Of The Moon, from his new album, was written about his relationship with her.
"I try to have a lot of empathy and compassion for other people's situations'," he says. "My life has been full of situations that I draw from, but I also keep my eyes and heart open to other people, to what I think they'd like to hear. I think we all live in the same soap opera. Whatever job we have, everybody falls in love, most people have children, and all those things are connected by talking about them and being open about."