First Published in Country Music International, January 1997
After nearly sixty years, one of the country music's most resilient and best-loved sub-genres is still rolling. Along with the likes of Junior Brown, Rosie Flores, Steve Earle and BR5-49, a high-speed truckin' compilation from Diesel Only Records will send roadsters full throttle into the 21st century. Alan Cackett climbs up into the cab.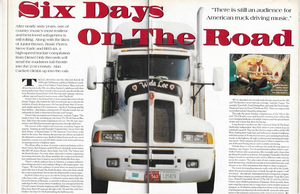 Truck driving music began back in 1939 with Cliff Bruner and Moon Mullican's rendition of Ted Daffan's Truck Drivers' Blues, and took off in a big way in the 1960s, providing America's jukeboxes with their most popular tunes. More recently it has received a new shot in the arm from Brooklyn-based Diesel Only Records and a loping, vigorous, caffeine-injected brand of trucker music called 'Rig Rock'.
Diesel Only is the brainchild of musician/producer/record nut Jeremy Tepper, who formed the label several years ago to elevate the tradition of truck-driving music. He has issued more than 30 seven-inch singles and two CD compilations—RIG ROCK TRUCKSTOP and RIG ROCK JUKEBOX—that feature contemporary 18-wheeler sounds that are tailor-made for dusk to dawn travel through rural Georgia.
"Diesel Only was started out of desperation," explains Tepper. "The bands in New York, including my own band, The World Famous Blue Jays, didn't have the means of getting records out. The 45s were inexpensive and offered promotional opportunities through jukeboxes."
The success of the singles took everyone, including Tepper, by surprise. Teaming up with Rounder's Upstart label, Diesel Only's RIG ROCK DELUXE: A MUSICAL SALUTE TO THE AMERICAN TRUCK DRIVERS is the third in the series. But whereas the previous two albums spotlighted the alternative country scene, RIG ROCK DELUXE boasts an all-star cast of legendary country acts and left-field country-rock artists performing an amazing mixture of highway tunes.
The album offers an array of veteran country performers such as Buck Owens, Red Simpson and Del Reeves alongside newer names like BR5-49, Junior Brown, Steve Earle, Son Volt, The Yahoos and the Bottle Rockets. At a time when alternative country is garnering increasing attention, the album amplifies the connection between past and present that is largely ignored by Nashville these days.
"There's a whole audience here in America, a younger audience, that is being exposed to and is taking a liking to old country music," says Tepper. "We had that audience in mind when we mixed in newer artists like Son Volt and The Bottle Rockets, who come from outside the country mainstream, but are heavily influenced by country music."
RIG ROCK DELUXE lives up to its title by being the best Rig Rock collection to date, and Tepper, a confirmed country music freak who knows his history of the music, is currently working on a truck-driving anthology for the Country Music Foundation. It is anticipated that the CD will contain 24 tracks, beginning with Cliff Bruner's Truck Driver's Blues from almost 60 years ago through to the 1950s and 1960s, with Dave Dudley's Six Days On The Road marking the halfway point.
"We've identified a lot of early truck driving songs from the 1940s and 1950s that have never had any coverage," explains Tepper. "For example, Terry Fell's Truck Driving Man, and songs like Diesel Smoke, Dangerous Curves by Doyle O'Dell from 1952. There are songs on this record that nobody's heard for a long time."
Through the great Starday compilations of the 1960s to the mid-1970s CB radio craze and beyond, trucking tunes reflect the ever-changing landscape of roadside America and the special breed of men and women that drive the big rigs.
Long-distance truckers are like a mystical King Of The Road. Stubbornly independent, they flatly refuse to join a union or go on somebody's payroll. They are like the free-range cowboys of the Old West, hauling their loads back and forth across America's highways with their stories of 18-wheeled salvations, gear-jamming heartbreak, wrecks on the highway, all-night truckstops and outwitting the highway patrol. Their romantic glorification of what to many has to be one of the most boring jobs on earth, is utterly convincing.
"I think there is still an audience for truck driving music in America," says Tepper. "For the professional roadsters there's a network of various radio programmes, like overnight radio shows that are directed towards truck drivers. For example, Nashville's The Road Gang is broadcast simultaneously on five different radio stations across the country. They play a mix of new country music and old truck driving songs, and drivers can tune in for weather forecasts, road closures or any other information that relates to their occupation."
The truck-driving phenomenon really took off in the South, where the first great economic force to break through the region's wall of isolation—the railroad—had inspired a body of songs that comprise the single largest category in country and folk music. Songs like Casey Jones, Wabash Cannonball, Wreck Of The Old '97 and City Of New Orleans, have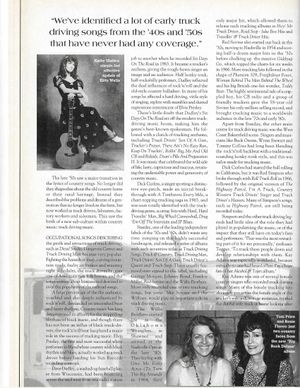 thrilled generations of listeners. More recently, these train songs have given way to songs about a more modern means of transport, as 18-wheelers replaced the Iron Horse as the only means of getting mass-produced goods and foodstuffs across the wide open spaces to the scattered communities of the American heartland.
The late 1950s saw a major transition in the lyrics of country songs. No longer did they rhapsodise about the old country home or their rural heritage. Instead they described the problems and dreams of a generation that no longer lived on the farm, but now worked as truck drivers, labourers, factory workers and salesmen. This saw the birth of a new sub-culture within country music: truck driving music.
Occupational songs describing the perils and attractions of truck driving, such as Diesel Smoke, Dangerous Curves and Truck Driving Man became very popular. Fighting the hazards of sleep, curving mountain-roads, faulty air brakes and meeting tight schedules, the truck drivers became one of America's new folk heroes, and the songs written about him seemed destined to rival the popularity of the railroad songs.
A large percentage of the audience, youthful and also deeply influenced by rock'n'roll, demanded an intensified beat and faster rhythms. Country music has long demonstrated its affinity for the stepped-up rhythms of black music, and though there has not been an influx of black truck drivers, the rock'n'roll beat has played a major role in the success of trucking music. Elvis Presley, the first and most successful white performer to blend white country with black rhythm and blues, actually worked as a truck driver before landing his Sun Records recording contract.
Dave Dudley, a washed-up baseball player from Wisconsin, had been bouncing across the mid-west from one radio station job to another when he recorded Six Days On The Road in 1963. It became a trucker's anthem, giving the rough-hewn singer an image and an audience. Half honky-tonk, half-rockabilly performer, Dudley reflected the dual influences of rock'n'roll and the old-style country balladeer. In many of his songs he affected a hard driving, virile style of singing, replete with mumbles and slurred expressions reminiscent of Elvis Presley.
There's little doubt that Dudley's Six Days On The Road set off the modern truck driving music boom, making him the genre's best-known spokesman. He followed with a clutch of trucking anthems, including Truck Drivin' Son Of A Gun, Trucker's Prayer, There Ain't No Easy Run, Keep On Truckin, Rollin' Rig, Me And Old CB and Rolaids, Doan's Pills And Preparation H. it was music that celebrated the wild side of life; lusty, capricious and raucous, retaining the undeniable power and generosity of country music.
Dick Curless, a singer sporting a distinctive eye-patch, made an initial break through with A Tombstone Every Mile, a chart-topping trucking saga in 1965, and was soon totally identified with the truck-driving genre, scoring hits with Hard, Hard Travelin' Man, Big Wheel Cannonball, Drag 'Em Off The Interstate and JP Blues.
Starday, one of the leading independent labels of the 1950s and 1960s, didn't waste any time jumping on this highly successful bandwagon, and released a series of albums with such inventive titles as Truck Driving Songs, Truck & Country, Truck Drivin' Son Of A Gun, Truck Driver's Queen and Truck Stop. These usually featured stars signed to the label, including George Morgan, Johnny Bond, Frankie Miller, Red Sovine and the Willis Brothers. Most only recorded one or two trucking songs, but some, like Sovine and the Willises, would play an important role in truck driving music.
The Willis Brothers started life as the Oklahoma Wranglers in Shawnee and arrived at the Nashville Opry in the late 1940s. They hit big with Give Me Forty Acres (To Turn This Rig Around) in 1964, their only major hit, which allowed them to release such trucking albums as HEY! MR TRUCK DRIVER, ROAD STOP—JUKE BOX HITS and TRAVELLIN' & TRUCK DRIVER HITS.
Red Sovine also started out back in the 1930s, moving to Nashville in 1954 and scoring half-a-dozen major hits in the 1950s before chalking up the massive Giddyup Go, which topped the charts for six weeks in 1966. More trucking hits followed in the shape of Phantom 309, Freightliner Fever, Women Behind The Man Behind The Wheel and his big British one-hit wonder, Teddy Bear. The highly sentimental tale of a crippled boy, his CB radio and a group of friendly truckers gave the 58-year-old Sovine his only million-selling record, and brought trucking music to a worldwide audience in the late 1970s and early 1980s.
Part from Starday, the other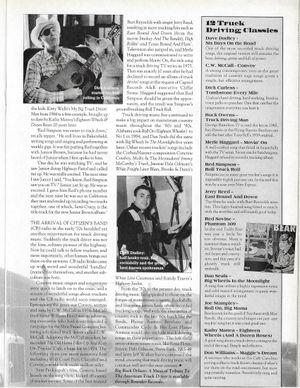 main centre for truck driving music was the West Coast Bakersfield scene. Singers and musicians like Buck Ownes, Wynn Stewart and Tommy Collins had long been blending the rock'n'roll backbeat with a traditional-sounding honky-tonk style, and this was tailor-made for trucking music.
Dick Curless had started the ball rolling in California, but it was Red Simpson who broke through with ROLL, TRUCK, ROLL in 1966, followed by original versions of The Highway Patrol, I'm A Truck, Country Western Truck Drivin' Singer and Truck Driver's Heaven. Many of Simpson's songs, such as Highway Patrol, are still being recorded today.
Simpson and the other truck driving legends had little idea of the role they had played in popularising the music, or of the impact that they still have on today's fans and performers. "That was the most rewarding part of it for me personally," enthuses Tepper. "To track these people down and develop relationships with them. Kay Adams was especially wonderful, because virtually no one had heard of her. I'm a huge fan of her ALCOHOL & TEARS album."
Kay Adams was one of several female country singers who recorded truck driving songs. Many of the female trucking hits obviously put across the female angle of the trucker's wife and, in most instances, typified the dutiful wife stuck at home looking after the kids. Kitty Wells' My Big Truck Drivin' Man from 1966 is a fine example, brought up to date by Kathy Mattea's Eighteen Wheels & Dozen Roses 20 years later.
"Red Simpson was easier to track down," recalls Tepper. "He still lives in Bakersfield, writing songs and singing and performing at weekly gigs. It was fun putting Red together with Junior Brown, because he had never heard of Junior when I first spoke to him. One day he was watching TV, and he saw Junior doing Highway Patrol and called me up. He was really excited. The next time I saw Junior I said, 'You know, Red Simpson saw you on TV.' Junior just lit up. He was so excited. I gave him Red's phone number and the next time he was out in California they met up and ended up recording two tracks together, one of which, Semi-Crazy, is the title track for the new Junior Brown album."
The arrival of Citizen's Band (CB) radio in the early 1970s heralded yet another rejuvenation for truck driving music. Suddenly the truck driver was not the lone, solitary pioneer of the highway. Now he could talk to fellow truckers, and more importantly, other human beings out there on the airwaves. CB radio freaks came up with weird and wonderful 'handles' (names) for themselves, and another sub-culture was born.
Country music singers and songwriters were quick to latch on to the craze, and a stream of wonderful songs about truckers and the CB radio world soon emerged. Epitomising the genre was Convoy, written and sung by C.W. McCall in 1976. McCall (real name William Fries) was an advertising executive who had masterminded a campaign for the Metz Bread Company featuring a fictional truck driver called C.W. McCall. Adopting the McCall moniker, he recorded The Old Home Filler-Up and Keep On-Truckin' Café, a huge hit in 1974. The following years saw more narrative hits including Wolf Creek Pass, Classified and Convoy, a world-wide multi-million seller.
Sam Peckinpah's film, Convoy, based loosely on the song's lyrics, kicked off a series of trucker movies. Some of the best teamed Burt Reynolds with singer Jerry Reed, resulting in more tucking hits such as East Bound And Down (from the film Smokey And The Bandit), High Rollin' and Texas Bound And Flyin'. Television also jumped in, and Merie Haggard was commissioned to write and perform Movin' On, the title song for a truck driving TV series in 1975. That was exactly ten years after he had declined to record an album of truck drivin' songs at the request of Capitol Records a&r executive Cliffie Stone. Haggard suggested that Red Simpson should be given the opportunity, and the result was Simpson's groundbreaking ROLL, TRUCK, ROLL.
Truck driving music has continued to make a big impact on mainstream country music throughout the 1980s and 1990s. Alabama took Roll On (Eighteen Wheeler) to No. 1 in 1984, and Dan Seals did the same with Big Wheels In The Moonlight five years later. Other recent truckin' songs include the Corbin/Hanner composition Concrete Cowboy, Molly & The Heymakers' Jimmy McCarthy's Truck, Jimmie Dale Gilmore's White Freight Liner Blues, Brooks & Dunn's White Line Casanova and Randy Travis's Highway Junkie.
From the 1950s to the present day, truck driving music has appealed to those on the fringes of mainstream country. Rockabilly and bluegrass artists have often recorded trucking songs, and with the emergence of country-rock in the late 1960s, bands like Byrds, Flying Burrito Brothers and Commander Cody & His Last Planet Airmen would also include truck driving songs in their repertoires. The left-field artists of more recent times, like Rosie Flores, Jimmie Dale Gilmore, Steve Earle, BR5-49 and Jerry Jeff Walker have continued the trend, ensuring that truck driving music will continue well into the next century.