First published in Country Music Review, September 1973
Shirley Field & Billy G French - From Canada with love
Shirley Field and Billy G. French are recognised as Canada's most travelled entertaining pair. With their well-known Shirley Field Show they have jou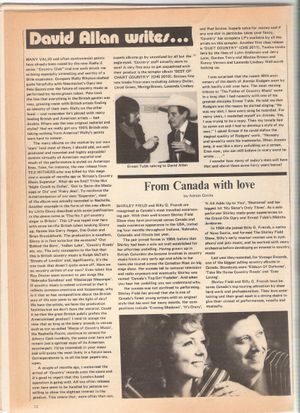 rneyed across Canada and made numerous appearances in the USA, including four months throughout Indiana, Nebraska, Colorado and Illinois last year.
The pair joined forces in 1964; before that Shirley had been a solo act well established for her effortless yodelling. Having grown up in British Columbia she became involved in country music from a very early age and while in her teens she toured across the Canadian West on big stage show. Her success led to national television and radio exposure and eventually Shirley was named 'Canada's Top Girl Yodeller'. When you hear her yodelling you can understand why. Her success was not confined to performing. Shirley Field has proved that she is one of Canada's finest young writers with an original style that won her many awards. Her compositions include Evening Shadows, It's Crazy, It All Adds Up to You, Shattered and her biggest hit My Sister's Only Three. As a solo performer Shirley made guest appearances on the Grand Ole Opry and Ernest Tubb's Midnite Jamboree.
In 1964 she joined Billy G. French, a native of Nova Scotia, and formed The Shirley Field Show. Billy's early musical interest was in symphony and jazz music, and he worked with many orchestras before developing an interest in country music.
Last year they recorded TOGETHER, for Vintage Records, one of the biggest selling country albums in Canada. Standouts were Ribbon of Darkness, Take Me Home Country Roads and Easy Loving.
Shirley Field and Billy G. French have become Canada's top touring attraction by sheer hard work and professionalism. They love entertaining and their great asset is a strong desire to give their best at performances, both vocally and musically. Adrian Cooke