Shawn Jones …The making of a great musician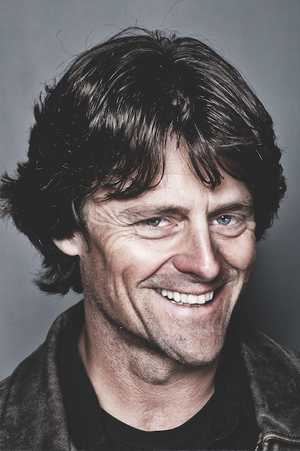 Shawn Jones is one of the many unheralded performers on the somewhat overcrowded Americana highway. A troubadour in the old-school tradition, he has been taking audiences across America and Europe on a rewarding ride with his diverse musical styles, skilled guitar work, and over-the-top showmanship for the best part of 25 years. I first encountered Shawn and his music a dozen years ago when he toured the UK with Nashville-based singer Billie Joyce. It was a perfect musical match, and when they played Maidstone's Soul Café they figuratively set the place alight with their fiery performances. Raised on roadhouse blues, outlaw country, classic soul and pure honky-tonk, Shawn has melded those styles into a sound that is distinctively his very own.
October 2015 found Shawn touring the UK for the 13
th
time, in this instance he was the opening act for Robert Cray's 40
th
Anniversary Tour. I had the opportunity to meet up with him at the Orchard Theatre, Dartford. It's a concert hall I'm very familiar with, having promoted several concerts there over the years, and also sat in the auditorium dozens of times to see a varied mix of musical shows. I arrived early, so that I could chat with Shawn without the usual time constraints that come into play prior to a show. He invited me back to his dressing room, much different to the backstage areas that he was all too familiar with on his numerous previous UK tours, when invariably the dressing room was a box cupboard, the gents toilet or none at all.
This one, in comparison, was quite opulent, and an example of how life on the road has changed so drastically for a touring musician. Shawn had his laptop, mobile phone and Ipad all switched on or charging, as he invited me to sit down and asked if I minded if he changed his guitar strings whilst we talked.
Though I'd interviewed Shawn a few times in past, this was the first time that we had the opportunity to sit in a relatively quiet area with no time restrictions. It led to a more relaxed conversation, rather than a structured Q&A interview and allowed Shawn to open up about his music and life on the road. To begin with, he told me how luck and timing and a family bereavement led to him getting to work with blues legend Robert Cray.   
"It sounds strange, but it all kinda stems from my mother passing away," he explains, "because there was a home in my family that went to my sister and I, when she passed. I had left Nashville and started touring, as you know; that's when I first came over here. It was my grandfather's home when I was a kid, and it went to my mother when he passed away. Then my sister and I each inherited half of my grandfather's house."
Luck and timing can play a major part in a musician's career and it just so happens that Mark Hartley, Robert Cray's manager lived in Ventura, California, the same town where Shawn's grandfather's house was. A major player in the music business, he also manages Brad Paisley, Kellie Pickler, Vince Gill, Olivia Newton-John, Toto, a number of different artists and a very diverse spread of artists and he owns a really plush club and restaurant in Ventura.
"So it was a blessing in disguise," Shawn continues. "I'm moving into a town that's above Los Angeles, when really I needed to either go back to LA or back to Nashville, one of the two. You know, LA is a mess and Nashville is getting more and more expensive. I'm not from Nashville, and  it's a bit of the 'old boy network' there. Even though I worked for Deana Carter, still it's kind of a hierarchy in that town, so, staying in California was probably the best plan for me."
"So at that time I needed to earn money, and Mark's club was the nicest club in town. I went to the club and started playing at his bar and I got to meet him and to hang out with him. Over the last six years, it's been kind of a dating game with us. I've been playing at his bar, it's been good, bringing in business and I'm building this social media platform and starting these things called 'Music Lovers Groups.' Everywhere I tour, I have like Ventura Music Lovers, LA Music Lovers, Nashville Music Lovers. I'm starting one in the UK … it's got a couple hundred people. It's just another way to promote yourself through the social media platform."
Ever so resourceful, Shawn Jones has always been a self-reliant performer. For years he went out their chasing his own gigs, setting up tours from his home office, building a following by word-of-mouth and endless touring. Along the way he was honing his performance chops, learning all the time how to connect with an audience. He's become one of the best live performers you're ever likely to encounter. His music stops time. He plays his guitar with genuine skill and passion; his defining soulful voice rises from nowhere, and whether it's the wood-panelled bars of the Midwest, or small clubs across Europe, the result is always the same. The room halts. Noises recede. Clocks slow. People forget where they were; they become aware of where they are. Everything aligns. It's this rare skill that impacted on Mark Hartley.
"As we're growing our friendship, he's believing in me more and more and more," Shawn explains. "It's been a very slow, aggravating process for me, but a good one, to say the least. Four years ago, I opened for Cray for the first time in California on my own and met Tim Aller, Cray's road manager who is now partners with Mark Hartley in being Robert Cray's road and personal manager, we got along very well, Tim and he wanted to work with me."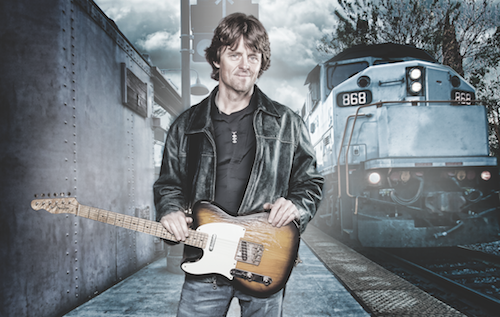 "Mark's always believed in me, but he's never really had anyone there who could handle my gig, because it's basically building from the ground up. So I was handed the brass key, the gold key. Tim took a shine to me and my music and it ended up that they found an opportunity that worked. I did two more shows with Cray and I did a CD release party for FORTY DAYS AND FORTY YEARS, the new Cray album and DVD set based on the forty years of The Robert Cray Band. I met Cray at that first show and we hit it right off. Then Mark said: 'Hey, we think you done a really good job opening for Cray and we believe in you and we want to see how this goes. So we'd like to put you on the Cray Tour if you'd be interested.'  So that's what happened. I got on the Cray Tour based on living in Ventura and meeting Mark Hartley and then one thing just led to another."
Shawn is very much aware that being something of a 'relatively unknown veteran' artist, that the huge Fitzgerald-Hartley management team were unlikely to make him a priority act on their books. If he'd been a twenty-something youngster, with bags of commercial potential, they would have put their big guns behind his career development. What he does have, though, is a good working relationship that is resulting in better opportunities, prestige gigs and the potential to raise his profile.
"As it goes, it's better I didn't go back to Nashville, it's better I didn't go back to LA. I restored my grandfather's house and made a very strong connection with Hartley. They're helping me build my profile to the point where there's interest from agents and there's labels and it goes on and on, which is what's starting to happen. The shows have being going great and we've got a couple of agents interested and a label possibly interested and the tour's been great. We've been selling a lot of CDs. It's going great, between five hundred and seven hundred quid a night. And me as an opener, we get thirty minutes on stage. So that's pretty strong. So there you have it."
You take one look at Shawn with his long straggly hair, a worn denim jacket, leather boots, and guitar slung across his shoulders—and you'll know that this guy believes in what music can do to the mind and the soul. He attacks his guitar with a passion and energy rarely seen. He tends to lean forward on one foot and face towards the microphone—guitar at a downward angle, singing from the depths of his soul with earnest conviction.
"At first I was really overly anxious to hang with him. I just stopped at one point and said: 'Let this guy decide whether or not he wants to be your friend. Do your job, keep your nose down, push the plow, don't make any demands and just work hard.' Don't go over your thirty minutes. That's a big thing for an opener; don't take liberties. Don't chow down on the crew's food. Don't assume that you can just walk around in Cray's situation."
"No, no! You let it unfold the way they want it to unfold. It's not my gig. It's his gig and I'm honoured to be on it. And if his fans want some of my CDs, he's gracious enough not to take a percentage of it and let me have my thirty minutes. And I whoop it up as much as I can in that amount of time and it's actually all the time I need. If you can't win over a crowd in six songs then you may as well go home. You got six or five songs and thirty minutes. People are gonna like you or not after a couple of songs. You get your chance, if they don't like the first song or they don't like the second song, that's gonna be it. Third one and they may not be listening anymore. It's been so wonderful."
To call Shawn Jones a cutting edge artist is an understatement. Although his music is based in the country and blues realm, his meticulously crafted recordings crash the barriers of rock, funk, soul, country, Americana and a myriad of other genres to create a hybrid that is totally unique and his very own. And that signature style serves as a backbone for his frank tales of struggle, freedom, desire, conflict and, of course, love.
"As one of my mentors said to me, which is Deana Carter's dad, Fred Carter Jr., who is one of the most famous guitar players that ever lived on the planet. He said: 'Son, it's a fickle finger of fate. If it points at you, then you're lucky. There's a lot of talent out there.' Having the talent, in someone's case like mine, or Deana's, or Robert's, or whatever, talent is a prerequisite. And then you do it because that's what you are, it's what you do. Music is what I do. If my hand gets cut off, I still have to find my happiness. But it is my vocation that I love and I'm a lifer, this is what I'm gonna do."
"I'm not thinking about in ten years, opening a landscaping company or starting to refinish old furniture. I love doing that, but that's not my calling in life. So I'm gonna do this regardless and when they see that, when management or label people see that, and they like your music and you are a bit older, like myself, I'm not 22 years old. So it's gonna be based on longevity and talent at that point, I think it's more about the talent at my age than it is not being about the talent. Because if there's no talent, at my age, you're not going anywhere."
Shawn began writing songs at a tender age with startling facility, distilling country, blues, rock and soul traditions into tunes that are at turns spirited and melancholy. Over the years he has gained a reputation built upon his honest and true character, charisma, drive, and soulfulness. His career has been marked by a work ethic second-to-none as he's toured consistently honing his craft the old-fashioned way gig-by-gig, step-by-step; driven by his passion to make music and take it to an ever-increasing audience.
"There's 22-year-old kids, 18-year-old kids that turn on YouTube, and all that stuff you need to learn, is right there …  an instructional video," he tells me. "We didn't have that back then. I had to pull out records and cassettes and learn in a laborious way of keep listening to how guys played.
The talent level at a young age, now, from what I can tell, is just so much greater because of the amount of information that's out there for them to learn. You can actually watch someone do something, as opposed to listening to something over and over again until you finally figure out the encrypted code of how to do a pull-off on a guitar or how to bend the strings just right. You can watch someone do it all day long."
Shawn's not bitter, or anything like that. He was simply stating the facts. Musicians like him, and those that came before him, learnt their craft the old way. It was never straightforward, but along the way, most of them were able to perfect a style and sound, that, though loosely based on what they heard growing up, was distinctively their very own, as they added these little touches and flourishes to the music. I mentioned a conversation that I'd had a couple of years ago with Nashville's Steve Wariner, who said that he learnt how to play certain licks by keep winding the vinyl record back and playing it at slow speeds until he got it right.
"Same here!" Shawn chuckled. "I had one of those little turntables that dropped the records. So the last record, on my turntable, for some reason, kept going over and over again. It'd work it's way all the way to the end, then it'd lift up and start over again as opposed to turning off. So I'd put my favourite Hendrix record on and that would be the last record that dropped and I'd go to sleep listening to that record. So, subliminally, I was getting licks in my dreams and that music was very dreamy anyway … ELECTRIC LADY was such a great album."
Alongside Jimi Hendrix, Shawn has been influenced by the very best: Dylan, Van Zandt, Kristofferson, BB King, Hank Sr. All of those legendary performers have been a part of his consciousness from a very early age. They helped him develop a style and appreciation for well-crafted lyrics.
"Having my father show me all those old great country songs, like
I'm So Lonesome I Could Cry,
Mansion On A Hill
all that great stuff … Faron Young, Willie Nelson and Waylon …
Good Hearted Woman
and all that stuff. So I was getting that from him and my Jones—pardon the pun—was learning the blues. My stepmother had given me my first Hendrix record and seeing him as a left-handed guitarist like myself, and not trying to be changed by my father, to be right-handed. He just handed me a guitar left-handed and it was smart to do that, because all my rhythm, all my soul is in my left hand. I can be technical with either hand, but I'd have much more rhythmic trouble with my right hand if I would have started right-handed. My rhythm stance I don't think would be as strong. It's like making it as a boxer when you take a stance or when you dance, you lead with a particular foot, and I think from the beginning, I was given the opportunity to be who I was."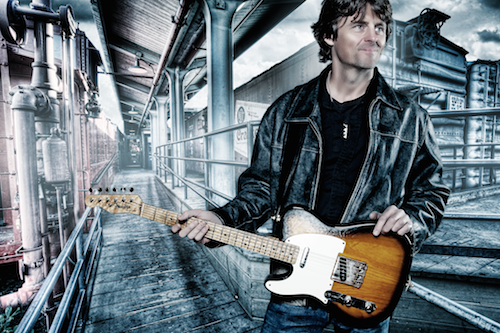 We side-tracked a little to discuss the changed attitudes to left-handedness. Though I'm right-handed, I come from a left-handed family. My parents and most of my siblings were all left-handed and suffered indignity growing up, both from those in authority (teachers, armed forces, etc) and their peers. I heard many quite shocking stories of how they were forced to use their right hand with their left hand tied up behind their back, or had their knuckles rapped with a stick or ruler. 
"Well you know, back in the medieval days we were freaks. We were strange people; the left-handed people were possessed by demons. Well maybe I am …" he laughs. "A good demon if there's such a thing."
Shawn had what sounds like an exciting and very interesting time growing up. Talking to him, it appears to have been quite carefree, but with that came lots of hard work, because like so many growing up in the 1960s and 1970s, he had to earn money to support the family income and to pursue his career ambitions, and not too surprisingly, music played an important role in all of that.
"Yeah," he reflects. "Camp fires, trail rides on horseback and music stores that I could take a bus down to and just sit and they'd let me play music all day long. The funniest thing is, too, when I was a kid, my father would give me all the old 45s, Creedence Clearwater to Elvis, to Tom Jones, to Chuck Berry, to Charley Pride, to Dolly Parton, to everything … Tijuana Brass … all of it was coming my way, all these 45s. Creedence
Born On The Bayou
, Ten Years After
I'd Love To Change The World
… oh my gosh, all those great songs came my way."
"The guy that shined shoes in my father's bar was a hell of a guitar player. He was a savant so he remembered everything. He was this black guy named Johnny Knight and he could play the hell out of the blues. Later on, Johnny was working serendipitously, just cleaning ashtrays and polishing tables, when I got my first guitar, the first one that I purchased. So I'd hang out with Johnny and he'd show me the difference between Chuck Berry and B.B King and learning how to play the blues at thirteen and stuff like that. I absolutely fell in love with the blues. That guy was very formidable and along with my father, was so pivotal in my life, and he remembered everything like a selector-switch; he could dial up any style and he was a great player and my father loved him. At the music store, he wasn't competent at running a register or doing sales, but everybody loved him and wanted to hang out with him and he just played amazingly."
"John Knight was really important in my life, the best music education is to sit down and jam with people that know things and can show you things. I've never been a great sight-reader. I can read music a little bit. My education was were I grew up and people who surrounded me. I wasn't from a wealthy family, I wasn't financed to a label or helped money-wise by my parents, or anything like that. It didn't work out that way. But I have always known what I wanted to do since I was twelve."
Being focused on his music is more than just re-stringing his guitar, practising endlessly or getting up there on stage. Like so many other indie artists of today, Shawn does much of his own self-promotion, whether it be via Facebook and Twitter, or even setting up gigs, press and radio interviews or making travel and accommodation arrangements. Probably more than most, he needs to have easy contact with people, so when his mobile phone was stolen in Birmingham a couple of days prior to our meeting, he was at his wits end.
"We were in a café and they put a map over the table and reached underneath," he explains. "They asked how to get to Nottingham so our tech was telling her—it was a woman. She reached underneath the map and pulled my phone through and put it in her pocket. We can actually see where it is on 'Find my iPhone,' but the police can't do anything about it because it has to be  within a 500-yard jurisdiction, so they have to have a warrant. So what are you going to do? Start knocking on doors?" he throws his hands up in exasperation.
Despite many setbacks, way too numerous to mention here, Shawn has been making a living from music all of his adult life. That's no mean feat, as for the majority of the time, it's been by performing original music outside of the usual commercial music business set-up.
"I've always had a band or played music," he explains. "I was making money at 15 playing at Italian restaurants in my little town and working in a record shop. So I was learning about music at the record shop as well. I got a job at a music store when I was 19, and at 21 I got married. I ended up co-managing that music store for a while—the one that John Knight worked—then I went on to work for Wayne, a guitar builder, managing his store and helping with repairs. Later, I went on to repping his guitar company, going to the NAMM show in Chicago.
"Because my band was completely original, at first we weren't making any money. On the side, I was also solo, playing bars and doing covers. If I was at a country bar, I'd play country music or country blues, I'd slide some blues in. It was always unorthodox versions of everything, like rocked-out versions of Hank Williams or country versions of blues tunes. I was trying to integrate music, trying to meld these styles together to come up with my own thing."
If I had a pound for everytime a performer told me about the struggles that they'd encountered when playing original material, or blending musical styles and colouring outside the lines, I'd be a rich man. Being original in this world of conformity is a tough call, but if you look back over musical history, those artists who've stuck to their guns, refused to conform, are the ones who've not only gained the greatest respect, but have usually maintained career longevity.
"Yeah, I think that's true," Shawn nods in agreement. "I've been making money as a musician since I was 15; full-time since I was 23. Then I just kept going and going. Married at 21, divorced at 25. Then I moved to Nashville and ended up starving. I had to get a gig there with a landscaping crew for about six months during the winter. One of the coldest seasons they've ever had … freezing! I was like: 'I am so out of here! I gotta get out of this place.'"
"As soon as I got home, I got a call … my sister's husband's cousin, was a big television director. He did this 65th anniversary of the Grand Ole Opry, which had Waylon Jennings as a host. He had told Waylon about me, because I had made contact with him. Waylon called me as soon as I got back to California, and so I high-tailed it back to Nashville for a meeting. He was so impressed  that he managed me for a year."
That was back in 1995 and not only did Waylon help with the management deal, but he also had Shawn out on the road with him playing lead guitar in his road band at such prestige gigs as the  Lollapalooza Tour with Metallica, the Ramones and SoundGarden, and Willie Nelson's 4th of July Picnic.  Shawn also got to play on Waylon's 1996 album, RIGHT FOR THE TIME. Shortly after this, Waylon disbanded the Waylors and cut back on touring so as to spend more time with his family in Phoenix. Meanwhile Shawn gained a lucrative publishing deal with Chrysalis Music.
"I was in Nashville on a break from touring with Waylon and they were based in Los Angeles. So because I was in L.A, I got a Nashville manager and because I was in Nashville I got an L.A publishing deal. And because I moved to Ventura, I got on the road with Robert Cray. So go figure, none of it makes any sense," he laughs.
Before he moved to Ventura, Shawn had called Los Angeles home. It was there that he linked up again with singer Deana Carter, probably best-known for the Grammy-nominated
Strawberry Wine
.  He had met Deana in Nashville, when he first moved there back in the early-1990s. At the time he was working on a landscaping crew alongside her brother Jeff Carter. He was her original guitar player and is now an attorney and is managing her. Deana's boyfriend was the boss on the crew. This was in the days when Deana was struggling to make a name for herself in music. For several years Shawn has played an integral role in her touring band and also featured strongly on her most recent recordings.
"We just finished Deana's touring for the year with the band three days before I left for the UK," Shawn says. "So I've been doing my thing back at home, a lot of dates and a lot of varied things. I'm endorsed by Lowden Acoustic Guitars now in Northern Ireland. I put together a group called the Global Guitar Greats. Thomas Leeb, who is a very famous finger-style guitarist and Stephen Inglis who is an award-winning slack-key guitarist from Hawaii. We're all endorsed by Lowden and we all really liked each other and we made a beautiful instrumental album at my home that I produced."
"I produced Suzie Candell, a girl from Switzerland this year, she's an Americana artist, and then touring with Deana. So I've just had my hands full, like crazy busy. Deana was busier this year than she's been in a while because she got a new agency. APA was booking her, and then … I forget the name of the company took over APA. So we stayed real busy and we flew all over the United States doing gigs and then this thing …  I have to say for my own personal musical genre and what I've set out to do in my life…this is the ideal gig."
"This is the crème-de-la-creme of all the tours I could be on," he says incredulously. "For one, it's in the UK, and it's a market that doesn't ignore what it is that I do, when in some ways it can be very 'passe' or overly-purist in the States. A lot of the blues fans in the States are very hardcore blues. [Shawn plays some licks on his newly-strung guitar as an example]. Cray is not that guy. Cray has got songs and he changes, he can be jazzy, he can be old-school Motown style. He can be like Otis Redding or Sam Cooke or Marvin Gaye. He's a world-class soul singer and he's a world-class songwriter and an amazing musician and a really nice person."
"I don't care how good you are, if you're an asshole. Who cares? That's the way I am anyway. I won't name names, but I've done shows with really big artists that I've idolised for years and years, due to their swagger or their entertainment value when you watch them. Then you go and do a show with them, you go to shake their hand and they're like: 'Eh!' and they're looking or talking to somebody else. I'm like: 'Hold my hand, what are you doing? I'm a person, I'm admiring you, appreciating you.'"
"Cray's not that guy; we talk a lot. He happens to live close to where I live now, so hopefully we'll split a bottle of wine one of these days soon. He's just a great guy. I'd love to write songs with him at some point, if he could fit it in his schedule, I'll make the time. For years I've loved his style. I've written with Denis Walker who wrote
Smoking Gun
and
Don't Be Afraid Of The Dark
and
Strong Persuader
. He wrote those songs and Cray won those awards for them. and Denis and I  wrote
Fear Of Falling
and
Hold On To Love
and a lot of stuff on my second album, so there was a connection there too that we was able to talk about. So there's a lot of very deep connections going on around here. It's really cool. I'm sitting out of the way, yet I'm hanging out as much as I can with these guys."
I've always been into songwriters and a Nashville writer that I've long been familiar with is Jeff Silbar, the co-writer of such hits as
The Wind Beneath My Wings, He's A Heartache (Lookin' For A Place To Happen), You've Got A Good Love Comin'
and dozens more. A one time Nashville native, for the past few years Jeff has lived with his family in Los Angeles. Alongside his songwriting, he's also worked as a producer and is credited as a co-producer on Shawn's most recent album. STRUGGLE MAKES YOU STRONGER.
"He had a lot of hits with people like Lee Greenwood, Reba, Kenny Rogers, he was coming from that area. Oh my gosh! He even had songs cut by John Mellencamp and Fleetwood Mac, which is unheard of, because who gets cuts with Mellencamp and Fleetwood Mac? Nobody gets cuts with those people. He and I have continued to write and we've written a lot of songs together. And that was my connection with David Zee. The musical family—once you get on the inside of it, it's a small community. A lot of people know a lot of people."
Many of Jeff Silbar's songs have a soulful quality about them. As well as providing big name acts like Kenny Rogers, Dolly Parton and Janie Fricke with songs, he also worked closely with Razzy Bailey in Nashville in the late 1970s. Razzy's vocals and his recordings always had this country-soul vibe about them. At the time Jeff was signed to House of Gold Publishing run by the late Bob Montgomery, a highly successful producer, songwriter and one-time duo partner of Buddy Holly.
"Well, you know what's interesting about that, is that Deana's father had a label with Bob, Kevin Montgomery's dad. Like I say, it's almost incestuous and you've known Kevin for years," Shawn says. "He's a great writer. Every once in a while, he and I will touch base and he's a real nice guy and a real good musician too."
Shawn is always looking forward, never resting on his laurels, but planning for the future, knowing all too well that luck and timing play a big role, but without possessing the skill, talent and the right work ethic, luck and timing are worthless. During the UK tour with Robert Cray he's been impressing agents over here and even some record label guys.
"I'm not gonna get ahead of myself with any of it, but I definitely see myself coming back over more and more. Now I've opened up a new territory in Italy, so I go over there. Even though these aren't big-paying gigs, but the treatment's amazing, the food's amazing, the weather's amazing … Italy's amazing! I love architecture and art, so I like to go to Italy a lot. I like being over here, and as you know I've toured Ireland a lot. So I took a year off Ireland this year, because things that held precedence over them, like touring with Deana, when she was getting very busy."
"We finished that album of hers last year and we just cut sixteen new songs. I did basic tracks with her and a few solos, but she's really digging into her musicianship, and she's doing more on these records than she's been doing on her own in a long time. But we're all working out of the same studio these days. I got a new album I'm making that's a blues trio album, so what you hear is what you get. We're just going in the studio, doing two or three takes of the song and keeping the best one. There's not overdubs or anything. I've done five songs and when we get home, we're gonna finish it."
"Jeff Silbar found out about this studio called Ready Mix. It was a part of the old Alley where all the old rehearsing went on. We're talking Jackson Browne, Bonnie Raitt, James Taylor, Joni Mitchell, that whole Canyon-scene. Everybody rehearsed at the Alley … and this is like a subsidiary of the Alley, owned by the same people. Jackson Browne actually lived in the studio and wrote
The Pretender
and a couple of albums there. You go into Ready Mix and there's a letter, a hand-written note from Warren Zevon to Jackson: 'Hey buddy, what are you doing?' Jackson wrote on the wall and they got it all framed in … it's nostalgic, there's such a cool vibe to record there."
"I started doing Suzie's record there, she was the first one in a chain of people to record there. So Deana's cutting her new album there, and I'm cutting my new album there. Because of all my connections in the different parts of the country, things are kinda coming together, West Coast, Nashville, it's all tying together into this Americana country roots, trying to keep this roots tradition going, the Jackson Browne vibe."
Shawn first came across to the UK back in 2004. He had just returned from Iraq, where he'd been touring as part of a variety group entertaining the troops. That was when we first met, and we've maintained a connection ever since.
"My dad had just passed away so I came here with a heavy heart and an open mind. Good lyric—
'heavy heart and open mind'. I came here with Billie Joyce, sixteen dates, all across England and a couple of shows in Ireland. England has always been the hardest market for me, because there's a big scene here and it's tight. It's like trying to make it any other big city, I mean your country is smaller than America obviously. And it's got its own insular situation happening and there's kind of a good old-boy network going in England. This is my thirteenth time over here and by far, the most exciting and interesting."
Compared with your other UK tours, this one must be a dream. All you have to do is get on the coach, arrive at the venue, accommodation's all taken care of. You think back to the first time you came over here … staying in grotty b&bs or with friends of the promoters in their houses …
"Oh yeah, it's like: 'This is where my cat usually sleeps. but you get to sleep here tonight. Don't mind the dander and the hair.' I'm allergic to cats!" he grins. " I had a thyroid condition for years and I didn't realise it; a lot of people do. I used to come over here every year for the first five years and I just used to get sick as a dog because my immune system wasn't working. It was starting to make me wonder if I was able to do this every year 'cos every time I'd fly, I'd get sick. So now I take these pills, tastes like sugar and I don't get sick anymore. Now I'm feeling great. As a matter of fact, I'm really healthy all the time and so I'm having a good time. And for this to happen at this time of my life is really awesome 'cos usually, when you get older, things can start to dwindle … I've already got those years behind me, and it's just getting better and better … I'm so thankful."