Sara Evans - Under The Spotlight
First Published in Country Music International, June 1997
Having grown up on a tobacco farm in the American Heartland, and found herself playing to crowds of 2000 by age 16, Sara Evans celebrates the UK release of her extraordinary down-home debut album.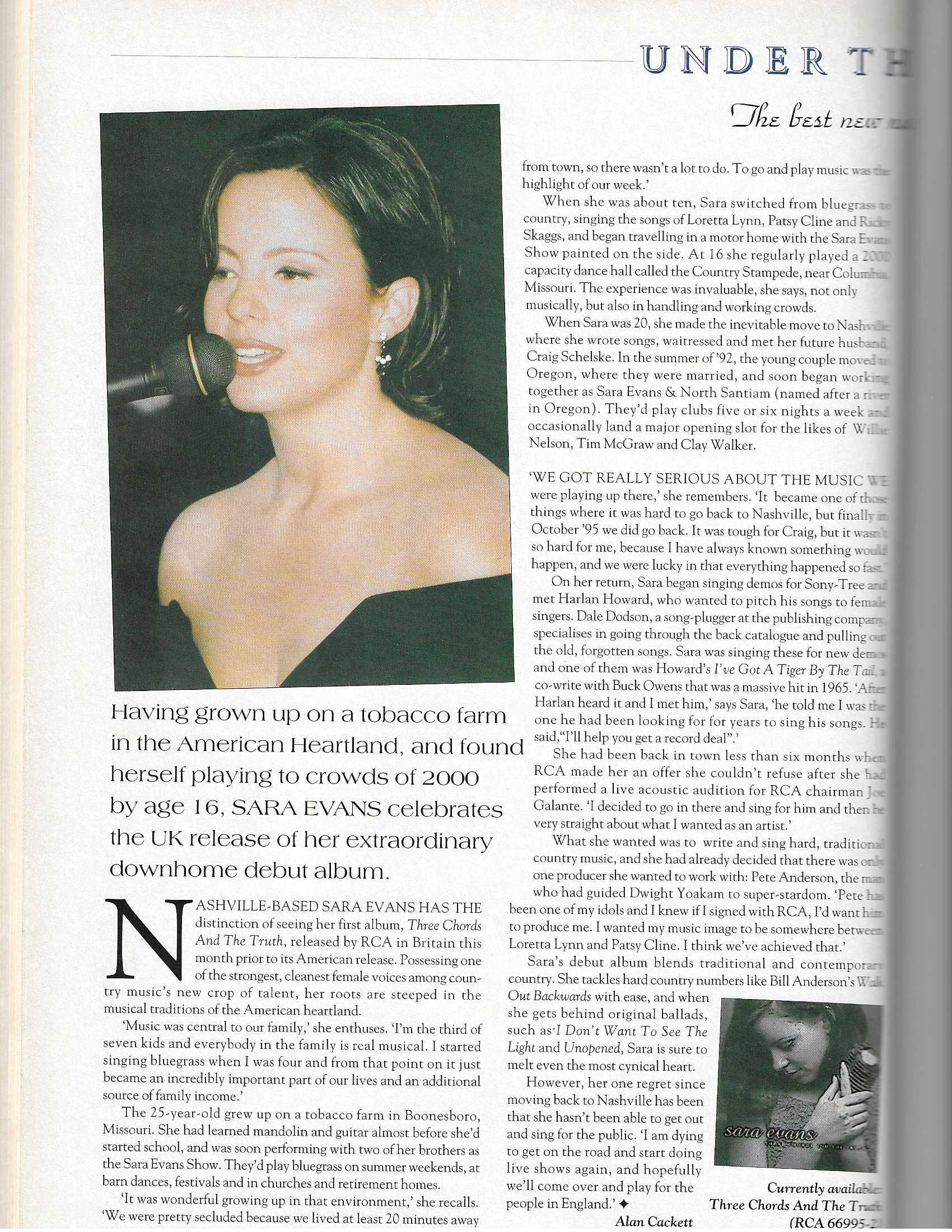 Nashville-based Sara Evans has the distinction of seeing her first album, THREE CHORDS AND THE TRUTH, released by RCA in Britain this month prior to its American release. Possessing one of the strongest, cleanest female voices among country music's new crop of talent, her roots are steeped in the musical traditions of the American heartland.
"Music was central to our family," she enthuses. "I'm the third of seven kids and everybody in my family is real musical. I started singing bluegrass when I was four and from that point on it just became an incredibly important part of our lives and an additional source of family income."
The 25-year-old grew up on a tobacco farm in Boonesboro, Missouri. She had learned mandolin and guitar almost before she'd started school and was soon performing with her two brothers as the Sara Evans Show. They'd play bluegrass on summer weekends, at barn dances, festivals and in churches and retirement homes.
"It was wonderful growing up in that environment," she recalls. "We were pretty secluded because we lived at least 20 minutes away from town, so there wasn't a lot to do. To go and play music was the highlight of our week."
When she was about ten, Sara switched from bluegrass to country, singing the songs of Loretta Lynn, Patsy Cline and Ricky Skaggs, and began travelling in a motor home with the Sara Evans Show painted on the side. At 16 she regularly played a 2000 capacity dance hall called the Country Stampede, near Columbia, Missouri. The experience was invaluable, she says, not only musically, but also in handling and working crowds.
When Sara was 20, she made the inevitable move to Nashville, where she wrote songs, waitressed and met her future husband, Craig Schelske. In the summer of 1992, the young couple moved to Oregon, where they were married, and soon began working together as Sara Evans & North Santiam (named after a river in Oregon). They'd play clubs five or six times a week and occasionally land a major opening slot for the likes of Willie Nelson, Tim McGraw and Clay Walker.
"We got really serious about the music we were playing up there," she remembers. "It became one of those things where it was hard to go back to Nashville, but finally in October 1995, we did go back. It was tough for Craig, but it wasn't so hard for me, because I have always known something would happen, and we were lucky in that everything happened so fast."
On her return, Sara began singing demos for Sony-Tree and met Harlan Howard, who wanted to pitch his songs to female singers. Dale Dodson, a song-plugger at the publishing company specialises in going through the back catalogue and pulling out the old, forgotten songs. Sara was singing these for new demos and one of them was Howard's I've Got A Tiger By The Tail, a co-write with Buck Owens that was a massive hit in 1965. "After Harlan heard it and I met him," says Sara, "he told me I was the one he had been looking for for years to sing his songs. He said: 'I'll help you get a record deal.'"
She had been back in town less than six months when RCA made her an offer she couldn't refuse after she had performed a live acoustic audition for RCA chairman Joe Galante. "I decided to go in there and sing for him and then be straight about what I wanted as an artist."
What she wanted was to write and sing hard, traditional country music, and she had already decided that there was only one producer she wanted to work with: Pete Anderson, the man who had guided Dwight Yoakam to super-stardom. "Pete has been one of my idols and I knew if I signed with RCA, I'd want him to produce me. I wanted my music image to be somewhere between Loretta Lynn and Patsy Cline. I think we've achieved that."
Sara's debut album blends traditional and contemporary country. She tackles hard country numbers like Bill Anderson's Walk Out Backwards with ease, and when she gets behind original ballads, such as I Don't Want To See The Light and Unopened, Sara is sure to melt the most cynical heart.
However, her one regret since moving back to Nashville has been that she hasn't been able to get out and sing for the public. "I am dying to get out on the road and start doing live shows again, and hopefully we'll come over and play for the people in England."