Sara Evans - Traveller's Choice
First Published in Country Music International – May 1998
"I'm going on the Grand Ole Opry this weekend and this is my first appearance on the Opry, so there are lots of things I need to do. I'm playing at the Wild Horse Saloon on Friday night, and then the following week we're going to New York for a photo shoot for the next album. Then I've got some dates with Collin Raye, and then we're shooting a video for the next single the following week.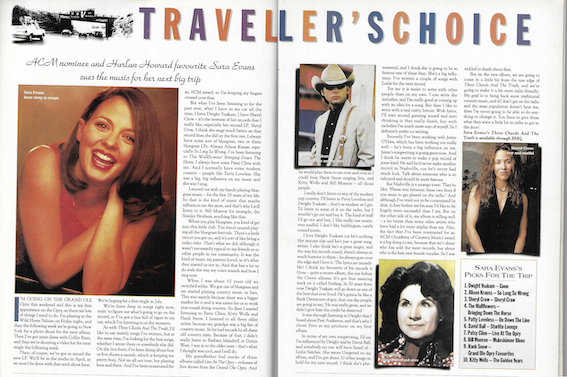 Then, of course, we've got to record the new LP. We'll be in the studio in April, so we won't be done with that until about June. We're hoping for a first single in July.
We're knee deep in songs right now, tryin' to figure out what's going to go on the record, so I've got a box full of tapes in my car, which I'm listing to at the moment.
As with THREE CHORDS AND THE TRUTH, I'd like to use mainly songs I've written, but at the same time, I'm looking for the best songs, whether I wrote them or somebody else did. On the live front, I've been doing about four or five live shows a month, which is keeping me pretty busy. Not an all-out tour, but playing here and there. And I've been nominated for an ACM award, so I'm keeping my fingers crossed over that.
But what I've been listening to for the past year, what I have in my car all the time, I have Dwight Yoakam, I have Sheryl Crow—it's the rawness of her records that I really like, especially her second LP, SHERYL CROW. I think she sings much better on that record than she did on the first one. I always have some sort of bluegrass, two or three bluegrass LPs. Always Alison Krauss, especially SO LONG SO WRONG. I've been listening to The Wallflowers' BRINGING DOWN THE HORSE. I always have some Patsy Cline with me. And I normally have some country—people like Patty Loveless. She was a big, big influence on my music and the way I sing.
I started out with my family playing bluegrass music—for the first 10 years of my life. So that is the kind of music that maybe influences me the most, and that's why I still listen to it. Bill Monroe for example, the Stanley Brothers, anything like that.
When you play bluegrass, you kind of get into this little club. You travel around playing all the bluegrass festivals. There's a little circuit you get on, and it's sort of like being a rodeo rider. That's what we did, although it wasn't necessarily typical to my friends or to other people in our community. It was the kind of music my parents loved, so it's what they started us out in. And that has a lot to do with the way my voice sounds and how I sing now.
When I was about 10 years-old we switched styles. We got out of bluegrass and we started playing country music in bars. This was mainly because there was a bigger market for it and it was easier for us to work year round doing country. So then I started listening to Patsy Cline, Kitty Wells and Hank Snow. I listened to all these older artists because my grandpa was a big fan of country music. So he had records by all these old country stars. Because of that, I didn't really listen to Barbara Mandrell or Dottie West. I was into the older ones—that's what I thought was cool, and I still do.
My grandfather had stacks of these albums called LIVE AT THE OPRY—volumes of live shows from the Grand Ole Opry. And he would play them to me over and over so I could hear Hank Snow singing live, and Kitty Wells and Bill Monroe—all those people.
I really don't listen to any of the modern pop country. I'll listen to Patty Loveless and Dwight Yoakam—that's as modern as I get. I'd listen to some of it on the radio, but I wouldn't go out and buy it. The kind of stuff I'd go out and buy, I like really raw music, very soulful. I don't like bubblegum, candy coated music.
I love Dwight Yoakam cos he's nothing like anyone else and he's just a great songwriter. I also think he's a great singer, and the way his records sound, there's always so much humour in them—he always goes over the edge and I love it. The lyrics are incredible! I think my favourite of his records is GONE—quite a recent album, the one before the COVERS album. It's got that amazing track on it called Nothing. In 50 years from now Dwight Yoakam will go down as one of the best that ever lived. He's gonna be like a Buck Owens sort of guy, that one day people are going to say: 'He was really great, and we didn't give him the credit he deserved.'
It was through listening to Dwight that I heard about Pete Anderson, and that's why I chose Pete as my producer on my first album. In terms of my own songwriting, I'd say I'm influenced by Dwight and by David Ball, and somebody no one will have heard of—Leslie Satcher. She wrote Unopened on my album, and I've got about 10 of her songs on hold for my next record. I think she's phenomenal, and I think she is going to be so famous one of these days. She's a big influence. I've written a couple of songs with Leslie for the next record.
For me it is easier to write with other people than on my own. I can write the melodies, and I'm really good at coming up with an idea for a song. But then I like to write with a real crafty lyricist. With lyrics I'll start second guessing myself and start thinking is that really dumb, but with melodies, I'm much more sure of myself. So I definitely prefer co-writing.
Recently I've been working with Jamie O'Hara, which has been working out really well—he's been a big influence on me. Jamie's songwriting is going great now. And I think he wants to make a pop record of some kind. He said he'd never make another record in Nashville, cos he's never had much luck. Talk about someone who is so talented and should be more famous.
But Nashville is a strange town. They're like: 'Please stay between these two lines if you want to get played on the radio,' And although I've tried not to be constrained by that, it does bother me because I'd like to be hugely more successful than I am. But on the other side of it, my album is selling well—a lot better than some other artists who have had a lot more airplay than me. Also, the fact that I've been nominated for an ACM (Academy of Country Music) award is a big thing to me, because that isn't about who has sold the most records, but about who is the best new female vocalist. So I was tickled to death about that.
But on the new album, we are going to come in a little bit from the raw edge of THREE CHORDS AND THE TRUTH, and we're going to make it a bit more radio friendly. My goal is to bring back more traditional country music, and if I don't get on the radio and the mass population doesn't hear me, then I'm never going to be able to do anything to change it. You have to give them what they want a little bit in order to get in the door!"