GOOD TRAIN COMIN'
First Published in Country Music International - September 1994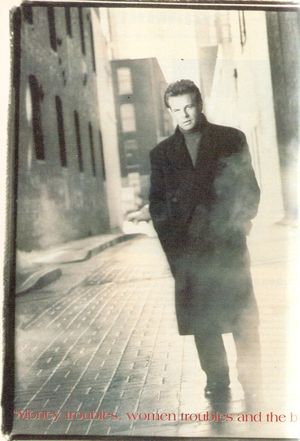 He's been down and out more times than he cares to remember, but with a new record and a film role under his belt Sammy Kershaw believes his luck is changing.
Confession time … like many I foolishly dismissed Sammy Kershaw as a poor mans George Jones. But having recently witnessed his exciting stage show and after talking to him about his life and career, I now see this Cajun-born firecracker in a new light. I have been converted.
Kershaw's warm emotional vocal style, with its Louisiana twang and country-to-the-core phrasing, has frequently elicited comparisons with George Jones—the comments like 'science must have found a way to clone the Possum's golden-throated strains of honky-tonk DNA into Kershaw,' or 'this man must be George Jones' illegitimate son.'        
Sammy Kershaw's million-selling debut album, DON'T GO NEAR THE WATER, was a collection of hard country ballads and saloon songs that had Kershaw crooning in classic Jones style about heartbreak and sorrow. Sounding the most outright Jonesian of all the young pretenders, Kershaw developed his vowel-bending vocal nuance during a twenty-year career that started when he was only 12 years old.
'I've been hooked on George Jones since I was a kid,' Kershaw says. 'I can remember when I'd sit in the living room and be listening to an old record of his. He could get at the sorrow that was down deep inside. It really got to me and I just knew that I wanted to be able to do something like that with a song.'
Born deep in Cajun country, in Abbeville, Louisiana, and raised in nearby Kaplan, Sammy comes from a musical family. He's a third cousin of Cajun fiddler, Doug Kershaw. The oldest of four children, Kershaw has fond memories of his childhood. His mother would often croon Hank Williams' songs as lullabies to her children. But all too soon his secure childhood was shattered. When he was only 11 years old, his father, a carpenter in the construction trade, died of lung cancer. His mother had to work full-time to support the family and a lot of responsibility fell on Sammy's young shoulders. Not only did he have to care for his younger brothers and sister, but he also helped the family finances by doing odd jobs. This included a spell as apprentice roadie for local country entertainer, J.B. Perry.
'I was kind of a son to him,' Sammy recalls. 'He had three daughters and he didn't have any boys. He took me under his wing,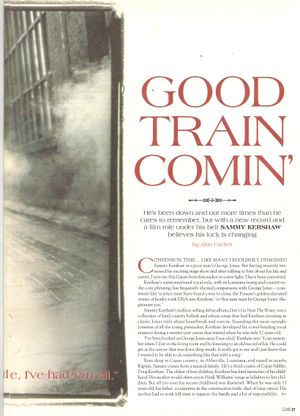 tried to teach me right from wrong in this business. He sounded a lot like George Jones too!'
'I grew up a lot quicker than I should have,' he continues. 'I have a lot of knowledge from playing music so young and hanging around all the older people in country music. They gave me a few short cuts to some things in life. You know, people should listen to the older artists. They didn't get there by being fools.'
Kershaw lived much of his teenage life on the road with Perry, progressing from setting up the equipment to back-up singer and then finally getting the chance to open the shows; often on the same bill as such legendary performers as Mel Street, Webb Pierce and George Jones.
'I met George for the first time when I was 13 or 14,' Sammy remembers. 'He came walking into the club and he really looked like a star. He had these western boots on, they were bright blue, and to me it all meant fame and fortune. We sat there and talked a while. I was in heaven.'
But playing the Louisiana club scene for the best part of 20 years was not always heaven for Kershaw. At times, the young performer went through hell. Years on the road playing clubs six nights a week and getting nowhere took its toll. Like so many others he found comfort in drugs and alcohol.
'Heavy drinking, cocaine, all that stuff. I was headed down a dead-end street,' Sammy says candidly. 'I've always been a hard worker. I'm not a guy to sit around, but sometimes things didn't work out how I'd planned. Money troubles, women troubles and the bottle, I've had 'em all. But I've managed to work my way out of them.'
'I worked hard. And I understand what a lot of the public is going through,' cause I've lived it. I always have a pair of overalls handy, in case there's a job needs doing. I'm more likely to roll up my sleeves and get stuck in. I guess that's the way I was raised.'
When he wasn't making music, Sammy had a succession of jobs: following in his father's footsteps as a carpenter, labouring in a rice mill, welding and working as a Wal-Mart remodeller. The last job came his way six years ago when, in a desperate bid to salvage his third marriage, he decided to kick in the music and get a day job. For two years Sammy didn't play at all and worked to keep his family intact.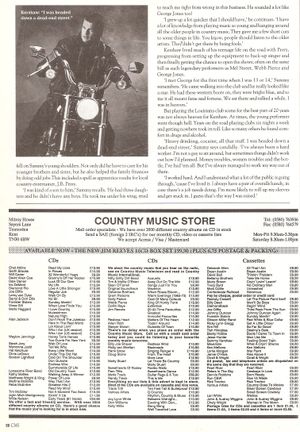 'I guess those two years were something of growing up period,' he admits. 'The good Lord had to teach me a lesson and make me remember why I wanted to play music so much. It wasn't to chase women and drink and do drugs, it was because I love to sing songs from the heart. I have a good wife and she saved me from the gutter.'
A fast-talking, hard-living, Southern country boy, Kershaw's life story reads like a Tennessee Williams play. He's the guy who managed to smile his way through the kind of stuff that would finish off a lesser man. He hasn't let setbacks get him down.
A man of many talents, Kershaw is a terrific storyteller' one of his many past jobs was a stand-up comic. He also found time to be a professional baseball player, a self-taught Cajun chef and more recently, a budding actor, making his screen debut in the feature film Fall Time, co-starring alongside Mickey Rourke and Stephen Baldwin.
'I used to dream of being in the movies,' Sammy says, 'and now it's all happening for me. They probably picked me to play a cop because I've been arrested so many times. what they didn't tell me was I'd be having my hair cut. It's so damn short. The last time it was this short was when I was a kid.'
With all these diverse sidetracks, Sammy still insists that he is first and foremost a singer. A self-named 'ballad singing fool', he is such a soulful vocalist who, though he occasionally draws on his influences, is now starting to sound like no one else but himself.
'We're working towards my own style,' Sammy insists, when talking about his third album, FEELIN' GOOD TRAIN. 'Everything's different on here, isn't it? Well, we're trying to get our own thing happening, developing something that might be around for a while. I didn't want to record anything that George Jones would have cut.'
'If somebody sends me a song that George would record, that comparison is going to come. It's because of the tone of our voices. There's nothing I can do about that. the only thing I can do is try to select material that might be different, that will help the vocal go into its own style. We did that a lot on this album.'
Kershaw makes no bones about the fact that he is a singer and not necessarily a songwriter. However, when he picks a song to record, it has to be something that he has lived or experienced. When his career took off three short years ago with his Top 10 breakthrough hit, Cadillac Style, he and his family were living in a trailer-house in Louisiana. Some months later he had another big hit with the catchy Queen Of My Double Wide Trailer.
'Yeah, I've lived in trailers since I was eighteen,' he explains. 'I've probably had four or five different trailer houses. You could say I'm a trailer man, although a few weeks ago I sold that trailer to my little brother.'
Picking out songs that have a personal feel to the singer comes through on his latest album: he had focussed his style, his vocals have found a more distinctive edge in this rich mix of soulful ballads, country rock, honky-tonk and what Sammy calls 'Southern fried rock'n'roll.'
'They're all live vocals on th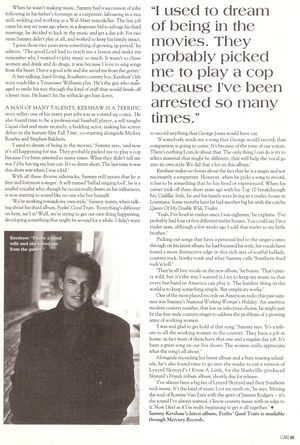 e new album,' he boasts. 'That's pretty wild, but it's the way I wanted it. I try to keep my music so that every bar band in America can play it. The hardest thing in the world is to keep something simple. But simplicity works.'
One of the most played records on American radio this past summer was Sammy's National Working Woman's Holiday. An assertive modern country number, that has an infectious chorus, he might just be the first male country singer to address the problems of a growing army of working women.
'I was real glad to get hold of that song,' Sammy says. 'It's a tribute to all the working women in the country. They have a job at home, in fact most of them have that one and a regular day job. It's been a great song on our live shows. The women really appreciate what the song's all about.'
Alongside recording his latest album and a busy touring schedule, he's also found time to go into the studio to cut a version of Lynyrd Skynyrd's I Know A Little, for the Nashville-produced SKYNYRD'S FRYNDS tribute album, shortly due for release.
'I've always been a big fan of Lynyrd Skynyrd and their Southern rock music. It's kind of music I cut my teeth on.' He says. 'Mixing the soul of Ronnie Van Zant with the spirit of Jimmie Rodgers—it's the sound I've always wanted, y'know country music with an edge to it. Now I feel as if I'm really beginning to get it all together.'
Sammy Kershaw's latest album, FEELIN' GOOD TRAIN is available through Mercury Records.