Royal Wade Kimes - Under The Spotlight
First Published in Country Music International, February 1997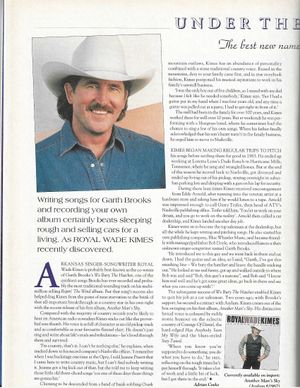 Writing songs for Garth Brooks and recording your own album certainly beats sleeping rough and selling cars for a living. As Royal Wade Kimes recently discovered.
Arkansas singer-songwriter Royal Wade Kimes is probably best-known as the co-writer of Garth Brooks's We Bury The Hatchet, one of the quirkiest songs Brooks has ever recorded and probably the most traditional-sounding track on his multi-million selling ROPIN' THE WIND album. But that song's success also helped drag Kimes from the point of near starvation to the brink of that all-important breakthrough as a country star in his own right with the recent release of his first album, ANOTHER MAN'S SKY.
Compared with the majority of country records you're likely to hear on American radio nowadays Kimes sticks out like the proverbial sore thumb. His voice is full of character as an old pickup truck and as comfortable as your favourite flannel shirt. He doesn't just sing and write about life's trials and tribulations—he's lived through them and survived.
"I'm country, that's it. I can't be nothing else," he explains, when tracked down to his record company's Nashville offices. "I remember when I was backstage one time at the Opry, I told Jeanne Pruett that I came here to write country music, but I can't find nobody writing it. Jeanne got a big kick out of that, but she told me to keep writing those little three-chord songs' cos one of these days those things are gonna hit."
Claiming to be descended from a band of bank-robbing Ozark mountain outlaws, Kimes has an abundance of personality combined with a stone traditional country voice. Raised in the mountains, duty to your family came first, and in true storybook fashion, Kimes postponed his musical aspirations to work in his family's sawmill business.
"I was the only boy out of five children, so I stayed with my dad because I felt like he needed somebody," Kimes says. "But I had a guitar put in my hand when I was four years old, and any time a guitar was pulled out at a party, I had to get right in front of it."
The mill had been in the family for over 100 years, and Kimes worked there for well over ten years. But at weekends he was performing with a bluegrass band, where he sometimes had the chance to sing a few of his own songs. When his father finally acknowledged that his son's heart wasn't in the family business, he urged him to move to Nashville.
Kimes began making regular trips to pitch songs before settling there for good in 1983. He ended up working at Loretta Lynn's Dude Ranch in Hurricane Mills, Tennessee, where he sang and wrangled horses. But at the end of the season he moved back to Nashville, got divorced, and ended up living out of his pickup, staying overnight in suburban parking lots and sleeping with a gun on his lap for security.
During those lean times Kimes received encouragement from Eddy Arnold, after running into the veteran artist at a hardware store and asking him if he would listen to a tape. Arnold was impressed enough to call Gerry Teifer, then head of ATV's Nashville publishing office. Teifer told him, "You let us work on your dream, and you go to work on the reality." Arnold then called a car dealership, and Kimes landed another day job.
Kimes went on to become the top salesman at the dealership, but all the while he kept writing and pitching songs. He also started his own publishing company, Blue Whistler Music, and became friendly with manager/publisher Bob Doyle, who introduced him to a then unknown singer-songwriter named Garth Brooks.
"He introduced me to this guy and we went back in there and sat down. I had a guitar and an idea, so I said, 'Garth, I've got this smashing line—We bury the hatchet and leave the handle sticking out.' He looked at me real funny, got up and walked outside to where Bob was and said: 'Bob, this guy is a nutcase,' and Bob said, 'I know him real well and he's got some great ideas, go back in there and see what you can come up with.'"
The subsequent success of We Bury The Hatchet enabled Kimes to quit his job as a car salesman. Two years ago, with Brooks' support, he secured a contract with Asylum. Kimes comes out of the box swinging on his first album, ANOTHER MAN'S SKY. His distinctive lyrical voice is coloured by richly ironic humour on the eclectic country of Courage Of Daniel, the hard-edge Has Anybody Seen My Wife and the blues-styled Stay Tuned.
"When you know you're supposed to do something, you do what you have to do," he says, reflecting on the tough times he's put himself through. "It takes a lot of work and a little bit of luck, but I got there in the end."