Roy Clark, the country singer and multi-instrumentalist best known as a long-time host of Hee Haw, the television variety show that brought country music to millions of American households each week, died on Thursday November 15, 2018 at his home in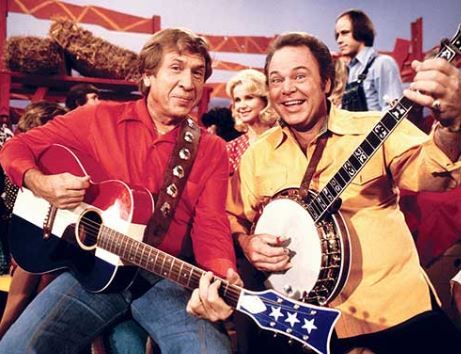 Tulsa, Oklahoma from complications of pneumonia. He was 85.
A multi-talented entertainer, Roy Clark became a major country music star during the 1970s.  A jovial international ambassador, he undertook several highly successful European tours that included performing to packed concert halls in the Soviet Union and high-profile television appearances in the UK, Germany and Scandinavia. He was deservedly named the CMA's 1973 Entertainer Of The Year, having broken through to pop-country crossover success with such hits as Yesterday When I Was Young, Thank God And Greyhound and Come Live With Me. In 2009 he was inducted into Nashville's prestigious Country Music Hall of Fame. Though renowned as an ace guitar player, it was as a multi-faceted entertainer that Roy Clark built his reputation, being equally at home in Las Vegas as he was in some backwoods school hall.
Roy Linwood Clark was born April 15, 1933 in Meherrin, Virginia, the son of a guitar-playing tobacco farmer. He spent his early childhood in Meherrin and New York City, his father having moved the family to find work during the Great Depression. When Roy was 11, his family moved to Washington DC, after his father found work at the Washington Navy Yard. One of seven children he grew up in a close-knit musical family. His father was a semi-professional musician who played banjo, fiddle, and guitar and his mother played piano. Roy picked up the rudiments of guitar techniques at an early age but became even more proficient on banjo.
By the time he was 14, he was playing guitar behind his father at local dances. He won two National Banjo Championships in 1947 and 1948, with his second win earning him an appearance at the Grand Ole Opry. He briefly toured with a band when he was 15. Despite his success as a musician, Roy decided to pursue an athletic career, rejecting baseball for boxing. At the age of 17 he won 15 fights in a row before deciding that he would rather be a musician than a fighter. 
Washington DC had a vibrant country music scene and Roy soon fitted in. He teamed up with singer Carl Lukat on lead guitar with Roy supporting him on rhythm guitar as an in-demand duet team. In 1949 he made his television debut on WTTG, the DuMont Television Network affiliate in Washington, DC. By this time, he had begun to play fiddle and twelve-string guitar. He toured across America for the next 18 months playing backup guitar for David 'Stringbean' Akeman, Annie Lou and Danny, Lonzo and Oscar, and Hal and Velma Smith during the week, working county fairs and small-town theatres. On weekends, these acts usually teamed up with bigger country music stars like Red Foley or Ernest Tubb and played large venues in big cities.
Roy was somewhat shy and withdrawn, so following in the footsteps of some of the singers and musicians that he was working with, he turned to humour as a way of easing his timidity. Country and western music was widely derided by his schoolmates, leaving him socially isolated. Clowning around helped him to fit in so he utilised this humour in his musical career.
Returning to Washington, DC after the tour, Roy resumed performing at local country music venues. In 1953 he made his recording debut. Signed to 4-Star Records. he released the single Mysteries of Life coupled with Sugar Coated Sweetheart. The following year Roy joined Jimmy Dean's band the Texas Wildcats on lead guitar. This led to him being a regular on  Dean's Town and Country show on WARL-AM and on WMAL-TV (after the show moved to television from radio in 1955).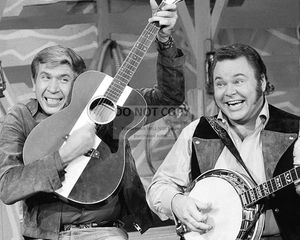 This exposure led to Roy's second record release, this time for Coral Records. The session was held in Nashville in June 1955 and produced the single, Stepping Stones coupled with The Day That I Found You under the name Roy Clark & His Wranglers. He had taken up flying and in 1956 gained his pilot's licence and bought a 1953 Piper Tri-Pacer. He continued flying for more than 50 years buying bigger and better planes along the way.
That same year he appeared on Arthur Godfrey's Talent Scouts, a variety show airing on CBS. It was his first network television appearance, and he came second. In 1957 he left Jimmy Dean's band due mainly to bad time-keeping, but his talent as a guitarist had been noted and he was in demand as a session player and as a pick-up musician. In 1958 he recorded his third single, Please Mr. Mayor coupled with Puddin' for the small Debbie Records label. So far none of his singles had made an impact, but he was still kept very busy making music.
In the spring of 1959, Roy appeared regularly on George Hamilton IV's short-lived television series in Washington DC. Early the following year, he decided to head out west and try his luck in California. This led to him becoming a guitarist for West Coast western swing band leader Hank Penny playing a season in Las Vegas. Whilst on the coast he recorded his fourth single, Rock Maggie Rock coupled with Man Like Long Ago for Owens Records.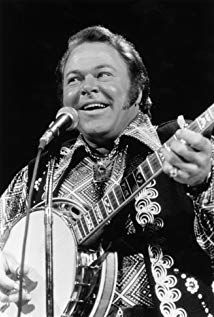 After his stint with Hank Penny, Roy became a member of Wanda Jackson's Party Timers, touring across America playing a mixture of country and rock'n'roll shows. October 1960 found Roy in the Nashville studios with Wanda on an epic five-day session that produced such rock'n'roll classics as Hard Headed Woman, There's A Party Goin' On, Funnel Of Love and Kansas City alongside country tunes like Little Charm Bracelet, Sparkling Brown Eyes and Right Or Wong all featuring Roy's distinctive electric lead guitar work.
When Wanda disbanded her group in 1962, Roy continued to perform regularly at the Frontier Hotel in Las Vegas, very much as a flashy guitar picker and also landed spots on The Tonight Show and The Beverly Hillbillies, where he played both Cousin Roy and Big Mama Halsey regularly which led to more acting roles on television and the movies including an appearance in an episode of the Odd Couple series.
Suitably impressed by his guitar skills, Ken Nelson, the legendary record producer, signed Roy to a Capitol Records contract in the autumn of 1961. Looking to capitalise on the success of such instrumental groups as the Ventures and the Champs plus guitarists like Chet Atkins and Les Paul, Roy's first recordings for his new label concentrated on his guitar virtuosity. More of a novelty period piece than a serious musical album, THE LIGHTNING FINGERS OF ROY CLARK FOR SWINGIN', DANCING AND LISTENING! was a strange beast, even for early 1962. A somewhat weird mix encompassing a syncopated version of the big band classic In The Mood. a twist driven rendition of the country standard Wildwood Flower (Wildflower Twist), a jazzed-up Maiden's Prayer and even Drifter's Polka in an effort to cover all the bases.
By this time Roy was being managed by Jim Halsey, an association that was to last for more than 60 years through the good and the bad times, as Halsey guided the Roy Clark career to unprecedented heights. 
Having failed to establish Roy as a guitar virtuoso on the sales charts, it was decided to re-launch him as a country vocalist and in March 1963 he was back in the Capitol studios recording his version of Bill Anderson's The Tips Of My Fingers. Released that summer, it became Roy's first country hit, reaching No. 10 on the charts and reaching the top 50 of the American pop charts.
Over the next few years he released more than a dozen singles for Capitol but only a couple—Through The Eyes Of A Fool and When the Wind Blows in Chicago—made the top 40 of the country charts. Other excellent singles such as Take Me As I Am (Or Let Me Go), So Much To Remember and Hey, Sweet Thang (the latter a duet with Mary Taylor) failed to make an impression. Regardless of this lack of success on country radio, Roy Clark was doing fine as a touring act and regularly released albums for the label including instrumental sets THE ROY CLARK GUITAR SPECTACULAR and STRING' ALONG WITH THE BLUES and pop-country collections HAPPY TO BE UNHAPPY and ROY CLARK SINGS LONESOME LOVE BALLADS.
In the mid-1960s, he was a co-host (along with Molly Bee and Rusty Draper) of a weekday daytime country variety series for NBC entitled Swingin' Country, which was cancelled after two seasons. Shortly after this he left Capitol Records and in early 1968 signed with Dot Records. By this time he had begun recording in Nashville and working with producer Joe Allison, his initial recordings for the label spotlighted his guitar picking resulting in the album URBAN, SUBURBAN/THE FANTASTIC GUITAR OF ROY CLARK featuring such standards as Somewhere, My Love (Lara's Theme From Doctor Zhivago), Sweet Georgia Brown and Cherry Pink And Apple Blossom White.
Roy's second session for his new label, in May 1968 saw him back on the country charts with Do you Believe This Town, a fine slice of late 1960s country-folk. A year later he made the top 20 with Yesterday When I was Young, which marked the beginning of Roy Clark's breakthrough to the big-time. That single's success coincided with him becoming co-host of the country music series Hee Haw (with Buck Owens).
Pickin' and grinnin', singin' and spinnin' tall tales and corny jokes, the citizens of Kornfield Kounty landed on television in 1969 with the arrival of Hee Haw as a summer replacement series for The Smothers Brothers Comedy Hour. Each week, co-hosts Roy Clark and Buck Owens and the cast of comedians and musicians welcomed the biggest stars in country music to perform their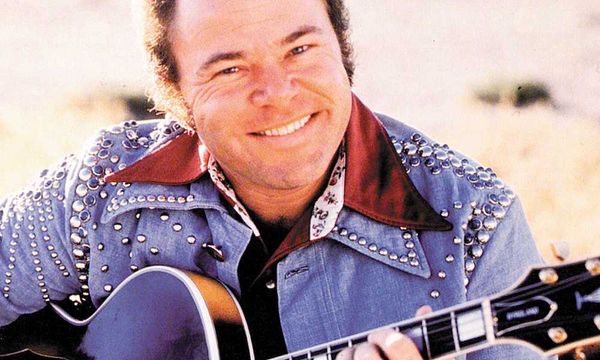 songs and help deliver the legendary corny one-liners.
Though a hit, CBS dropped the show in 1971 in an attempt to 'de-countrify' the network's programming. However, it was quickly picked up and became the longest-running weekly syndicated series in television history continuing to be aired well into the 1980s.
For Roy Clark the hits really began to proliferate, the most memorable ones being Right Or Left At Oak Street, I Never Picked Cotton, Thank God And Greyhound, Come Live With Me, Somewhere Between Love And Tomorrow, Honeymoon Feelin' and If I Had It To Do All Over Again.
In the early 1970s Roy Clark symbolised country music in America and abroad. Between guest-hosting for Johnny Carson on The Tonight Show and performing to packed houses in the Soviet Union on a tour that sold out all 18 concerts, he used his musical talent and his entertaining personality to bring country music into homes across the world. As one of the hosts of TV's Hee Haw for more than 20 years Roy picked and sang and offered country corn to 30 million people weekly. He was first and foremost an entertainer, drawing crowds at venues as different as Las Vegas, Atlantic City, and the Opry. His middle-of-the-road approach filled a national void, with Clark offering country music that was harder-edged than Kenny Rogers but softer and more accessible than Waylon Jennings.
Frequently he played concerts and recorded albums with a wide variety of musicians from other genres, including the Boston Pops Orchestra, Joe Pass and Clarence 'Gatemouth' Brown.
In 1975 Dot was purchased by ABC Records and Roy's recordings were released under the ABC-Dot Records banner. To begin with his hits continued, though he'd never been a consistent presence on country radio, he chalked up such notable successes as Think Summer, I Have A Dream, I Have A Dream and Chain Gang Of Love. Further record label changes took place in 1980 when ABC-Dot was bought out by MCA and Roy's recordings appeared on the MCA label. By this time the momentum of his career had begun to slow down. Over the next two years, he had a number of minor hits before leaving the label.
He recorded one inspirational album for Songbird in 1981 before his long-time manager Jim Halsey set up Churchill Records, mainly to release Roy's records. It was a three-year association that still failed to reverse his rapidly declining record sales. In 1984, along with Grandpa Jones, Buck Owens and Kenny Price, he formed the Hee Haw Gospel Quartet and released an eponymous album on the Hee Haw label. He made a handful of records for both the Silver D and Hallmark labels and also explored a short-lived film career, appearing in Matilda with Elliot Gould, and Uphill All the Way, a comedy western that also featured Glen Campbell and Mel Tillis.
Nevertheless, Roy Clark had become a country music icon by the mid-1980s, so his lack of sales didn't matter—he continued to sell out concerts and win awards. In 1987, he was belatedly made a member of the Grand Ole Opry. During the 1990s, he concentrated on performing at his theatre in Branson, Missouri.
In 2011, Roy was honoured by the Oklahoma House of Representatives. He was named by the Oklahoma Music Hall of Fame as Oklahoma's Music Ambassador for Children and presented with a commendation from Oklahoma Governor Mary Fallin. In 2007, he was inducted into the Cheyenne Frontier Days Hall of Fame. Somewhat self-effacing, he titled his autobiography My Life—in Spite of Myself!
His superb instrumental skills were often overlooked in favour of his fun-loving, jovial personality and vocals. Over the years, he won many comedy awards, but in fact gained many more awards for his guitar playing from Guitar Player magazine, not to mention being named Instrumentalist of the Year by the CMA on numerous occasions. He was the first country artist to headline a night at the Montreux International Jazz Festival and is one of the few country artists to receive a five-star rating in the jazz periodical Downbeat.
Few people could blend song, instrumental skill and humour like Roy Clark. He was a fabulous banjo picker and could make a guitar tell stories with clarity and complicated fingers of sound. He helped to bring the phrase 'pickin' and grinnin'' into the English lexicon.
In the role of superstar to a legion of fans, Roy Clark was an unlikely figure onstage. Short and stocky, time-warped with his jumbo-sized guitar and reduced to two mannered stances—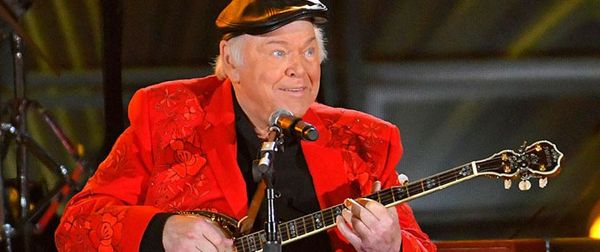 one an ungainly haunch over the microphone, the other a quick-witted funny uncle figure. Although he thrived on the common denominator of showmanship with his fans, he was always in control through all the ad-libs, hand-clapping and singing. In short, despite his appearance, Roy Clark was a master showman.
Roy Clark remained just an ordinary guy despite his success and international acclaim. He was married to his wife Barbara Rupard for 61 years and they had five children. They made their home in Tulsa, Oklahoma, where Roy Clark Elementary School was named in his honour in 1978. He was a country and popular cultural legend disguised as a regular ol' nice guy. He was the guy who once said "I'm a firm believer in smiles. A real sincere smile is a mighty powerful thing."