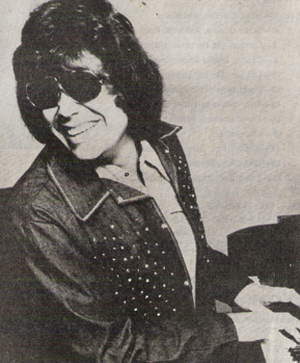 RONNIE MILSAP rests at the top of the pile of country music's contemporary performers—and his success in reaching over to all manner of audiences is clearly reflected by his past, diverse musical influences. In the first of a two-part feature on this month's multi-award cover artist, ALAN CACKETT collates the Milsap story.
Ronnie Milsap is living proof that if a person has the dedication he can overcome all the obstacles put in front of him. He is that rare phenomenon who challenges the odds, gives it his all and makes the world take notice. His musical achievements have eclipsed any physical barrier the blind singer may have faced, and his charisma and determination have elevated him to be one of the top country-pop crossover artists.
Handicap is a word that Ronnie has never known, Born in Robbinsville, North Carolina, a farming community with a population of 600, just over 30 years ago, he was blind from birth. His mother rejected him because he was blind, so he lived with his father and grandmother until he was five, when he was sent to the Morehead School for the blind in Raleigh, which turned out to be the best therapy available to an extremely gifted, handicapped child.
He received not only classroom instruction, but was taught to play various musical instruments, including guitar, piano, violin and even some woodwind instruments.
"When I was in school," he explains, "they told me: 'Milsap, you're gonna have to learn to bottom chairs and weave baskets, or study music.' I said: 'I don't think I'd be very good at weaving baskets.' So after academic classes were over at three o'clock in the afternoon, I studied music."
"I started playing violin when I was seven. I'd heard of a fiddle before, but I'd never heard of a violin. My teacher, a Mr. Greaves, turned out to be very helpful. He was a consummate musician and philosopher who could communicate with a bewildered child. I worked with him for something like eight years and he not only taught me music, but also set my ideas on many things in life as well."
"I learnt violin and went on to play in the orchestra with other instruments—cello, viola, I started classical piano and even woodwinds. It was something I really wanted in the afternoons after classes. It was something enjoyable to do."
Classical music was not the only kind of music that Ronnie heard when he was a youngster. He can recall listening to the country music of Hank Williams, Lefty Frizzell, Hank Thompson and other singers of the 1950s. But his love of country music was suppressed by his circumstances, and he put his heart into learning and playing classical music.
"I guess my favourite composers are still Mozart and Bach," he syas. "I like Mozart's melodies and, since I am a methodically-minded Capricorn, Bach's complicated techniques appeal to me."
However, it was the strong influence of country music and the new rock'n'roll music of the 1950s that was beginning to have the biggest effect on Ronnie. This caused him to return to his roots and play the music of Jerry Lee Lewis, Elvis, Lefty Frizzell and other country artists, instead of the works of Chopin or Beethoven.
His musical instructors frowned on this, but after several suspensions the teachers finally gave in and allowed young Milsap to form his own rock group with three other boys from the school. Calling themselves The Apparitions, they performed frequently at high school and college assemblies in the Raleigh and Chapel areas.
Ronnie had wanted to go on to college and study after graduation from high school, but was urged not to by the Commission for the Blind in North Carolina.
"They said to me: ' We want you to college.' I said: 'That's great. I'd like to go study music or learn how to get into contemporary music.' They said: 'No we want you to something we can believe in. We don't want you to wind up out on the street.' I was interested in American history and government, and in high school I became interested in law, so I suggested that I should go to college and study law."
After graduation from high school, Ronnie studied pre-law at the Young Harris Junior College in Atlanta, planning for law school at the prestigious Emory University Law School, where he had been granted full scholarship. But he still continued with his music, playing with local groups at  the college for parties and dances at nights, while studying the law courses by day.
"I'd sit in the classroom dreaming about what I'd like to do—dreaming about making records, being in the studio, playing shows and being known in places like Hollywood or New York. I finally found out that those dreams were in my blood—I had to do it. I just finally decided I wanted a career in music above making wills and drawing up contracts."
"After two years at college, wasting their money and my time, I decided regardless of who said 'no'—I was gonna try it. If I fell flat on my face, I guess I'd have gone crawling back—but things  worked out okay."
Before things worked out, Ronnie spent years struggling to establish himself, but perseverance and hard slogging in the clubs finally brought rewards. The people sponsoring his education were naturally upset when he made his decision to go into music full-time. They thought he was making a big mistake.
He stayed on in Atlanta, initially picking up jobs as a sideman. One of his first jobs was with J.J. Cale. By 1966, Ronnie had formed his own band and gone to work playing the Playboy club circuit and college dates. Working in Atlanta and other clubs in the South-East, he found he was entertaining mainly r&b fans, so that was the music he adopted.
"I had to play everything in those clubs," he recalls. "I played jazz, I'd had a bit of experience playing jazz with some friends of mine at the Royal Peacock, a black night club in Atlanta. I met a lot of friends there and I learnt a lot about the blues, and about jazz. I was just playing everything for those people, pop, rock, soul and even singing songs from operas and stuff like that. It was what they wanted and in order to keep the job, that's what I had to do."
His talent certainly didn't go unnoticed, and in the mid-1960s he got his first chance to record, and naturally enough he used the repertoire that had proved so successful around the clubs. "I started recording in 1966. It was for Scepter Records, a New York label. Dionne Warwick was on the label and also B. J. Thomas. They'd had a lot of success, mainly in r&b, and I scored a big hit on the r&b charts with
Never Had It So Good
. This meant I had to go out on the road for a while, and I played several shows with black artists, people like Bobby Bland, Little Anthony & The Imperials, and some of the Motown acts."
"People expected me to be coloured. I recall when working a place called The Howard Club, in Washington D.C., I was doing promotion around record stores, and at one place, when I was introduced to the owner of the store, he said: 'No, that is not the man who has that hit, that man was a black man.' I told him it was me, and eventually convinced him."
Moving to Memphis in 1969, Ronnie and his group worked at T.J.'s, a popular club there. They played all sorts of music and even experimented with films and lights. He was still recording for Scepter and enjoyed minor successes with songs like
Denver
and
Love Will Never Pass Us By.
He was now being produced by Chris Moman, who was a great believer in Ronnie's talent.
Though he never had an album whilst signed with Scepter, Ronnie did record around eight singles, all of which have since been made available on various albums released by different labels in America during recent years. An album was released in Britain four years ago on DJM under the title MR. MAILMAN. There was little connection with country music in these recordings, though Ronnie did turn in a neat version of the Skeeter Davis' hit
The End Of The World
.
The musical feel on these Scepter recordings is from rock to jazz to blues to soul. Songs like Neil Diamond's
Kentucky Woman
, Rod McKuen's
If You Go Away
and the soulful
Do What You Gotta
Do,
were almost certainly the type of well-known songs that Ronnie was expected to do in the clubs.
"I was really into black music then, and I still am, but the only way to work regularly in the clubs was to play pop or rock," Ronnie explains. "There was a time when I was living in Memphis when I thought that maybe those people from the Commission for the Blind might have been right. I was tempted to go back to college and catch up or go into something else."
But his dedication to music and pride stopped him, and when his contract with Scepter ran out at the end of 1969, Chips Moman signed him to his own label, Chips, which was distributed through Capitol Records. Only a couple of singles were released, but the success of
Loving You Is A Natural Thing
in the autumn of 1970 led to him being signed with Warner Brothers. This time he was able to record an album, entitled simply RONNIE MILSAP, which was released in the summer of 1971.
Once again Ronnie was trying too hard to cover too much ground and the album failed to make much of an impact, though there were some strong tracks featured. A stunning version of Kristofferson's
Please Don't Tell Me How The Story Ends
gave an indication of the direction that Milsap's music would eventually take. In fact, three years later he re-recorded this ballad in Nashville and enjoyed a Number One country hit. Roy Orbison's
Crying
proved to be ideally suited to the Milsap style, and five years later Warners released it as a single, and enjoyed a minor country hit. Another interesting song is
Sanctified
, an early creating from Bob McDill, who has since become one of the most successful songwriters in Nashville.
Warners worked really hard on Ronnie's recordings, and though he enjoyed some notable success around Memphis, he failed to make the all-important breakthrough with a major hit record. In fact, Warners enjoyed more success with these recordings after he had established himself in Nashville. They managed to place both
A Rose By Any Other Name
and
She Even Woke Me Up To Say Goodbye
on the country charts in 1975, and released a second album at that time that contained several songs not included on the debut album.
"That album for Warners was produced by Dan Penn. I'd known him for some time, and we just went in and cut some tracks, we didn't have nay sort of direction in mind," explains Ronnie. "I was playing the night clubs, six nights a week, sometimes seven, whatever the job required, and some of those songs were things I was doing in my act. It wasn't really a worthwhile venture. I think maybe I was just pleasing everybody else instead of myself."
"I grew up in the Smoky Mountains," he relates. "So I grew up with a lot of bluegrass—a lot of Flatt & Scruggs and Bill Monroe and country music from people like Jim Reeves and Don Gibson. It was a period in the mid-1950s when it was fashionable for country music and pop music to exist together. Today it seems like if you're a country music singer you can't like pop or soul, or if you're a rock singer, Lord help you if you like country."
"The only music I heard for the first six years of my life was country. It's hard to get away from those early experiences. I have played, and can play, any kind of music, but you must do what your heart feels is right, and to me that's country music." – Continued in January 1981 issue 
First published in Country Music People, December 1980