Starting from the bottom again
You can argue range, power and technique until you're blue in the face, but for sheer, heart-stopping vocal command Ronnie Dunn is the best male vocalist in country music today. For 20 years, Texas- born Dunn was one half of Brooks & Dunn, the most successful duo in country music history. During that period, alongside his partner Kix Brooks, the duo amassed album sales in excess of 30 million with 20 number ones and 42 top 10 singles to their credit. They were named the CMA's Vocal Duo Of The Year for 8 consecutive years and were named Entertainer of the Year in 1996.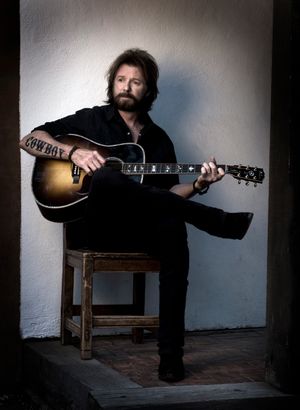 Without wishing to dismiss Kix Brooks out of hand, it has to be said that Ronnie Dunn really was the 'voice' of Brooks & Dunn. It wouldn't be stretching a point too far to say that he possesses the most powerful country voice to grace the country music airwaves for the past 20-odd years.
When it was announced in 2010 that the duo was to split and that both would be pursuing solo careers, I couldn't wait to hear Ronnie Dunn's solo recordings. Naturally, he remained with Arista-Nashville, the label that had signed Brooks & Dunn way back in 1990 and had been the duo's home throughout their illustrious career. Ronnie's self-titled and self-produced debut album was released in the summer of 2011 and it showcased a more personal approach than had been apparent in the Brooks & Dunn recorded catalogue. He had a hand in writing the majority of the songs, many of which are about loneliness, broken hearts and missing a loved one. Me, I'm a sucker for a sad, heartbreaking song, especially when sung by a soulful singer who makes you feel the pain he's suffering. Ronnie does that again and again with such well-written songs of heartbreak as
I Just Get Lonely, Love Owes Me One
and
Last Love I'm Tryin'
. There are a couple of more positive songs like
How Far To Waco
, with an infectious Mexican flavour. For me the best track is
Cost of Livin'
. For a guy who has accumulated a small financial fortune, Dunn sure does understand the plight of the working man in this era of financial hardship. This should be required listening for Cameron, Osborne and all those other government and private employers who are casting the axe at the under-privileged instead of the over-paid executives. Yeah, Ronnie Dunn sounds like my kind of man.
Embarking on a solo career, even after a highly successful period in an act like Brooks & Dunn, meant that Ronnie Dunn was starting all over again. For a man closing in on 60 that was no easy task. He was packed off by his label to do the usual radio tour that all 'new' acts in country music undertake. When it came to doing live shows, it wasn't the big arena venues and a convoy of ten trucks and buses that took the Brooks & Dunn entourage across the highways of America. No sir! Ronnie Dunn was now playing small clubs and he and his band members were travelling the old-fashioned way with a car and a trailer for the instruments.
This was nothing new for Ronnie. It was how he started out back in the late 1970s, years before he made the move to Nashville and found fame and fortune. In his own words, he'd played every small club, dive and hole in the wall that you could imagine. And he was prepared to do it all over again, just as long as he could get out there and play his music on his own terms. Though he'd been on a major label for years, he was never comfortable playing the political game that is part and parcel of today's mainstream country music scene.
On June 7, 2012, Ronnie posted on his Facebook that he had left Arista-Nashville. It was almost exactly a year to the day from the release of his debut solo album, and though he'd scored a top ten hit with
Bleed Red
, his subsequent singles,
Cost of Livin'
and
Let the Cowboy Rock,
hadn't fared as well, and without regular radio play, the album failed even to reach gold status. For an artist of Ronnie Dunn's stature, this was a commercial disaster in the eyes of the record label suits. 
Ronnie Dunn walked away from the security that a major label home offers to set up his own label Little Will-E Records. On June 4, 2013, Ronnie released two new tracks,
Country This
and
Kiss You There
exclusively on iTunes, then on November 19, 2013 he released the single
Wish I Still Smoked Cigarettes
from an upcoming album due for release in early 2014.
He has continued to tour and play out there live whenever he can, as it's the live performance that drives this road warrior. He sums it up best like this:
"I'm looking around and liking where I am, right now. I played a few of those truck stop casinos that I wrote about in Singer In a Cowboy Band. I feel energised, not demoralised in any way. I'm campaigning door to door, not riding some over-hyped, sell-it-all up-front, half-baked big business, 101 corporate wave. I'm doing it one song at a time, one show at a time. The band is on fire! One night I'm standing in front of 500 people, the next I could walk on stage in front of twenty thousand. It doesn't matter. I'm just liking feeling the music and the crowds … and feeling people react. Every night, each show is different. I never look at a schedule to see where I'm going to be. I'm just playing music with a bunch of guys that love to play music, in front of people that like music."
"We feel like road gypsies. Hell, we are! Nothing is being handed to me. I'm having to work at it from the bottom up. I'm proud of that. It weeds out the pussies. Bring it on. I don't feel entitled to anything. Beer joint or big joint, I don't care. I'm happy to have a job. Lucky me."
Having been raised in a dirt-poor family, he believes passionately in giving back to those less privileged. For the second year in a row, Ronnie Dunn donated his time and talent to raise funds for southern Kentucky charities with the Ronnie Dunn & Friends Holiday Bash Concert
,
sponsored by United Country Heartland Realty and Auction, LLC, WBKO and Commonwealth Broadcasting Corporation. Held Thursday, November 14 at the Southern Kentucky Performing Arts Center in Bowling Green, Kentucky, joining him at this year's event were rising country stars Brett Eldredge and Parmalee.
  All net proceeds were donated to selected non-profit organisations that focus on children's education and welfare, including the American Red Cross, Big Brothers Big Sisters of South Central Kentucky, Boys & Girls Club of Franklin-Simpson County, Boys & Girls Club of Glasgow-Barren County, Caring for China's Orphans, Chuck's United Hope Foundation, Greensburg Shelter House, Hope Harbor, Junior Achievement of South Central Kentucky, Kentucky Legal Aid, National Corvette Museum, Southern Kentucky Performing Arts Center, The Center for Courageous Kids and United Way of Southern Kentucky.
On September 30, Ronnie travelled to the area and paid special visits to the Boys & Girls Clubs of Franklin-Simpson County and Glasgow-Barren County, The Center for Courageous Kids and a local United Way programme. He participated in some of the organisations' daily activities, getting to know staff members and spending one-on-one time with kids.
"The most memorable thing was meeting the kids and a lot of the recipients and people that are involved (behind the scenes),"
he said.
"It has to mean something, or it's not worth doing it. It's for me as much as for anybody else."
Last year, Ronnie surprised guests at the Holiday Bash (a follow-up fundraising event to the concert) and presented a check for $75,000 from the show. The Holiday Bash 2013 will take place December 6 at the National Corvette Museum.
At heart, Ronnie Dunn has always been a man of music. I think that's why I latched on to Brooks & Dunn some 20-odd years ago and why I'm following his solo career with great interest. You can tell the real people from the pretenders, and Ronnie Dunn is definitely real. He possesses a one-in-a-million voice.  It's a cool voice, kind of a gritty, earthy thing, full of passion and soul. A voice that needs to be heard around the world.