Roger Miller - Sounds Familiar
First Published in Country Music International, November 1996
Tracing the history of those country songs that keep coming back time and time again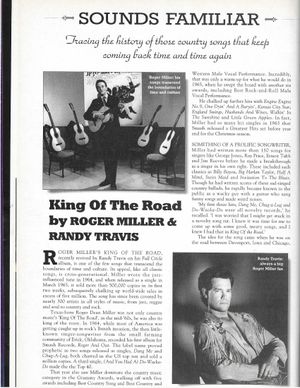 Roger Miller's King Of The Road, recently revived by Randy Travis on his FULL CIRCLE album, is one of the few songs that transcend the boundaries of time and culture. Its appeal, like all classic songs, is cross-generational. Miller wrote the jazz-influenced tune in 1964, and when released as a single in March 1965, it sold more than 500,000 copies in its first two weeks, subsequently chalking up world-wide sales in excess of five million. The song has since been covered by nearly 300 artists in all styles of music, from jazz, reggae and soul to country and rock.
Texas-born Roger Dean Miller was not only country music's 'King Of The Road', in the mid-1960s, he was also its king of the roost. In 1964, while most of America was getting caught up in rock's British invasion, the then little-known singer-songwriter from the small farming community of Erick, Oklahoma, recorded his first album for Smash Records, ROGER AND OUT. The label name proved prophetic as two songs released as singles, Dang Me and Chug-A-Lug, both charted in the United States top ten and sold a million copies. A third single, (And You Had A) Do-Wacka-Do made the Top 40.
That year also saw Miller dominate the country music category in the Grammy Awards, walking off with five awards including Best Country Song and Best Country and Western Male Vocal Performance. Incredibly, that was only a warm-up for what he would do in 1965, when he swept the boardwith  another six awards, including Best Rock-and-Roll Male Vocal Performance.
He chalked up further hits with Engine Engine No.9, One Dyin' And A Buryin', Kansas City Star, England Swings, Husband And Wives, Walkin' In The Sunshine and Little Green Apples. In fact, Miller had so many hit singles in 1965 that Smash released a Greatest Hits set before the year end for the Christmas season.
Something of a prolific songwriter, Miller had written more than 150 songs for singers like George Jones, Ray Price, Ernest Tubb and Jim Reeves before he made a breakthrough as a singer in his own right. These included such classics as Billy Bayou, Big Harlan Taylor, Half A Mind, Swiss Maid and Invitation To The Blues. Though he had written scores of these sad-tinged country ballads, he rapidly became known to the public as a wacky guy with a guitar who sang funny songs and made weird noises.
"My first three hits, Dang Me, Chug-A-Lug and Do-Wacka-Do were all novelty records," he recalled. "I was worried that I might get stuck in a novelty song rut. I knew it was time for me to come up with some good, meaty songs, and I knew I had that in King Of The Road."
The idea for the song came when he was on the road between Davenport, Iowa and Chicago, when he saw a roadside sign that read 'Trailer For Sale Or Rent'. "For some reason that phrase stuck in the back of my mind, but it wasn't until later, in Boise, Idaho, that I really sat down and made something out of it. I spent several days writing it, being real careful because I knew I had something good. I can tell a really great song when it's coming."
The song went to number one on the country charts, number four on the pop charts and hit number one on the British charts. King Of The Road proved so successful that Miller went into business with 'King Of The Road Motor Inns'. At the same time, Jody Miller, a folk-styled country singer, cut an answer version entitled Queen Of The House. At the time of the recording session, Jody was eight months pregnant with daughter Robin. The song became a massive pop and country hit, and Jody enjoyed success on the country charts through to the late 1970s with pop songs He's So Fine, Baby I'm Yours and Be My Baby, blended with Billy Sherill-styled country arrangements utilising steel guitars and strings. When the hits dried up Jody retired to the family farm in Oklahoma to breed horses.
Roger Miller's ascension to the top of both the pop and country charts was sudden and staggering. He was hosting his own network TV series in 1966, but by late 1968 his singles were failing to make an impact and his albums were not even cracking the Top 100. The decline took its toll on Miller physically and emotionally as he sank into the snake pit of drugs and alcohol.
"I was startled by my success," he recalled. "I was a country musician hoping to be a recording artist and hoping maybe to get a hit, but I never thought I could get up there and rock with the best of them. It just sort of flared up in my face. I didn't handle it well at all, but it was fun trying. I don't remember a lot of it. My head was in a spin there for a while. I was young and immaturity guided my way."
Though he continued to perform live, he wrote very little during the 1970s, a decade memorable to his fans only for his vocal characterisation in the 1973 animated Disney film Robin Hood. But that was not the end of the road for Miller. He was hired by a producer to write the music for a Broadway version of Mark Twain's Huckleberry Finn entitled Big River. The songs ranged from folk and gospel to rhythm and blues, and the play won the Tony Award for Best Musical in 1985.
Less than six years later Miller announced that he had a cancerous tumour below his vocal chords. The disease took his life on October 15, 1992 at the age of 56. Last year he was inducted into the Country Music Hall Of Fame and the durability of his songwriting was continued with songs like Don't We All Have The Right (Ricky Van Shelton), Lock, Stock & Teardrops (k. d. lang), Tall Tall Trees (Alan Jackson), Walkin', Talkin', Cryin', Barely Beatin', Broken Heart (Highway 101) all proving popular during recent years. The Miller legacy has been carried on into the 1990s by his son, Dean Miller, who has not only proved himself a successful songwriter, but has recently signed a recording contract with Capitol Records.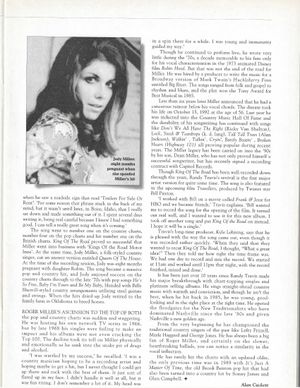 Though King Of The Road has been well-recorded down through the years, Randy Travis's revival is the first major artist version for quite some time. The song is also featured in the upcoming film Travellers, produced by Twister star Bill Paxton.
"I worked with Bill on a movie called Frank & Jesse for HBO and we became friends," Travis explains. "Bill wanted me to record the song for the opening of the film. It turned out real well, and I wanted to use it for this new album. I took off another song and put King Of The Road on instead. I hope it will be a single."
Travis' long-time producer, Kyle Lehning, says that he is pleased with the way the song came out, even though it was recorded rather quickly. "When they said that they wanted to recut King Of The Road, I thought, 'What a great idea!' Then they told me how tight the time frame was. We had one day to record and mix the record. We started at 11am and worked until 11pm that night, with the record finished, mixed and done."
It has been just over ten years since Randy Travis made his major breakthrough with chart-topping singles and platinum selling album. He sings straight-ahead country music with warmth and conviction, and though he isn't the best, when he hit back in 1985, he was young, good-looking and in the right place at the right time. He opened the floodgates for the New Traditionalists who have dominated Nashville since the late 1980s and given Nashville a new golden age.
From the very beginning he has championed the traditional country singers of the past like Lefty Frizzell, Merle Haggard and George Jones. He has always been a big fan of Roger Miller, and certainly on the slower, heartbreaking ballads, you can notice a similarity in the vocal inflection.
He has rarely hit the charts with an updated oldie, the only previous time was in 1989 with It's Just A Matter Of Time, the old Brook Benton pop hit that had also been turned into a country hit by Sonny James and Glen Campbell.