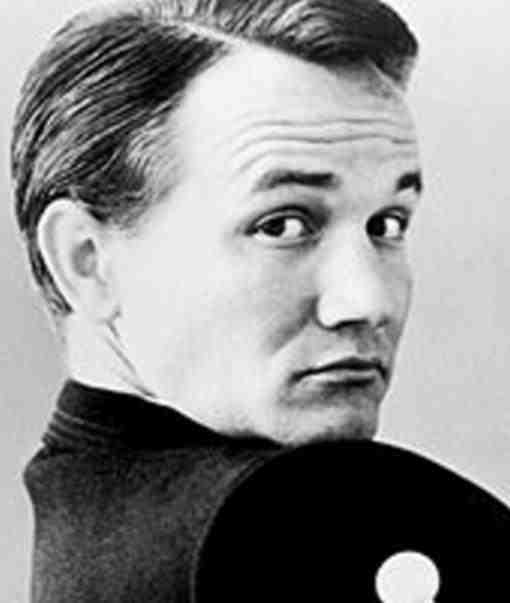 Roger Miller's King Of The Road, is one of the few songs that transcend the boundaries of time and culture. Its appeal, like all classic songs, is cross generational. Miller wrote the jazz-influenced tune in 1964, and when released as a single in March 1965, it sold over 500,000 copies in its first two weeks and subsequently chalked up world wide sales in excess of five million. The song has since been covered by nearly 300 artists in all styles of music from jazz through reggae to soul, country and rock. In the mid 1960s, while most of America was getting caught up in rock's British invasion, the Nashville-based singer-songwriter was dominating the pop and country charts with Dang Me, Chug-A-Lug, (And You Had A) Do-Wacka-Do, Engine Engine No.9, One Dyin' And A Buryin', Kansas City Star, England Swings, Husbands And Wives, Walkin' In The Sunshine and Little Green Apples. In 1964 Miller dominated the country music category in the Grammy Awards, walking off with five awards including Best Country Song and Best Country and Western Male Vocal Performance. Incredibly that was only a warm-up for what he would do the following year, when he swept the board with another six awards, including Best Rock-and-Roll Male Vocal Performance.

Something of a prolific songwriter, Miller had written more than 150 songs for such singers as George Jones, Ray Price, Ernest Tubb and Jim Reeves before he made a breakthrough as a singer in his own right. These included such classics as Billy Bayou, Big Harlan Taylor, Half A Mind, Swiss Maid and Invitation To The Blues. Though he had written scores of these sad-tinged country ballads, he rapidly became known to the public as a wacky guy with a guitar who sang funny songs and made weird noises.

Though born in Fort Worth, Texas on January 2, 1936, shortly after his father died, when he was still a toddler, he was sent to relatives by his ailing mother and was raised by an aunt and uncle in the small farming community of Erick, Oklahoma. Influenced by the singing of Hank Williams as well as his brother-in-law, Sheb Wooley, by the time he was ten, he had earned enough money picking cotton to buy himself a guitar. Throughout his adolesence, he played music in addition to working the ranch. Soon, he was able to play not only guitar and fiddle, but also piano, banjo, and drums. He spent three years in the US army in Korea. When he completed his hitch in the military, Roger moved to Nashville in the mid-1950s and began the slow and painful process of learning the craft and business of writing songs. He spent a year as a bellhop at a Nashville hotel and began to get some of his songs recorded. He was signed as a songwriter for Tree Music Publishing and Ray Price had a 1958 hit with Invitation To The Blues. Soon after Jim Reeves hit number one with Miller's Billy Bayou, and Ernest Tubb, Faron Young and George Jones all successfully recorded his songs. He recorded briefly for Mercury Records, though his first single, Poor Little John, disappeared without a trace. Then came a stint with Decca Records and also releases on Starday. These recordings were in a traditional country music styling delivered with brawny vocals and, for the time, a fresh perspective. They were musically about as traditional a country work as possible, with fiddle and steel breaks coming in almost every tune, and no hints of any pop or rock influences or aspects.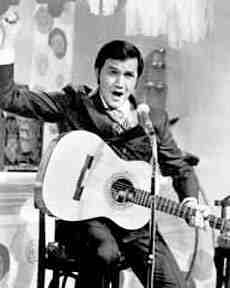 For a short time he played fiddle with Minnie Pearl, then became the drummer for Faron Young. He was signed to RCA in 1960 and cut a few records scoring his first top ten hit with When Two Worlds Collide the following year. He moved to Hollywood briefly to appear regularly on The Jimmy Dean Show and The Merv Griffin Show, two of the most popular television shows. It was at this time he started developing his goofy persona, singing silly novelty songs. He was signed to Smash Records and released Dang Me, in the summer of 1964. It was an immediate country smash, and also crossed over into the pop charts. King Of The Road proved so successful that Miller went into business with the Kings Of the Road Motor Inns. His ascension to the top of both the pop and country charts was sudden and staggering. His endearing mixture of humour, musicianship and pure corn continued to pay dividends throughout the 1960s. He was hosting his own network TV series in 1966, but by the early 1970s his singles were failing to make an impact and his albums were not even cracking the Top 100. The decline took its toll on Miller, physically and emotionally, as he sank into the snake pit of drugs and alcohol.

Though he continued to perform live, he wrote very little during the 1970s, a decade memorable to his fans only for his vocal characterisation in the 1973 animated Disney film Robin Hood. In 1973, he left Smash/Mercury for Columbia Records. He spent four years at Columbia and only his debut single for the label, Open Up Your Heart, was a hit, peaking at number 14. But that was not the end of the road for Miller. He was hired by a Broadway producer to write the music for a Broadway version of Mark Twain's Huckleberry Finn entitled Big River. Both the play and Roger's music were critically acclaimed and enormously popular. Big River won seven Tony Awards and two of those went to Miller, for Best Musical and Outstanding Score. Big River would be the last major work of Roger Miller's career. In 1991, he was diagnosed with throat cancer and the disease took his life on October 15, 1992 at the age of 56. He was inducted into The Country Music Hall Of Fame in 1995. The durability of his songwriting continued with such songs as Don't We All Have The Right (Ricky Van Shelton), Lock, Stock & Teardrops (k d lang), Tall Tall Trees (Alan Jackson), Walkin', Talkin', Cryin', Barely Beatin', Broken Heart (Highway 101) and King Of The Road (Randy Travis), all proving popular during recent years. In the summer of 2012 Tim O'Brien and his immediate family (sister Mollie, her husband the children) released the superb REINCARNATION: The Songs of Roger Miller under the name O'Brien Party of 7. The Miller legacy has also been carried on by his son Dean Miller, who has not only proved to be a successful songwriter, but also works as a Nashville-based performer and recording artist initially with Capitol Records. Roger Miller is one of the most underrated of the country legends of the past. Yes, he's firmly ensconced in The Country Music Hall of Fame. During his career, that stretched from the late 1950s through to the early 1990s he won numerous Grammys, gold discs and songwriting awards, but has his remarkable talent really been fully appreciated? I, for one, tended to take him for granted, never realising just how great a country singer he was, the depth of his songwriting talent and his skill as an entertainer. Though he is best known for his humorous novelty songs, they have tended to overshadow his considerable songwriting talents, as well as his hardcore honky-tonk roots.

Recommended Listening

Golden Hits (Smash 1965)
Best Of Roger Miller Vol. 1: Country Tunesmith (Polygram 1991)
Best Of Roger Miller Vol. 2: King Of the Road (Mercury 1992)
King Of the Road (Mercury Nashville Box Set 1995)
Best Of Roger Miller (Spectrum 1998)
All Time Greatest Hits (Mercury 2002)
Platinum & Gold Collection (RCA Nashville 2004)
A Man Like Me: The Early Years (Bear Family 2006)