RC1/Thirty Tigers
****1/2
A compelling and beautiful record from start-to-finish, Rodney Crowell continues to push the boundaries of Americana country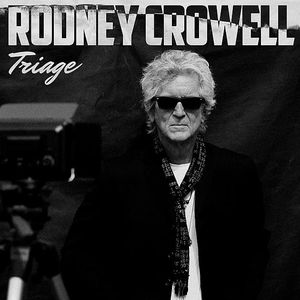 music as it exists right now. He offers the kind of wisdom that can only come from someone who has been world-weary and beaten down, but who has managed to find some light anyway in a bold and brazen album that will seriously haunt you long after the disc has stopped spinning. In many respects, TRIAGE is a collection of 'love' songs; not the kind of love songs as delivered by the likes of Barbra Streisand, Michael Ball or Michael Buble. These are bitter, hard-hitting, honest love songs for healing all that is wrong in the world, with meaningful stanzas created to allow each listener to discern what they will. Ultimately, TRIAGE comes across as an album that provides assurance and solace in these difficult times, just like the doctors and nurses in a hospital triage department.
Rodney and producer Dan Knobler began work on these recordings at the end of 2019 with a full band in the studio. Over the next couple of months they had completed seven tracks, then Covid-19 struck. Unable to work in the studio, they took to remote recording, bringing different musicians to the mix. Rodney re-wrote some of the songs already completed, to mirror the changing environment. He also created new songs, all designed to fit the overall theme of universal love in these difficult times of political unrest, greed-inspired selfishness and hatred, un-precented worldwide poverty—even in affluent western democracies—and a general breakdown of humanity.
As Rodney often does in his music, he cannily creates a sonic space between the notes where listeners can enter where they will, and his lyrics in the songs live between ambiguity, uncertainty and hope. Among the musicians featured are such skilled players as Steuart Smith, John Leventhal, Joe Robinson (guitar), Jerry Roe, Greg Morrow (drums), John Jarvis (piano), Larry Klein and Lex Price (bass), Jen Gunderman, Michael Rhodes, Kai Welch, Catherine Marx (keyboards), Rory Hoffman (harmonica) and Eamon McLoughlin and David Henry (strings) with background vocals provided by Wendy Moten, Ruth Moody, John Paul White and Tanya Hancheroff. The album begins with the pleading Don't Leave Me Now. Gentle acoustic guitar and a confessional vocal intro turns into a hard-driving number with the familiar theme of passion, betrayal and regret … the heartfelt hook hits a universal sweet spot, flush with an anthemic grandeur. The title song delivers a strong message about the power of love, empathy and compassion. The music here is passionate and sincere and features some excellent lyrics. Hoffman's harmonica sets the tone for the folksy One Little Bird with a chorus that will reverberate for days after. A song that radiates with lyrical brilliance and a musical genius, capturing the hope and light that lie within the ragged ambiguities of life.
During the pandemic social media was flooded with messages that when it was all over things needed to change, rather than a return to 'normal.' Rodney joins that rallying call with Something Has To Change. Sonically atmospheric, forcefully written, the song certainly lives up to its title. Given its simple truths, it remains that much more affecting as a result, with powerful lyrics that stick up for the dispossessed, the flawed, the have-nots and the misunderstood and puts the boot into the greed culture. He re-enforces his passion for universal love with the anthemic I'm All About Love. Sharing his support for all factions of humanity with a disregard for religious, cultural, wealth or pigment differences, all packaged in an irresistible musical arrangement.
Notably then, with This Body Isn't All There Is To Who I Am, the album's closing song, he offers an apologetic ode to all he's accomplished thus far, and wishers that maybe he could have done some things differently. Though he's clearly reflecting on his own circumstance, he's also offering some astute advice to anyone who also feels that they've been the beneficiaries of a life well lived. It's an inspiring end to an album that shares no shortage of personal thoughts and is all the more engaging as a result. With this album Rodney Crowell shines as a beacon of warm and quirky outsiderdom in a rising tide of cookie-cutter Nashville Americana. All that take the time to really listen, will definitely find themselves enriched.
July 2021