First published in Country Music International, December 1994
Lone Star State Of Mind
He's spent his time kicking around between Nashville and Texas but
Robert Earl Keen is a formidable American singer-songwriter. Alan Cackett reveals the story so far …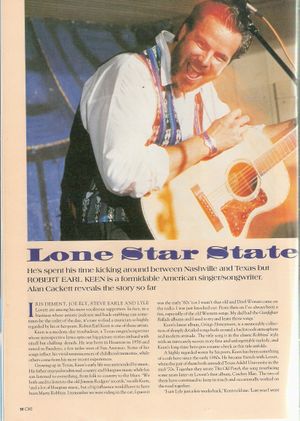 Iris Dement, Joe Ely, Steve Earle and Lyle Lovett are among his most vociferous supporters. In fact, in a business where artistic jealousy and back-stabbing can sometimes be the order of the day, it's rare to find a musician so highly regarded by his or her peers. Robert Earl Keen is one of these artists.
Keen is a modern-day troubadour, a Texas singer-songwriter whose introspective lyrics spin out big picture stories imbued with small but chilling details. He was born in Houston in 1956 and raised in Bandero, a few miles west of San Antonio. Some of his songs reflect his vivid reminiscences of childhood memories, while others come from his more recent experiences.
Growing up in Texas, Keen's early life was surrounded by music. His father enjoyed traditional country and bluegrass music while his son listened to everything, from folk to country to blues. "We both used to listen to the old Jimmie Rodgers' records,'" recalls Keen, "and a lot of bluegrass music, but a big influence would have to have been Marty Robbins. I remember we were riding in the car, I guess it was the early '60s 'cos I wasn't that old and Devil Woman came on the radio. I was just knocked out. From then on I've always been a fan, especially of the old Western songs. My dad had the Gunfighter Ballads albums and I used to try and learn those songs."        
Keen's latest album, Gringo Honeymoon, is a memorable collection of sharply detailed songs built around a backwoods atmosphere and modern attitude. The title song is in the classic Robbins' style with an intricately woven story line and unforgettable melody, and Keen's long-time hero gets a name-check as this tale unfolds.
A highly regarded writer by his peers, Keen has been something of a cult hero since the early 1980s. He became friends with Lovett, when the pair of them both attended Texas A&M University in the mid-'70s. Together they wrote This Old Porch, the song resurfacing some years later on Lovett's first album, Cowboy Man. The two of them have continued to keep in touch and occasionally worked on the road together.
"I saw Lyle just a few weeks back," Keen told me. "Last year I went out on the road and opened some shows for him. The tour took in California, Montana, Oregon and also Canada. In fact, we actually did a TV show out of Edmonton called Country Beat."
Once he had completed his studies at university, Keen formed a bluegrass outfit, The Front Porch Boys, working coffee houses and bars in and around San Antonio. "We had fun with the bluegrass things," he ponders. 'But the others weren't really serious about it all. As far as I know, they're all out of the music business now. I found that I wanted to play music with a bit more drive in it. We just couldn't do that in bluegrass, so I sorta moved on."
Keen's next stop was Austin in 1981. A thriving songwriters' town, he started billing himself as the Incredible Robert Earl Keen And Some Other Guys Band. Playing mainly original material, he produced the self-financed No Kinda Dancer album on his own Workshop Records. Around this time he met up with Steve Earle, another Texas-based musician who was just beginning to make his mark in Nashville as a songwriter.
With Earle's encouragement (he's rumoured to have claimed that Austin was too distracting with its girls and its drugs!) Keen re-located to Nashville, and he spent two years trying to make his mark in Music City. He returned to Texas in 1987, quite disillusioned by his lack of achievement in the country music mainstream. This fruitless period was not totally without gain, however. Keen made many useful contacts, had his songs recorded by Nanci Griffith, who cut both Sing One For Sister and I Would Change My Life and also sang back-up vocals on her Last Of The True Believers album.
"I guess that Sing One For Sister is my best-known song," admits Keen today. "It was a little bit different for me, because I wrote it on the piano. Usually I write on the guitar. I tend to write at home, rather than on the road. I just can't concentrate when I'm out on tour, and I always seem to end up writing what I call these lonely hotel songs."
Keen's time in Nashville led to a friendship with Jim Rooney, who produced his second record, The Live Album. Recorded at The Sons Of Hermann Hall in Dallas with such notable musicians as Roy Huskey Jr. and Johnathan Yudkin, it gained a 1988 release on Sugar Hill Records. But it was the next album, West Textures, in 1989, that brought Robert Earl Jeen (at that time still working under the name of Robert Earl Keen, Jr.) the kind of recognition that his talent so richly deserved.
An album steeped in the tradition of Texas songwriters, West Textures is a classic, dusty and atmospheric collection of songs portraying slices of Texas life. Keen approaches his songs with the curious air of detachment one might associate with a person unearthing forgotten treasures. Yet he involves himself, too, sometimes to an astonishing degree. His rough-hewn voice makes up in expressiveness what it may lack in quality.
It was to be another four years before Keen produced a follow-up album. A Bigger Piece Of Sky was recorded in Nashvillle, produced by Garry Velletri and featuring guest appearances by Marty Stuart, Maura O'Connell, George Marinelli and Tommy Spurlock. "Garry Velletri runs Bug Music in Nashville, the company I write for," explains Keen. "I've known him since I lived in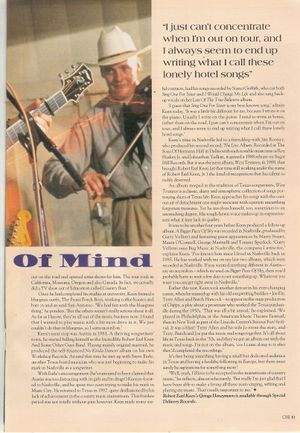 Nashville back in 1985. He has worked with me on my last two albums, which were recorded in Nashville. If you want anything different in Austin—say an accordion—which we used on Bigger Piece Of Sky, then you'd probably have to wait a few days to set something up. Whatever you want you can get right away in Nashville."
Earlier this year, Keen took another detour in his ever-changing career, when he teamed up with his old songwriting buddies—Joe Ely, Terry Allen and Butch Hancock—to appear in the stage production of Chippy, a play about a prostitute who worked the Texas panhandle during the 1930s. "That was all a bit unreal," he explained. "We played in Philadelphia, at the American Music Theatre Festival, then in New York as part of the Lincoln Center's Serious Fun! Festival. It was a blast! Terry Allen and his wife Jo wrote the story, and Terry, Butch and Joe put the music and songs together. It's all about life in Texas back in the '30s, and they've got an album out with the music and songs. I'm not on the album, 'cos I came along to it after they'd completed the recordings."
It's fine being something and have a small but dedicated audience in Texas and having a healthy following in Europe, but there must surely be aspirations for something more?
"Well, yeah, I'd love to be accepted in the mainstream of country music," he reflects, almost reluctantly. "But really I'm just glad that I have been able to make a living all these years singing, writing and playing my music. That's really important to me."
Robert Earl Keen's Gringo Honeymoon is available through Special Delivery Records.