Rob Aldridge & The Proponents - Mind Over Manners
Self-released
***1/2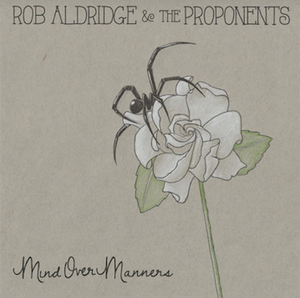 This Alabama-based band's second album is filled with bold signposts about enigmatic lead singer Rob Aldridge, his rebel appetite and his reckless heart. His compositions on MIND OVER MANNERS are thought-provoking, yet muscular, easily played but not easily ignored—uneasy listening, if you will. In the current rock world only a small number of bands have the unconventional art of doing something different and fresh, that pushes the listener to the limit and creates that strange and rare feeling of having something really genuine and raw. Recorded in Muscle Shoals, these guys swirl up a big sonic concoction of Southern rock, heavy blues rock, psychedelic rock and a little touch of soul. Burning with energy, the tightly wound songs explode on impact, delivering bittersweet thrills in the process. They are laced with his sharp knack for emotional narratives. That's most evident on stripped-down tunes like Beatlesque Nowhere and Mind Over Manners.
The opening track starts us down musical roads on the album that are by turn twisting and straight, treacherous and reliable, broken and whole. A sublime support for BLM, the subtle instrumentation on this song, including sparse acoustic guitar, Kimi Samson's weeping fiddle and Caleb Elliott's ethereal cello, bolsters and complements the gossamer melody. The country-tinged swinger Poor Taste rocks along the road of an ambivalent relationship, in which Rob and guest vocalist Wanda Wesolowski trade lines in a break-up argument. In spite of the upbeat tone, the couple are both looking for a way out of something that's no longer working.
A laid-back, country-rock vibe, that is pure Southern California, permeates Twisted Blanket, with brittle crystalline guitar strings and Clint Chandler's piano to the fore. Targeting unwanted male attention, the song's genius is in the woman's response - 'she'd rather be cold all over, than to fall in love down here' - for it affirms her strength and her ability to hold her head high, reject the unwanted advances, embrace the uncertainty and move on if need be. Want It More is centered around a rumbling and propulsive bassline, thundering drumming, buzzing and slashing guitars and Rob's howled vocals that end up as an accurate portrayal of the effects of depression.  The down-and-dirty rocker Explaining To Do—propelled by riffs that could easily come from an early Black Sabbath album, balanced by swirling keyboards and rugged harmonies—if you like raw dirt, railroad pounding, swamp-fried, blues-rock with a 21st century twist, then you're in luck. Devil On A Sunday is one of the most descriptive drug-addict songs I've heard. Spiraling into a hellish atmosphere, it careens around hairpin turns with abandon, the singer fully aware that death, loss, and heartbreak could be waiting for him around the next bend. Rob Aldrige has the kind of voice that lends gravitas to any occasion and this set of songs is certainly not for the faint-of-heart.
January 2022