Rita Coolidge - Whatever Happened To.....
First Published in Country Music International – July 1998
From heavy rock beginnings with Joe Cocker. Jimi Hendrix and Eric Clapton, Rita Coolidge went on to pop success with then-husband Kris Kristofferson and as a solo performer.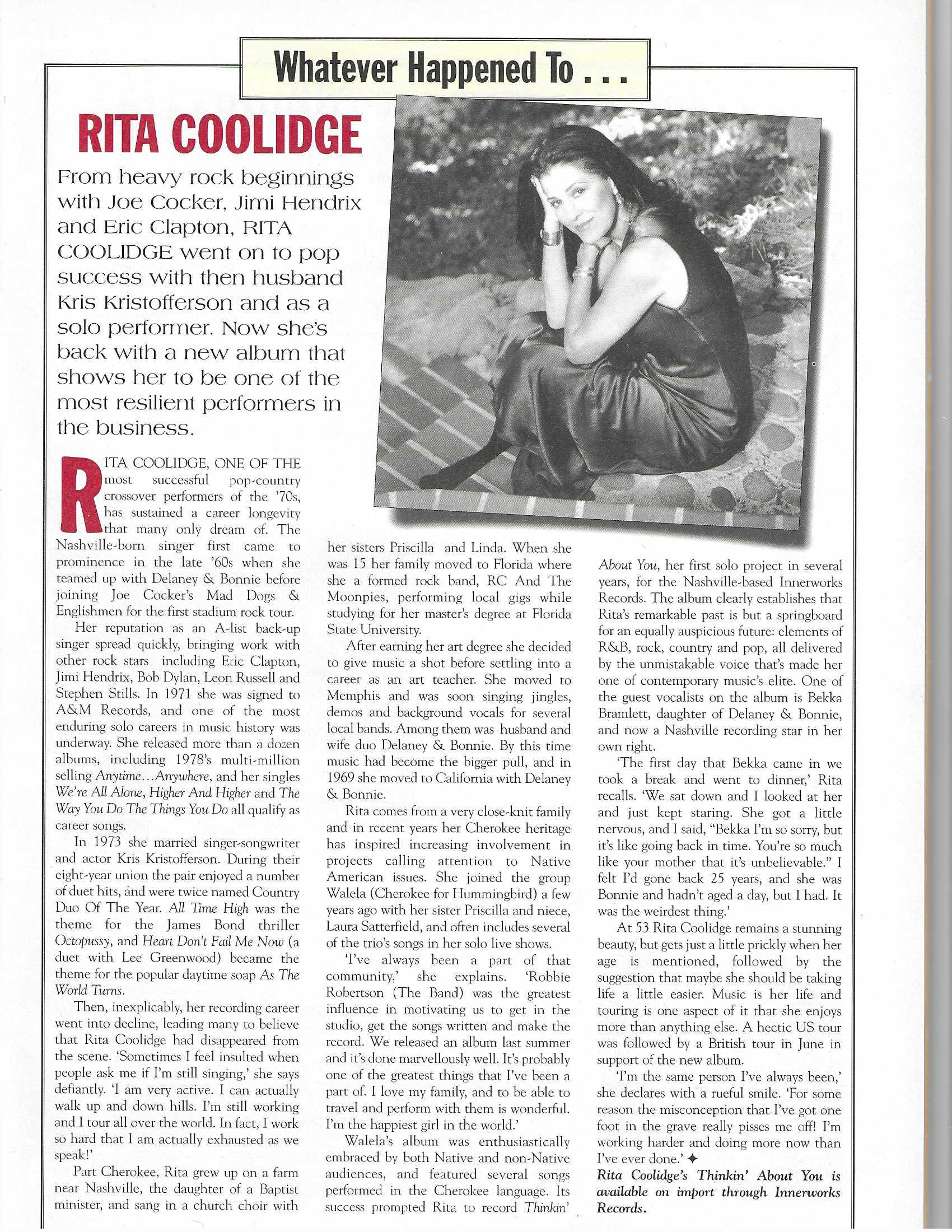 Rita Coolidge one of the most successful pop-country crossover performers of the 1970s, has sustained a career longevity that many only dream of. The Nashville-born singer first came to prominence in the late 1960s when she teamed up with Delaney & Bonnie before joining Joe Cocker's Mad Dog & Englishmen for the first stadium rock tour.
Her reputation as an A-list back-up singer spread quickly, bringing work with other rock stars including Eric Clapton, Jimi Hendrix, Bob Dylan, Leon Russell and Stephen Stills. In 1971 she was signed to A&M Records, and one of the most enduring solo careers in music history was underway. She released more than a dozen albums, including 1978's multi-million selling ANYTIME ... ANYWHERE, and her singles We're All Alone, Higher And Higher and The Way You Do The Things You Do all qualify as career songs.
In 1973 she married singer-songwriter and actor Kris Kristofferson. During their eight-year union the pair enjoyed a number of duet hits, and were twice named Country Duo Of The Year. All Time High was the theme for the James Bond thriller Octopussy, and Heart Don't Fail Me Now (a duet with Lee Greenwood) became the theme for the popular daytime soap As The World Turns.
Then, inexplicably, her recording career went into decline, leading many to believe that Rita Coolidge had disappeared from the scene. "Sometimes I feel insulted when people ask me if I'm still singing," she says defiantly. "I am very active. I can actually walk up and down hills. I'm still working and I tour all over the world. In fact, I work so hard that I am actually exhausted as we speak!"
Part Cherokee, Rita grew up on a farm near Nashville, the daughter of a Baptist minister, and sang in a church choir with her sisters Priscilla and Linda. When she was 15 her family moved to Florida where she formed a rock band, RC And The Moonpies, performing local gigs while studying for her master's degree at Florida State University.
After earning her art degree she decided to give music a shot before settling into a career as an art teacher. She moved to Memphis and was soon singing jingles, demos and background vocals for several local bands. Among them was husband and wife duo Delaney & Bonnie. By this time music had become the bigger pull, and in 1969 she moved to California with Delaney & Bonnie.
Rita comes from a very close-knit family and in recent years her Cherokee heritage has inspired increasing involvement in projects calling attention to Native American issues. She joined the group Walela (Cherokee for Hummingbird) a few years ago with her sister Priscilla and niece, Laura Satterfield, and often includes several of the trio's songs in her solo live shows.
"I've always been a part of that community," she explains. "Robbie Robertson (The Band) was the greatest influence in motivating us to get in the studio, get the songs written and make the record. We released an album last summer and it's done marvelously well. It's probably one of the greatest things that I've been a part of. I love my family, and to be able to travel and perform with them is wonderful. I'm the happiest girl in the world."
Walela's album was enthusiastically embraced by both Native and non-Native audiences, and featured several songs performed in the Cherokee language. Its success prompted Rita to record THINKIN' ABOUT YOU, her first solo project in several years, for the Nashville-based Innerworks Records. The album establishes that Rita's remarkable past is but a springboard for an equally auspicious future: elements of r&b, rock, country and pop, all delivered by the unmistakable voice that's made her one of contemporary music's elite. One of the guest vocalists on the album is Bekka Bramlett, daughter of Delaney & Ronnie, and now a Nashville recording star in her own right.
"The first day that Bekka came in we took a break and went to dinner," Rita recalls. "We sat down and I looked at her and just kept staring. She got a little nervous, and I said: 'Bekka I'm so sorry, but it's like going back in time. You're so much like your mother that it's unbelievable.' I felt I'd gone back 25 years, and she was Bonnie and hadn't aged a day, but I had. It was the weirdest thing."
At 53 Rita Coolidge remains a stunning beauty but gets just a little prickly when her age is mentioned, followed by the suggestion that maybe she could be taking life a little easier. Music is her life and touring is one aspect of it that she enjoys more than anything else. A hectic US tour was followed by a British tour in June in support of the new album.
"I'm the same person I've always been," she declares with a rueful smile. "For some reason the misconception that I've got one foot in the grave really pisses me off! I'm working harder and doing more now than I've ever done."