Ricochet - Stronger Than Pride
First Published in Country Music International, November 1996
Nashville is full of bands who mix down a great vocal harmony sound in the studio but have to supplement their sound with extra backup singers onstage. Not so Ricochet, six guys with sweet voices and raw instruments, who do all their own work, Alan Cackett reports.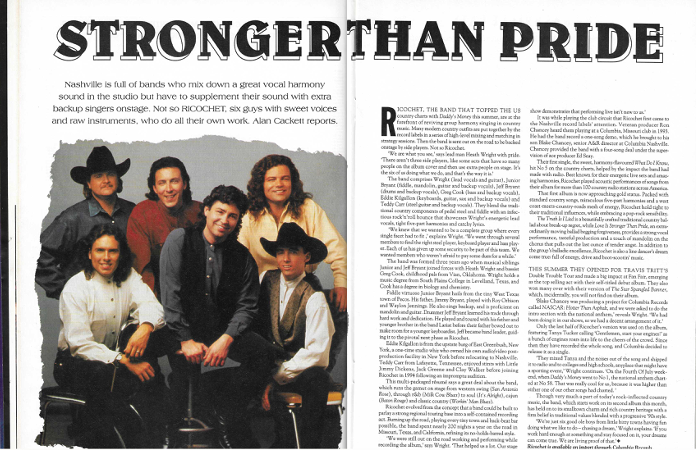 Ricochet, the band that topped the US country charts with Daddy's Money this summer, are at the forefront of reviving group harmony singing in country music. Many modern country outfits are put together by the record labels in a series of high-level mixing and matching in strategy sessions. Then the band is sent out on the road to be backed onstage by side players. Not so Ricochet.
"We are what we are," says lead man Heath Wright with pride. "There aren't three side players, like some acts that have so many people on the album cover and then use extra people on stage. It's the six of us doing what we do, and that's the way it is."
The band comprises Wright (lead vocals and guitar), Junior Bryant (fiddle, mandolin, guitar and backup vocals), Jeff Bryant (drums and backup vocals), Greg Cook (bass and backup vocals), Eddie Kilgallon (keyboards, guitar, sax and backup vocals) and Teddy Carr (steel guitar and backup vocals). They blend the traditional country components of pedal steel and fiddle with an infectious rock'n'roll bounce that showcases Wright's energetic lead vocals, tight five-part harmonies and catchy lyrics.
"We knew that we wanted to be a complete group where every single facet had to fit," explains Wright. "We went through several member to find the right steel player, keyboard player and bass player. Each of us has given up some security to be part of this team. We wanted members who weren't afraid to pay some dues for a while."
The band was formed three years ago when musical siblings Junior and Jeff Bryant joined forced with Heath Wright and bassist Greg Cook, childhood pals from Vian, Oklahoma. Wright holds a music degree from South Plains College in Levelland, Texas and Cook has a degree in biology and chemistry.
Fiddle virtuoso Junior Bryant hails from the tiny West Texas town of Pecos. His father, Jimmy Bryant, played with Roy Orbison and Waylon Jennings. He also sings backup, and is proficient on mandolin and guitar. Drummer Jeff Bryant learned his trade through hard work and dedication. He played and toured with his father and younger brother in the band Lariat before the father bowed out to make room for a younger keyboardist. Jeff became band leader, guiding it to the pivotal next phase as Ricochet.
Eddie Kilgallon is from the upstate burg of East Greenbush, New York, a one-time studio whiz who owned his own audio/video post-production facility in New York before relocating to Nashville. Teddy Carr from Lafayette, Tennessee, enjoyed stints with Little Jimmy Dickens, Jack Greene and Clay Walker before joining Ricochet in 1994 following an impromptu audition.
This multi-packaged résumé says a great deal about the band, which runs the gamut on stage from western swing (San Antonio Rose), through r&b (Milk Cow Blues) to soul (It's Alright), Cajun (Baton Rouge) and classic country (Workin' Man Blues).
Ricochet evolved from the concept that a band could be built to parlay a strong regional touring base into a self-contained recoding act. Burning up the road, playing every tiny town and back-beat bar possible, the band spent nearly 200 nights a year on the road in Missouri, Texas and California, refining its no-holds-barred style.
"We were still out on the road working and performing while recording the album," says Wright. "That helped us a lot. Our stage show demonstrates that performing live isn't new to us.
It was a while playing the club circuit that Ricochet first came to the Nashville record labels' attention. Veteran producer Ron Chancey heard them playing at a Columbia, Missouri club in 1993. He had the band record a one-song demo, which he brought to his son Blake Chancey, senior A&R director at Columbia Nashville. Chancey provided the band with a four-song deal under the supervision of ace producer Ed Seay.
Their first single, the sweet, harmony-flavoured What Do I Know, hit No 5 on the country charts, helped by the impact the band had made with radio. Best known for their energetic live sets and amazing harmonies, Ricochet played acoustic performances of songs from their album for more than 100 country radio stations across America.
That first album is now approaching gold status. Packed with standard country songs, miraculous five-part harmonies and a west coast-meets-country-roads mesh of energy. Ricochet hold tight to their traditional influences, while embracing a pop-rock sensibility.
The Truth Is I Lied is a beautifully crafted traditional country ballad about break-up regret, while Love Is Stronger Than Pride, an extraordinarily moving ballad begging forgiveness, provides a strong vocal performance, tasteful production and a touch of mandolin on the chorus pulls out the last ounce of tender angst. In addition to the group's balladic excellence, RICOCHET is also a line dancers' dream come true: full of energy, drive and boot-scootin' music.
This summer they opened for Travis Tritt's Double Trouble Tour and made a big impact at Fan Fair, emerging as the top selling act with their self-titled debut album. They also won many over with their version of The Star Spangled Banner, which, incidentally, you will not find on their album.
"Blake Chancey was producing a project for Columbia Records called NASCAR: Hotter Than Asphalt, and we were asked to do the intro section with the national anthem," reveals Wright. "We had been doing it in our shows, so we had a decent arrangement of it."
Only the last half of Ricochet's version was used on the album, featuring Tanya Tucker calling 'Gentlemen, start your engines!' as a bunch of engines roars into life to the cheers of the crowd. Since then they have recorded the whole song, and Columbia decided to release it as a single.
"They mixed Tanya and the noises out of the song and shipped it to radio and to colleges and high schools, any place that might have a sporting event," Wright continues. "On the Fourth Of July weekend, when Daddy's Money went to No 1, the national anthem charted at No 58. That was really cool for us, because it was higher than either of our other songs has charted."
Though very much a part of today's rock-inflected country music, the band, which starts work on its second album this month, has held on to its smalltown charm and rich country heritage with a firm belief in traditional values blended with a progressive 1990s style.
"We're just six ole boys from little bitty towns having fun doing what we like to do – chasing a dream," Wright explains. "If you work hard enough at something and stay focused on it, your dreams can come true. We are living proof of that."