Ricky Van Shelton - Travellers Choice
First published in Country Music International. April 1995
Country Artist, children's author and Beatles' fan Ricky Van Shelton picks his favourites for the long road ahead in conversation with Alan Cackett
"Most of us country artists spend so much time on the road that you could call us travel experts these days. You get on the old bus and travel a thousand miles, play a show, pack up the gear, and off you go again. I must have travelled around most of America in the past 10 years and having been over to Europe, I now consider myself a travelling man. Sometimes it is a strain, but I can't help but think that I'm blessed by being able to see different places and witness different lifestyles. America has such great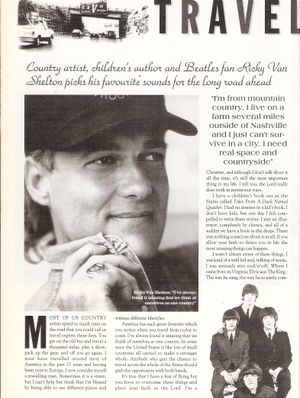 diversity which you notice when you travel from coast to coast. I've always found it amazing that we think of ourselves as one country. In some ways the United States is like lots of small countries all united to make a stronger whole. Anybody who gets the chance to travel across the whole of the States should grab the opportunity with both hands.
It's true that I have a fear of flying but you have to overcome these things and place your faith in the Lord. I'm a Christian, and although I don't talk about it all the time, it's still the most important thing in my life. I tell you, the Lord really does work in mysterious ways.
I have a children's book out in the States called Tales From A Duck Named Quacker. I had no interest in a kid's book, I don't have kids, but one day I felt compelled to write these stories. I met an illustrator, completely by chance, and all of a sudden we have a book in the shops. There was nothing conscious about it at all. If you allow your faith to direct you in life the most amazing things can happen.
I wasn't always aware of these things, I was kind of a wild kid and, talking of music, I was seriously into rock'n'roll. Where I came from in Virginia, Elvis was The King. The way he sang, the way he so easily combined country and blues made for a really powerful sound. I still listen to Elvis tapes and, I tell you, when his voice comes over on an oldies radio station you 'still get the feeling that you're hearing something completely new. He still sounds fresh, immediate and energetic, and that's the mark of genius in my book.
Then there's the Beatles and the Rolling Stones. I have a tape I play all the time which is a compilation of those British Invasion bands from the 1960s: The Beatles, Herman's Hermits, Dave Clark Five, Moody Blues and The Hollies. To be honest with you, those are still my favourite records. You listen to a day's worth of Lennon & McCartney songs and you'll quickly realise that they never duplicated themselves.
There was so much originality and spark going down in the 1960s. Sometimes I wonder where some of that creativity went. I can't be as creative as I'd like to be. The records have to sell, and they have to get played on the radio, and so they have to obey certain rules. The 1990s are different to the 1960s on that level. I wish things would change, but country music is now a billion-dollar industry. That means you have to be less adventurous than those older guys like Buck Owens and Merle Haggard were able to be. I mean they really told it like it was.
As far as old-time country guys go, George Jones was a real inspiration, along with Lefty Friazell and Hank Williams. These guys sang from the heart. It wasn't as polished as the country sound on today 's radio, but it had so mu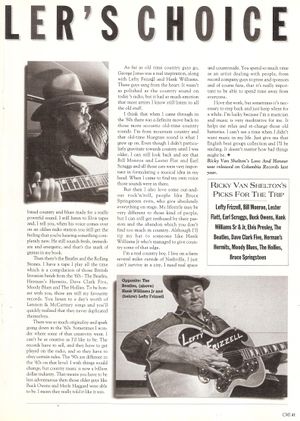 ch emotion that most artists I know still listen to all the old stuff.
I think that when I came through in the 1980s there was a definite move back to those more acoustic old-time country sounds. I'm from mountain country and that old-time bluegrass sound is what I grew up on. Even though I didn't particularly gravitate towards country until I was older, I can still look back and see that Bill Monroe and Lester Flat and Earl Scruggs and all those cats were very important in formulating a musical idea in my head. When I came to find my own voice those sounds were in there.
But then I also love some out-and-out rock'n'roll, people like Bruce Springsteen even, who give absolutely everything on stage. My lifestyle may be very different to those kind of people, but I can still get enthused by their passion and the abandon which you don't find too much in country. Although I'll tip my hat to someone like Hank Williams Jr. who's managed to give country some of that edge.
I'm a real country boy. I live on a farm several miles outside of Nashville, I just can't survive in a city, I need real space and countryside. You spend so much time as an artist dealing with people, from record company guys to press and sponsors and of course fans, that it's really important to be able to spend time away from everyone.
I love the work, but sometimes it's necessary to step back and just keep silent for a while. I'm lucky because I'm a musician and music is very meditative for me. It helps me relax and re-charge those old batteries. I can't see a time when I didn't want music in my life. Just give me that English beat groups collection and I'll be smiling. It doesn't matter how bad things might be."
Ricky's picks for the Trip: Bill Monroe, Lester Flatt & Earl Scruggs, Buck Owens, Hank Williams Sr & Jr, Elvis Presley, The Beatles, Dave Clark Five, Herman's Hermits, Moody Blues, The Hollies, Bruce Springsteen