Wild-Eyed Dreamer
First published in Country Music International – October 1994
He was bribed into joining his first band as a teenager. Since then he's spent the best part of 25 years on a musical rollercoaster. Next stop Britain.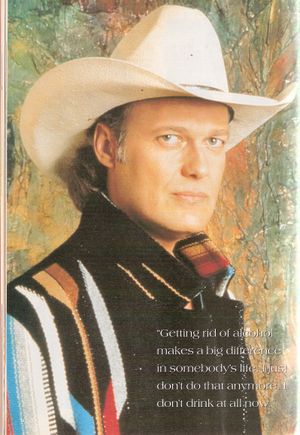 Ricky Van Shelton is a reluctant star. Reluctant because he tries to avoid all the trappings that success has brought him. He enjoys singing and he loves performing, but rather than being out on the road engaged in a series of one-night stands, appearing on chat shows and doing the endless media interviews that the big stars are expected to undertake, Shelton would much rather be at home, working on his farm by day and relaxing with his family during the evening.
This might seem a strange attitude from a man who's been singing in pop and country bands for the best part of 25 years. Playing music all started for Ricky in the late 1960s when he was still in his teens. His older brother, Ronnie, a country/bluegrass mandolin player, bribed him with the offer of driving his Fairlane 289 to get Ricky to sing and play in his country band. Ricky was 14 years old and couldn't resist such a tempting offer.
He spent the next 20 years working the clubs, mainly in and around his home town, Grit, in south-central Virginia. It was a hard life, but all the time he had this stubborn determination that one day he was going to make it as a singer. "Never for one moment did I ever think that I might not succeed," says Shelton. "I always had this faith in myself that if the right person gave me the right opportunity, I would do it. I guess I just dreamed about that day all my life."
While he had held on tenaciously to this dream he had to live in the real world. This meant holding down a succession of day jobs that included working as a gas jockey and pipe fitter, a construction worker, appliance salesman and gas station attendant. After a full day at work, Shelton would travel to a gig, usually a local honky-tonk, and play until way after midnight.
Nothing but grim determination and that all-important dream could have kept him going. But by his own admission, Ricky hid his emotions well and put up this façade of being self-assured when deep inside he was hiding self-doubt.
"I guess maybe I was reserved in those days and that's when I really started to drink," he says candidly. "I was worried about my career, my family and how things would turn out. The drink seemed to help me relax and before too long I used to drink a lot."
By this time he had married his childhood sweetheart, Bettye, who encouraged her husband's singing career and was the main instigator in his move to Nashville 12 years ago. Those first few years in Music City were not easy for the Sheltons: Ricky became a house husband while his wife worked nine-to-five in a Nashville office.  Then, in the evening, he was out pursuing his musical career, playing small clubs, often for little more than beer money.
Eventually his perseverance paid off. A demo tape he had made was played to a Nashville journalist and this in turn led to a showcase in the basement of a Nashville club. Steve Buckingham, a Columbia Record A&R man, heard him perform and, suitably impressed, signed Shelton to a recording contract. A couple of weeks later, in the summer of 1986, the pair were busy in the studios working on his first album WILD-EYED DREAM.
"I remember being struck by the fact that Ricky Van Shelton had a voice that was suited to two very different styles: the energetic early rockabilly/rock'n'roll and the traditional country ballads," Buckingham recalls. "And he has such a reverence for the traditions that comprise country music. If there's one thing about Shelton, he knows where music comes from and he appreciated its roots, to the point where he wants to ensure its survival in its more pristine form."
That first album started Shelton on a mad roller-coaster ride of one-night stands, radio, TV and press interviews, TV and award shows. His records soared high on the charts and his albums all went platinum at a time when country albums rarely achieved those kind of sales figures. The singer also became a fans' favourite. Though he picked up the CMA Male Vocalist of 1989 award, it was the fan-voted TNN Music City News Awards where Ricky really swept the board. In 1989 he scooped four awards and the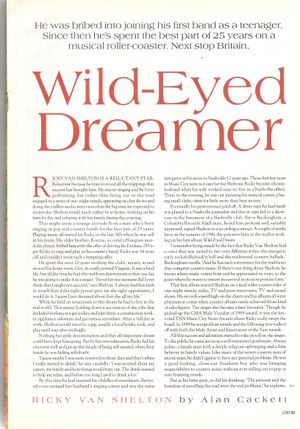 following year walked off with both the Male Artist and Entertainer of the Year awards.
All this success and adoration started to take its toll on the singer. To the public he came across as a well-mannered gentleman. Always polite, a family man with a deeply religious upbringing and a firm believer in family values. Like many of the newer country starts of recent years, he didn't appear to have any personal problems. He was a good-looking, clean-cut Southern boy who was bringing respectability to country music without ever selling out to pop or easy-listening trends.
But as his fame grew, so did his drinking. "The pressure and the boredom of travelling the road were the real problems," he explains.
"It was something that started way back. I was drinking in my teens, and it has been growing worse ever since. It was just partying, you know, getting real loose and having a good time. But it can turn into a bad thing, can put you on a dangerous road. You go along with it and think you're just partying a little, then one day it's really got you, but you just don't admit to it."
"The drinking really started to mess up my life," he continues. "Getting rid of alcohol makes a big difference in somebody's life. I just don't do that anymore. I don't drink at all now."
The drink not only played havoc with Shelton's musical career, it also seriously affected his personal life, spilling over into his marriage, and for a time causing a rift. Luckily with Bettye's help and understanding, he has been able to rebuild, not only his marriage, but also the creativity in his career.
He had started work on a gospel album in 1990. It was to be dedicated to his mom and dad and the gospel music on which they raised him. Due to his own personal problems and lack of belief in the project from his record company, the album was put on hold.
Once straightened out, Ricky was keen to complete the recordings, but Columbia Records didn't share the enthusiasm. "Yes, there was some opposition to the album," Ricky admits. "I told 'em if they didn't want to put it out, to turn it over to me and I'd release it. They realised that I was serious and jumped right on it."
DON'T OVERLOOK SALVATION exceeded all expectations when finally released in the summer of 1992. It was heaped with critical acclaim and gained a gold disc for sales in excess of 500,000 copies, a rarity for a gospel album.
"Everything on the album was done according to the way I believed it should be," says Ricky. "They gave me the freedom to do it my way. I had them pull off all the drums. That really freaked them out, but I just didn't want the drums covering up the music like it usually does. That just ain't the way for me."    
With a father who played guitar and sang in a gospel quartet, Ricky grew up with Southern gospel music all around him, both at church and at home. "The songs on that album bring back special memories to me. The first song I ever sang was Mansion Over The Hilltop. As a child I w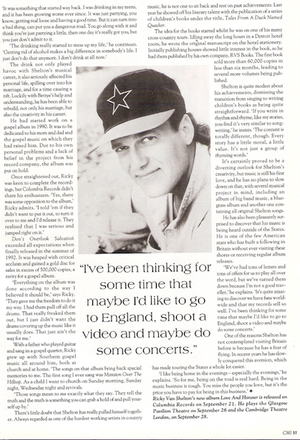 ent to church on Sunday morning, Sunday night, Wednesday night and revivals."
"Those songs mean to me exactly what they say. They tell the truth and the truth is something you can grab a hold of and pull yourself up by."
There's little doubt that Shelton has really pulled himself together. Always regarded as one of the hardest working artists in country music, he is not one to sit back and rest on past achievements. Last year he showed off his literary talent with the publication of a series of children's books under the title, Tales From A Duck Named Quacker.        
The idea for the books started whilst he was on one of his many cross-country tours. Idling away the long hours in a Detroit hotel room, he wrote the original manuscript on the hotel stationery. Initially publishing houses showed little interest in the book, so he had them published by his own company, RVS Books. The first book sold more than 60,000 copies in less than six months, leading to several more volumes being published.
Shelton is quite modest about his achievements, dismissing the transition from singing to writing children's books as being quite straightforward. "If you write in rhythm and rhyme, like my stories, you find it's very similar to song-writing," he insists. "The content is totally different, though. Every story has a little moral, a little value. It's not just a group of rhyming words."
It's certainly proved to be a diverting outlook for Shelton's creativity, but music is still his first love, and he has no plans to slow down on that, with several musical project in mind, including an album of big band music, a bluegrass album and another one containing all original Shelton songs.
He has also been pleasantly surprised to discover that his music is being heard outside of the States. He is one of the few American stars who has built a following in Britain without ever visiting these shores or receiving regular album releases.
"We've had tons of letters and tons of offers for us to play all over the word, but we've turned them down because I'm not a good traveller," he explains. "It's quite amazing to discover we have fans world-wide and that records sell so well. I've been thinking for sometime that maybe I'd like to go to England, shoot a video and maybe do some concerts."
One of the reasons Shelton has not contemplated visiting Britain before is because he has a fear of flying. In recent years he has slowly conquered this aversion, which has made touring the States a whole lot easier.
"I like being home in the evenings—especially the evenings," he explains. "So for me, being on the road is real hard. Being in the music business is tough. You miss the people you love, but it's the price you have to pay for being in this business."
Ricky Van Shelton's new album LOVE AND HONOUR is released on Columbia Records on September 21. He plays the Glasgow Pavilion Theatre on September 26 and the Cambridge Theatre London, on September 28.