First published in Country Music People, September 1974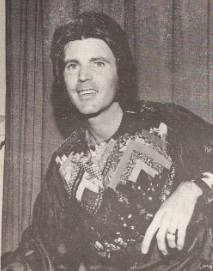 Back in the early 1960s Ricky Nelson was everyone's favourite teenage idol. On stage in his sweater and sneakers and college boy haircut, with his freshly scrubbed face and his inoffensive part country-based songs, he was the epitome off the all-American boy. His frail voice commiserating with himself about falling in love 'Mary Lou' and being 'Stood Up,' he brought to mind the then harmless, carefree days of the US teenager at play—the beach parties, bashed-up cars, soda fountains and the ever-long hot summer days.
Now it's Ricky Nelson, in his early thirties and a family man with responsibilities, a 1970s hairstyle and a healthy respect for musical changes. He fronts the excellent Stone Canyon Band and plays as the mood takes him, the influences coming as much from the country field as the rock fraternity.
He hasn't really changed his music at all. The addition of steel guitar to his group is something that wouldn't have been out of place in 1961. Back in those days he had real style. It's easy to listen to those records today and say they're naïve—but they represented the times. Maybe they don't stand up that well today, but the only fair way to judge them is in comparison to other records of the time. Instrumentally the quality shows through. The guitarist was originally James Burton, a legendary figure in music today, but a talent only recognised by a few back in those days. He was respected as a musician of rare quality, brought up on country music, he blended his roots with the simple country-styled songs that Rick Nelson was cutting. The original bass player was Joe Osborne, who had a similar background to Burton. They are both established studio musicians on the West Coast now, equally at home on country-styled material and hard rock. Other members of Nelson's original group have also included Glen Campbell and Johnny Rivers, both whom have gone on to greater things as solo performers. That band is the only reason why Rick Nelson's records stood head and shoulders above so many others from the same period.
In those days Nelson had a lot to say in the material he recorded. He wasn't into songwriting so he had to rely on others. He chose well, Gene Pitney wrote
Hello Mary Lou
, Johnny and Dorsey Burnette provided many of the other hits, and he selected material from the country music field. He has never allowed himself to fall far behind the current trends since the days of the 1950s and 1960s when he was dictating the hit sounds himself. His success during the past few years, especially in America, has been more of a return to the fore than a contrived comeback. Today he has remarkably reinstated himself in the contemporary music scene after a long absence, bringing to his current work a whole new attitude. He accidentally picked exactly the right time to re-emerge, coinciding with the pick-up on loose country-based bands and music.
While Nelson's own re-emergence into music was remarkable enough after so long an absence, an even happier result of his decision was his choice of musicians for The Stone Canyon Band. His selection was no hurried or haphazard affair, and the original line-up of Randy Meisner, Patrick Shanahan, Allen Kemp and Tom Brumley had that perfect drive and flair for expressing themselves individually in music that led to their work being a complete empathy with each other, Nelson and his work.
After several months of getting a sound together the band made their debut at the Troubadour Club in Los Angeles. One of these sets was taped and released as an album—that really was the beginning of the new era for Rick Nelson. This 'Concert' album was a fantastic cameo of where Rick Nelson was heading. It not only featured his maturing style of songwriting, but also songs by Dylan and a few of the old Nelson hits like
I'm Walking
and
Believe What You Say
, which had been smoothly updated by the new band.
The members of this band had long and interesting careers in music, and Nelson's move to bring them together was wise. Randy Meisner had previously been a bass player with Poco and he not only brought along his experiences in country-rock, but also his very own freaky high voice that proved a very useful addition on harmony work. Allen Kemp, on lead guitar, had many of the qualities of James Burton, never taking excessive solos, he always leaves room for the one person, whom I suppose really makes The Stone Canyon Band so unique: steel guitarist Tom Brumley, who has really made a needle sharp mark on their work, adding zest, warmth and something identifiable to the band.
Brumley is no newcomer to music, although with Nelson it's practically the first time he has moved out of the country field he grew up with. In his early thirties he was more or less raised with music full-time. His father, Albert Brumley, is the famous gospel music writer responsible for such well known tunes as
I'll Fly Away
and
Turn Your Radio On
. In his teens along with his four brothers he had a country group that played around Missouri and the Mid-west. He was hooked on country music, and his great chance came in the early 1960s when he was invited by Buck Owens to join The Buckaroos, just about the finest country band of the era. He worked for Buck just over five years, and was the man most responsible for obtaining that unique Buck Owens sound that during the mid-1960s was the life blood of a music that was finding it very difficult to create a worthwhile identity in the whole musical sphere.
After the eager acceptance of RICK NELSON IN CONCERT and the commercial success of
She
Belongs To Me
came the first studio set—NELSON SINGS NELSON. Though this album promised much, it fell short due to a hurried approach during the recording. All of the songs came from Rick's own pen, and though he was becoming both accomplished and quite inventive, the whole album suffered because his best didn't compensate for his worst. The band didn't sound as together as on the live set and you had the feeling that Rick didn't have the same conviction for his own material.
Following this slight disaster, the band spent months preparing for their next album. The result was RUDY THE FIFTH, the album that finally had Nelson finding his mark and solidifying his position with The Stone Canyon Band and an identifiable casual laid back style.
This Train
rocks with a punching rhythm and some nice bass work from Randy Meisner. On
The Last Time Around
Rick proves that his lyrics have come of age with a story of a broken love relationship that sounds real.
Honky Tonk Women
gets a good treatment with Tom Brumley's pedal steel providing a mean, piercing solo and the drums are recorded so that when Pat Shanahan hits the toms it hits you in the stomach. There's a rather sickly orchestral arrangement on
Life
, but it all fits into the context of the tune. The melody is lovely, soft and hypnotic. The whole album is beautifully held together by Brumley's steel guitar, whether it be soft and tender as in
Love Minus Zero/No Limit
or hard and biting as in
Feel So Good
—The Stone Cayon Band are in complete control.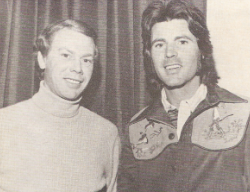 Rick Nelson has since proved that he is an able leader of a band with the stature that The Stone Canyon Band command. Though he lost Randy Meisner in the midst of recording RUDY THE FIFTH, he found a great replacement with Steve Love. He then continued along the same lines as before, but gradually he had become more mature with his songwriting. The band has grown into a really tight unit and commercial success was achieved with
Garden Party
at the end of 1972. This song really put Rick's private thoughts forward to the public. The emotions expressed in the song are personal to Nelson, but they could so easily apply to other singers from the 1950s who've found that singing the same old hits after more than ten years is not the way for them.
Garden Party
with the pertinent repetitive chorus reflects to a degree the influence that writers like Bob Dylan have had on Nelson. The ensuing album that always follows a big hit single proved that Rick Nelson had now developed into one of the finest writers in the contemporary country-rock field today. True you can always pick out influences, but everyone must be influenced by someone or something. The Stone Cayon Band is influenced by country music. It's not a country band, was never meant to be, but Tom Brumley's steel guitar keeps the country influence to the fore. Nelson's vocals are always lightweight, his songs catchy and The Stone Canyon Band offers the perfect musical accompaniment.