Rick Carnes - The Nashville Cats
First Published in Country Music International – July 1998
After finding success in the early 1980s writing hits for Loretta, Reba and Conway Twitty, Rick Carnes's songwriting career suddenly slid to a halt. But cuts on Pam Tillis's million-selling 1991 debut album brought him back into the limelight. Now he's penning hits for the G Man himself.
Arkansas-born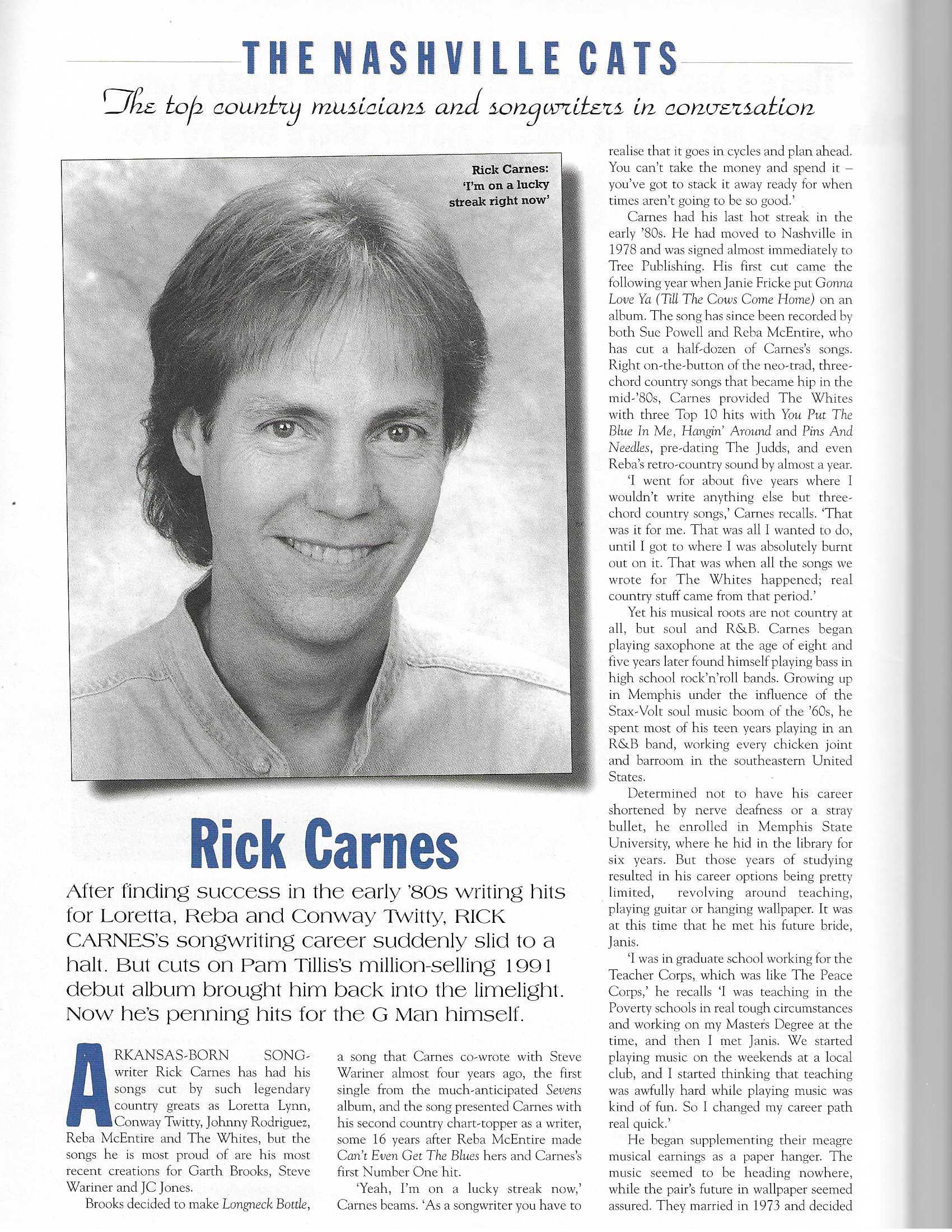 songwriter Rick Carnes has had his songs cut by such legendary country greats as Loretta Lynn, Conway Twitty, Johnny Rodriguez, Reba McEntire and The Whites, but the songs he is most proud of are his most recent creations for Garth Brooks, Steve Wariner and JC Jones.
Brooks decided to make Longneck Bottle, a song that Carnes co-wrote with Steve Wariner almost four years ago, the first single from the much-anticipated SEVENS album, and the song presented Carnes with his second country chart-topper as a writer, some 16 years after Reba McEntire made Can't Even Get The Blues hers and Carnes's first number one hit.
"Yeah, I'm on a lucky streak now," Carnes beams, "As a songwriter you have to realise that it goes in cycles and plan ahead. You can't take the money and spend it—you've got to stack it away ready for when times aren't going to be so good."
Carnes had his last hot streak in the early 1980s. He had moved to Nashville in 1978 and was signed almost immediately to Tree Publishing. His first cut came the following year when Janie Fricke put Gonna Love Ya (Till The Cows Come Home) on an album. The song has since been recorded by both Sue Powell and Reba McEntire, who has cut a half-dozen of Carnes' songs. Right on-the-button of the neo-trad, three-chord country songs that became hip in the mid-1980s, Carnes provided the Whites with three top ten hits with You Put The Blue In Me, Hangin' Around and Pins And Needles, pre-dating the Judds, and even Reba's retro-country sound by almost a year.
"I went for almost five years where I wouldn't write anything else but three-chord country songs," Carnes recalls. "That was it for me. That was all I wanted to do, until I got to where I was absolutely burnt out on it. That was when all the songs we wrote for the Whites happened; real country stuff came from that period."
Yet his musical roots are not country at all, but soul and r&b. Carnes began playing saxophone at the age of eight and five years later found himself playing bass in high school rock'n'roll bands. Growing up in Memphis under the influence of the Stax-Volt soul music boom of the 1960s, he spent most of his teen years playing in an r&b band, working every chicken joint and barroom in the southeastern United States.
Determined not to have his career shortened by nerve deafness or a stray bullet, he enrolled in Memphis State University, where he hid in the library for six years. But those years of studying resulted in his career options being pretty limited, revolving around teaching, playing guitar or hanging wallpaper. It was at this time that he met his future bride, Janis.
"I was in graduate school working for the Teacher Corps, which was like The Peace Corps," he recalls, "I was teaching in the Poverty schools in real tough circumstances and working on my Masters Degree at the time, and then I met Janis. We started playing music on the weekends at a local club, and I started thinking that teaching was awfully hard while playing music was kind of fun. So I changed my career path real quick."
He began supplementing their meagre musical earnings as a paper hanger. The music seemed to be heading nowhere, while the pair's future in wallpaper seemed assured. They married in 1973 and decided upon a plan to win fame and glory. They would tour as a duet act, write hit songs, sell millions of records and become famous. 
"We played on the road for about five years," he laughs. "Restaurants and hotels – lounge music. It was a real grind. We would do five or six hours a night. Janis played keyboards and sang and I played guitar and harmonised. We played whatever people wanted to hear. You name the song, we'd figure out a way to play it. We were just trying to get some money together to come to Nashville."
Eventually they made enough money to last for about 18 months. Rick landed a publishing deal with Tree and Janis signed a record contract with RCA with Rick co-producing. "Nothing happened at first," Carnes adds ruefully. "We still starved for a while."
Though Janis's deal with RCA was unsuccessful, she became one of the busiest session and demo singers in town. "It got to the point where it was eating into songwriting time," Carnes remembers. "She'd get up every morning and have three sessions to do that day, and I'd be driving her from studio to studio. It was tough, but we got a record deal right after that."
It was 1981, and Janis and Rick Carnes were signed to Elektra-Asylum as a duo and wrote and recorded their first hit single, Have You Heard, with Rick once again co-producing. They followed label-head Jimmy Bowen to Warner Brothers and then MCA. Along the way they had more hit singles and also toured extensively, but the writing career always seemed to be more lucrative than the records.
"The record career didn't take off as quickly as our writing did," says Rick. "We started getting records on Reba, the Whites, Dean Martin, Charly McClain—– gosh, we had records with everybody for a while. You get seven cuts in a run, that's amazing."
But, just as rapidly as all that success clicked into top gear, the writing suddenly came up against a brick wall. For several years he didn't get a cut. Then Pam Tillis included Ancient History on her breakthrough million-selling Arista debut album, and Carnes was busily stockpiling the songs again. He teamed up with longtime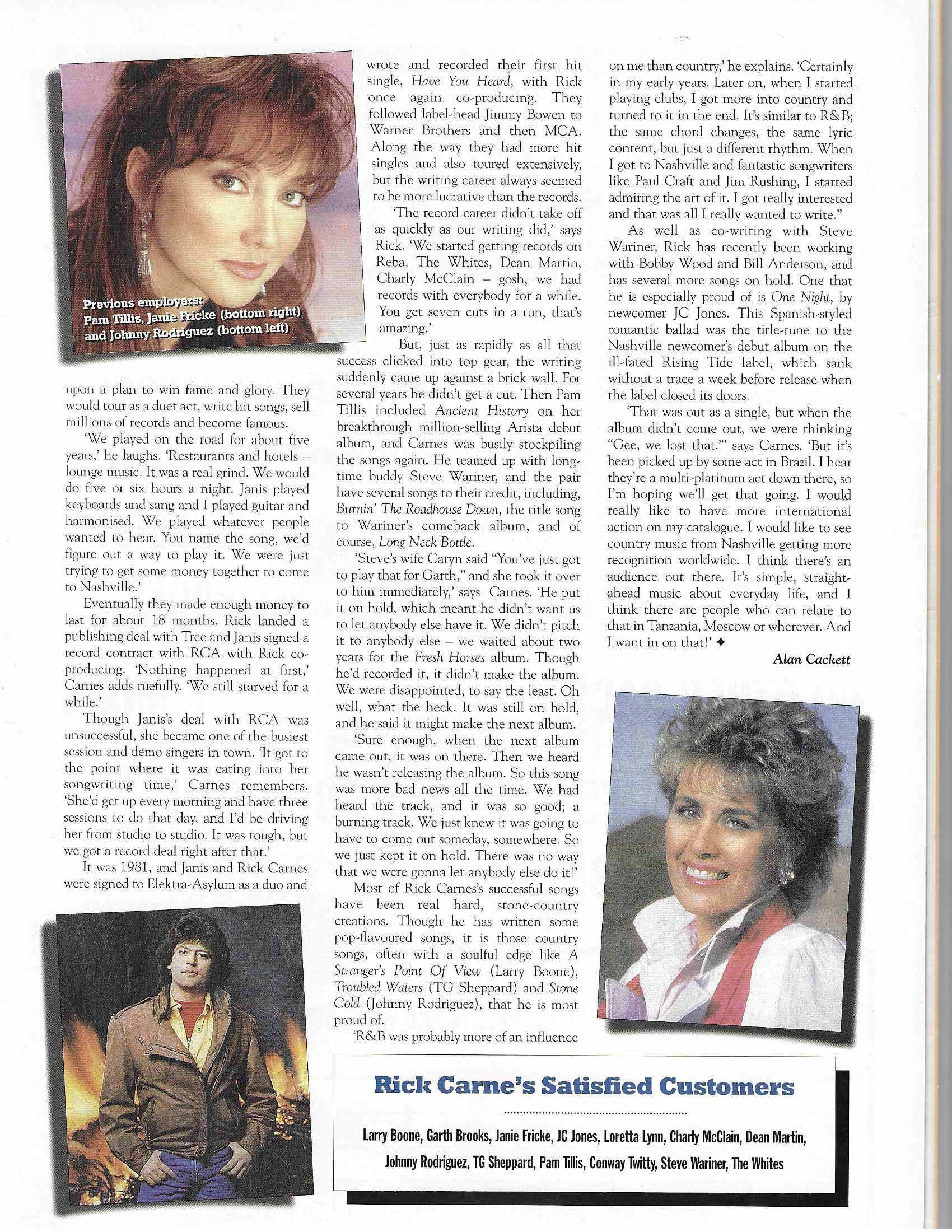 buddy Steve Wariner, and the pair have several songs to their credit, including Burnin' The Roadhouse Down, the title song to Wariner's comeback album, and of course, Long Neck Bottle.
"Steve's wife Caryn said: 'You've just got to play that for Garth,' and she took it over to him immediately," says Carnes. "He put it on hold, which meant he didn't want us to let anybody else have it. We didn't pitch it to anybody else—we waited about two years for the FRESH HORSES album. Though he'd recorded it, it didn't make the album. We were disappointed to say the least. Oh well, what the heck. It was still on hold, and he said it might make the next album."
"Sure enough, when the next album came out, it was on there. Then we heard he wasn't releasing the album. So this song was more bad news all the time. We had heard the track, and it was so good; a burning track. We just knew it was going to have to come out someday, somewhere. So we just kept it on hold. There was no way that we were gonna let anybody else do it!"
Most of Rick Carnes' successful songs have been real hard, stone-country creations. Though he has written some pop-flavoured songs, it is those country songs, often with a soulful edge like A Stranger's Point Of View (Larry Boone), Troubled Waters (TG Sheppard) and Stone Cold (Johnny Rodriguez), that he is most proud of.
"R&B was probably more of an influence on me than country," he explains. "Certainly in my early years. Later on, when I started playing clubs, I got more into country and turned to it in the end. It's similar to r&b; the same chord changes, the same lyric content, but just a different rhythm. When I got to Nashville and met fantastic songwriters like Paul Craft and Jim Rushing. I started admiring the art of it. I got really interested and that was all I really wanted to write."
As well as co-writing with Steve Wariner, Rick has recently been working with Bobby Wood and Bill Anderson, and had several more songs on hold. One that he is especially proud of is One Night, by newcomer JC Jones. This Spanish-styled romantic ballad was the title-tune to the Nashville newcomer's debut album on the ill-fated Rising Tide label, which sank without a trace a week before release when the label closed its doors.
"That was out as a single, but when the album didn't come out, we were thinking, 'Gee, we lost that.'," says Carnes. "But it's been picked up by some act in Brazil. I hear they're a multi-platinum act down there, so I'm hoping we'll get that going. I would really like to have more international actions on my catalogue. I would like to see country music from Nashville getting more recognition worldwide. I think there's an audience out there. It's simple, straight-ahead music about everyday life, and I think there are people who can relate to that in Tanzania, Moscow or wherever. And I want in on that!"