Rhett Akins - Brand New Man
First Published in Country Music International – October 1996
A cheating girlfriend may have inspired his number one hit but these days Rhett Akins has fewer regrets. "I guess it's happened to every guy at least once in his life," he tells Alan Cackett. But not every guy gets to make a film with Julia Roberts.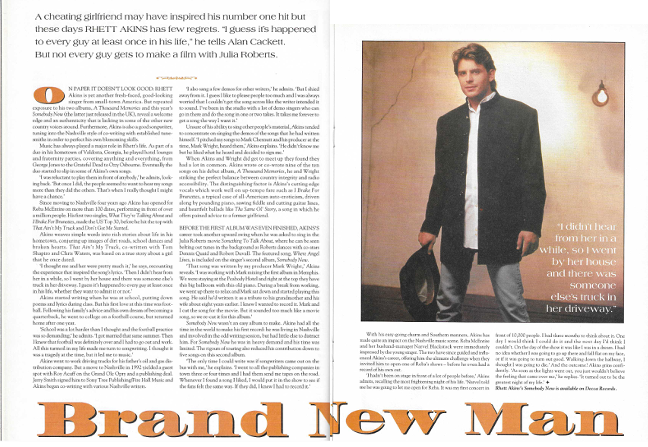 On paper it doesn't look good: Rhett Akins is yet another fresh-faced, good-looking singer from small-town America. But repeated exposure to his two albums, A THOUSAND MEMORIES and this year's SOMEBODY NEW (the latter just released in the UK), reveal a welcome edge and authenticity that is lacking in some of the other new country voices around. Furthermore, Akins is also a good songwriter, tuning into the Nashville style of co-writing with established tunesmiths in order to perfect his own blossoming skills.
Music has always played a major role in Rhett's life. As part of a duo in his hometown of Valdosta, Georgia, he played hotel lounges and fraternity parties, covering anything and everything, from George Jones to the Grateful Dead to Ozzy Osbourne. Eventually the duo started to slip in some of Akins's own songs.
"I was reluctant to play them in front of anybody," he admits, looking back. "But once I did, people seemed to want to hear my songs more than they did the others. That's when I really thought I might have a chance."
Since moving to Nashville four years ago Akins has opened for Reba McEntire on more than 100 dates, performing in front of over a million people. His first two singles, What They're Talking About and I Brake For Brunettes, made the US Top 30, before he hit the top with That Ain't My Truck and Don't Get Me Started.
Akin weaves simple words into rich stories about life in his hometown, conjuring up images of dirt roads, school dances and broken hearts. That Ain't My Truck, co-written with Tom Shapiro and Chris Waters, was based on a true story about a girl he once dated.
"I thought me and her were pretty much it," he says, recounting the experience that inspired the song's lyrics. "Then I didn't hear from her in a while, so I went by her house and there was someone else's truck in her driveway. I guess it happened to every guy at least once in his life, whether they want to admit it or not."
Akins started writing when he was at school, putting down poems and lyrics during class. But his first love at the time was football. Following his family's advice and his own dream of becoming a quarterback, he went to college on a football course, but returned home after one year.
"School was a lot harder than I thought and the football practice was so demanding," he admits. "I got married that same summer. Then I knew football was definitely over and I had to go out and work. All this turmoil in my life made me turn to songwriting. I thought it was a tragedy at the time, but it led to music."
Akins went to work driving trucks for his father's oil and gas distribution company. But a move to Nashville in 1992 yielded a guest spot with Roy Acuff on the Grand Ole Opry and a publishing deal. Jerry Smith signed him to a Sony Tree Publishing/Fire Hall Music and Akins began co-writing with various Nashville writers.
"I also sang a few demos for other writers," he admits. "But I shield away from it. I guess I like to please people too much and I was always worried that I couldn't get the song across like the writer intended it to sound. I've been in the studio with a lot of demo singers who can go in there and do the song in one or two takes. It takes me forever to get a song the way I want it."
Unsure of his ability to sing other people's material, Akins tended to concentrate on singing the demos of songs that he had written himself. "I pitched my songs to Mark Chesnutt and his producer at the time, Mark Wright, heard them," Akins explains. "He didn't know me but he liked what he heard and decided to sign me."
When Akins and Wright did get to meet up they found that they had a lot in common. Akins wrote or co-wrote nine of the ten songs on his debut album. A THOUSAND MEMORIES, he and Wright striking the perfect balance between country integrity and radio accessibility. The distinguishing factor is Akin's cutting edge vocals which work well on up-tempo fare such as I Brake For Brunettes, a typical case of all-American auto-eroticism, driven along by pounding piano, sawing fiddle and cutting guitar lines, and heartfelt ballads like The Same Ol' Story, a song in which he offers pained advice to a former girlfriend.
Before the first album was even finished, Akins's career took another upward swing when he was asked to sing in the Julia Roberts movie Something To Talk About, where he can be seen belting out tunes in the background as Roberts dances with co-stars Dennis Quaid and Robert Duvall. The featured song, Where Angel Lives, is included on the singer's second album, SOMEBODY NEW.
"That song was written by my producer Mark Wright," Akins reveals. "I was working with Mark mixing the first album in Memphis. We were staying at the Peabody Hotel and right at the top they have a big ballroom with this old piano. During a break from working, we went up there to relax and Mark sat down and started playing this song. He said he'd written it as a tribute to his grandmother and his wife about eight years earlier. I knew I wanted to record it. Mark and I cut the song for the movie. But it sounded too much like a movie song, so we re-cut it for this album."
SOMEBODY NEW wasn't an easy album to make. Akins had all the time in the world to make his first record: he was living in Nashville and involved in the odd writing session, but had little else to distract him. For SOMEBODY NEW he was in heavy demand and his time was limited. The rigours of touring also reduced his contribution down to five songs on his second album.
"The only time I could write was if songwriters came out on the bus with me," he explains. "I went to all the publishing companies in town three or four times and had them send me tapes on the road. Whenever I found a song I liked, I would put it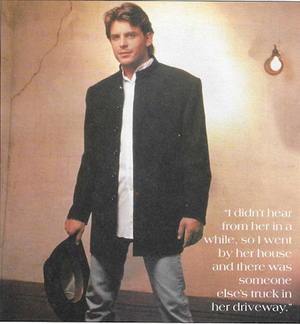 in the show to see if the fans felt the same way. If they did, I knew I had to record it."
With his easy-going charm and Southern manners, Akins has made quite an impact on the Nashville music scene. Reba McEntire and her husband-manager Narvel Blackstock were immediately impressed by the young singer. The two have since guided and influenced Akins's career, offering him the ultimate challenge when they invited him to open one of Reba's shows—before he even had a record of his own out.
"I hadn't been on stage in front of a lot of people before," Atkins admits, recalling the most frightening night of his life. "Narvel told me he was going to let me open for Reba. It was my first concert in front of 10,000 people. I had three months to think about it. One day I would think I could do it and the next I'd think I couldn't. On the day of the show, it was like I was in a dream. I had no idea whether I was going to go up there and fall flat on my face, or if it was going to turn out good. Walking down the hallway, I thought I was going to die." And the outcome? Akins grins confidently. "As soon as the light went out, you just wouldn't believe the feeling that came over me," he replies. "It turned out to be the greatest night of my life."