First published in Country Music People, January 1980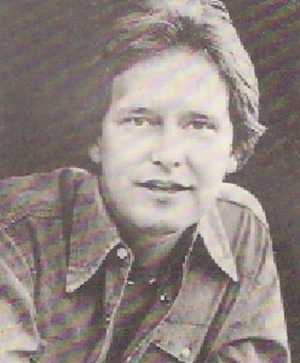 The offspring of famous stars, when they turn to a showbusiness career, usually tread in the shadows of their famous fathers. During the past five years, Rex Allen Jr. has shown that the shadows are no place for such a talented young man.
The son of Rex Allen, the singing cowboy and film star of the 1940s and 1950s, the blonde-haired Rex Jr. has consistently figured on the American country charts, and is now regarded as one of the finest young vocalists in Nashville.
Born just over thirty years ago, Rex has been around the music business for as long as he can remember. "I started on the road with my dad when I was six, and at twelve I had decided I wanted to be an entertainer," he recalls. "Actually, my dad tried to discourage me because it's such a hard life being gone 250 days out of the year."
"But I've always wanted to be an entertainer, and this is something nobody can teach you. You have to have something inside you that makes you want to do it—probably a desire to please people."
The past few years have found Rex pleasing more and more people with his successful singles like
Two Less Lonely People, I'm Getting Good At Missing You
and
It's Time We Talk Things Over
. But like most stars, he didn't exactly find it an easy road to acceptance. One of the reasons why many artists have an uphill struggle is that before an artist can establish himself with the people, he must first establish himself with himself.
Marriage was the turning point in Rex's career. His wife, the beautiful, blonde-haired Judy Maude, not only helps in the organisation of his work schedule, but also assists creatively, co-writing with Rex many of the songs that are featured on his albums and have proved successful singles on the country charts. Before Rex and Judy married, the young singer was struggling to find his niche in country music.
He first made his mark in Nashville as a recording artist at the beginning of 1970, signing with Shelby Singleton's Plantation Records. This followed the completion of his military service, but was not the beginning of his musical career. He had started out in the mid-1960s singing contemporary folk music before turning to rock and forming a band called Saturday's Children. Neither venture amounted to anything significant, but it provided young Rex with that all-important experience.
His past was very much with him when he first ventured into Nashville studios. His initial recordings were self-written songs that tried too hard to be social-aware and failed to come across as natural emotions. He proved from the start that he was a gifted songwriter, but in his early twenties and sheltered from life by his showbusiness upbringing, the songs had an unreal quality about them. To be honest, songs like
Other Husbands And Wives, The Corners Of My Life
and
The Father Needs A Man,
sounded forced and unnatural.
His singles failed to make any impression on the charts and his only album for the label, TODAY'S GENERATION, was a disappointing effort. He seemed to be aiming at the younger country audience, yet wasn't in touch with what his audience wanted to hear. The album suffered because it was aimed at a dual country and pop market and ended up pleasing nobody.
The singer himself is quite happy to keep an open mind on these first recorded efforts: "Well if you listen to certain tracks, you'll find it's country. Other tracks aren't as country. But my background is pop, folk and country, so it has all that in there."
He didn't succeed in breaking beyond a small cult following whilst on Plantation Records. He failed to make that key hit single or establish himself as a concert headliner, and eventually he ended up without a record deal. He signed with the ill-fated JMI Records, only to find the label closing down before he had the chance to put a record out. But at least the move pointed the direction that Rex Allen Jr. was going to take with his music.
 Urged on by Judy, he continued to work on the road when Warner Brothers made more of an effort to get involved in country music, he was one of the first artists signed to the label. He failed to make much impression with his first singles, but with ANOTHER GOODBYE SONG, his first LP for Warners, he was definitely taking a solid commercial shot at presenting his specialised style in the most elegant support package possible.
There was only one of his own songs,
Yes We Have Love
, a simple, but effective love ballad aimed specifically at his wife (who is pictured on the sleeve). The rest of this album consists of well-known pop and country songs including
I Can See Clearly Now, Sunshine On My Shoulder
and
The Midnight Oil.
Throughout this album Rex exhibits an outstanding voice with loads of maturity, personality and a distinctive, fresh style. He is at his best on the story ballads, especially worthy of a mention is Joe Allen's
The Great Mail Robbery
. This tale of a youngster's search for his 'missing' father is handled with great sensitivity by the young singer.
The album was released in the summer of 1974, and though Rex had failed to make his mark in a big way on the American country charts, Warners were happy to stick with him. Their perseverance paid off, and by the autumn of 1975 he was riding high in the charts with another Joe Allen song,
Lying In My Arms
. It was another superb performance from Rex who was learning very quickly how to sell a song with careful phrasing rather than just singing a song.
More successes followed with
Then I'll Be Over You, Teardrops In My Heart
and
Can You Hear
Those Pioneers
. This led to the release of his second Warners' album, the appropriately titled RIDIN' HIGH in the summer of 1976. Several of the songs had Rex playing tribute to western music with a fond nod in the direction of the Sons Of The Pioneers in
Streets Of Laredo, Teardrops In My Heart
and
San Antonio Rose
, plus the self-penned
Can You Hear Those Pioneers
.
The superb vocal harmonies provided by the Gatlin Brothers help to lift Rex's vocal performance. Alongside the western ballads he also tackles some superb love ballads highlighted by two more self-penned efforts,
You're The Only One I'll Ever Love
and
I Gotta Remember To Forget You
. All the elements are here: an outstanding vocal stylist, protean musicians, excellent arrangements and a broad range of tempos to match the richness of MOR country music.
Rex himself is quick to point out that country music has changed in recent years forever widening the scope; "I feel nowadays that an artist has to be a little of everything," he explains. "The country audiences today are not saturated with pure country. So an artist has to try and please all the people. I want to be accepted by all audiences, try and give country music to the rest of the people who are maybe not country fans."
"I don't really know where I'm going in the future, but I'm mainly going to stay in the pop-country realm," he says. "I eventually want to do motion pictures. I am basically a dreamer, and so far a lot of my dreams seem to be coming true, which makes life so much easier."
The run of hit records has also made things a lot easier for Rex Allen Jr. The last few years have seen him put songs like
With Love, Don't Say Goodbye
and
Me And My Broken Heart
high on the country charts. But it's taken a lot of hard work and careful planning. The success of Rex Allen Jr. has been very much a family affair, but the blonde-haired singer is quick to point out that he's not been riding on his father's famous name.
"My dad always told me: 'I can open the doors for you, but once you get in, it's up to you.' And the people in this business will tell you if you don't belong. People not associated with the business may think you're trying to ride on your father's name, but the business couldn't put up with all the juniors if they were all trying to ride in. And time will tell if the junior has it."
"But being a junior does hurt in trying to create your own image, although it's a lot easier for me as a singer, because my dad wasn't really a singer like Roy Acuff or Hank Williams."
He has succeeded in creating an image as one of the finest young vocalists working within a pop-country format. His wife has helped to make his dream come true. Together they have written some of the most memorable ballads of recent times. Songs like
Can You Hear Those Pioneers, Watch
Me Cry
and
Pick Up The Pieces
, are typical of the young couple's skill and creativity.
Perhaps their finest moment is with
Why Did You Stop Loving Me
, a languorously paced, finely observed description of a typical disintegration within a nuclear couple. Rex has an admirable attitude to the whole messy business. This is an exceptional ballad, exquisitely crafted; his voice cuts through the showbiz vacuity by remaining supremely tender. The sincerity and emotion of his singing almost negates over-syrupy strings; I'd love to hear Rex with more adventurous, sparse arrangements.
Rex himself says: "I want to be more country than Glen Campbell, but less than say Ernest Tubb. Country music is growing and getting into the metropolitan areas, and I want to help that along," he explains. "I've never wanted to pattern myself after someone else. I think I've developed my own style. Besides, everyone strives to better himself, his music, looking for new ways, new sound."
His third album for Warners, REX, released in spring of 1977, was a natural follow-up to his last LP, which had firmly established him as a name to be reckoned with on the country scene. It showed beyond doubt that this youngster has a style all his very own. His voice is rich and controlled, the arrangements are subtle, and the concept of the album totally together.
At the time of the release it brought forth comparisons to Don Williams. This was based on the fact that Rex has included two songs—
I'm Getting Good At Missing You
and
Loving You So Long
Now
—that Williams had recorded. It must be pointed out though that there is a considerable difference in the presentation of these songs. Rex is very much an 'up-front' vocalist, and the only real similarity is perhaps in the timbre of voice and the easy way he handles the lyrics.
Two more standouts on this album come courtesy of Wayland Holyfield, a man responsible for many of Don Williams' successes.
It's Best I Hit The Road
is a soft, reflective ballad, whilst the single hit,
Two Less Lonely People
, is a nicely structured mid-tempo tune.
Like all successful people, Rex does rely on a stable home life. Being out on the road and away from home can put a strain on a marriage, but he and Judy seem to have got their lives nicely sorted out. Judy is very involved and interested in her husband's career, and whenever it is possible she will go out on the road with Rex and his band, The Boys.
"Judy is totally involved in my work," Rex says. "She knows everything that goes on, and we work things out together. Neither of us is 'the boss'. We are both very dominant people, but we don't fight and scream about things. We just talk them over."
Using that as a theme for a song, Rex and Judy came up with one of Rex's biggest hits,
It's Time We Talk Things Over
. It's one of those songs that's so good you're afraid it won't gain as much success as it deserves. It certainly would be an interesting single for this country.
In fact this is one of the tracks on his album, BRAND NEW, released in the States in the summer of 1978, and finally becoming his debut British release last October. Once again Rex comes up with a well-produced and well-performed effort. Each track has a subdued hook, the kind that injects you subliminally. You don't even realise it's a hook 'till you find yourself singing it on the bus three days after hearing it.
This is fine middle-of-the-road country. Rex has got a strong voice, writes good songs to go with it, but is heard at his best here on Linda Hargrove's
Mem'ries
. He throws himself into both upbeat and sad material with a likeable, all-out intensity.
You get the impression from his music that Rex Allen Jr. is a very down-to-earth person. "I am somebody who very much likes to maintain control," he says. "That's part of the reason why I do not drink to excess, or smoke dope, or take funny pills."
In his music he sings about the everyday people we take for granted. Whether it's a self-penned song, or one he has picked from the many forwarded to him by the talented Nashville writers, you will be able to associate to the lyrics. He doesn't go for unbelievable songs, just plain and simple emotions about love, living, children, wives and lovers.
Alongside the support from his wife, Rex also draws upon the experience of his family. His brother Curt, not only plays rhythm guitar on most of his recordings, but also assists in the background singing, and occasionally comes up with a song.
Me And My Broken Heart
, a big hit in the summer of last year, became the title track of Rex's sixth album for Warners. Written by Curt Allen, this is a song tailor-made for the easy, relaxed Rex Allen voice. Vocalising and production are impeccable and tasteful all the way down the line and Rex is at his best. A change of producers, this time Buddy Killen taking control, gives a smoother sound than previously on a fine set of ballads highlighted by
If I Fell In Love With You
and
Don't You Ever Tell A Soul.
Rex Allen Jr. has long been one of the great singers around, though vastly underrated in this country, due, I think, to lack of exposure. If handled in the right way, he could be as successful as Don Williams and Crystal Gayle in bringing country music to those that wouldn't normally cross the road to hear a country singer.
It's not just his polish and professionalism that is so appealing, but the feeling that here is a man who means every word he is singing without becoming too schmaltzy. With his youthful looks and exuberance, I am positive that Rex Allen Jr. has a great future with the British country audience.