First published in Country Music International, September 1994

Unbowed by the loss of two band members Restless Heart have kicked off the summer with a pledge of survival and a brand new record

"There were some periods of nail-biting. It was a very heavy time. What didn't help was that we were told one time too many times that we had to hire someone else," Greg Jennings, lead guitarist with Restless Heart, is clearing the air. It's been a difficult time in the career of a band, currently lauded as one of country music's brightest lights, while having to sustain the loss of two members. 

Restless Heart is celebrating their 10th anniversary this year. Despite their clinical beginnings: four session players recruited by producer Tim DuBois with the express purpose of putting together a country-pop band, Restless Heart have enjoyed considerable success.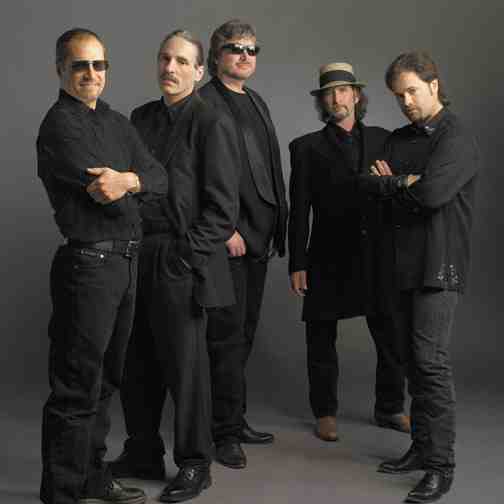 They had seven consecutive number one country hits during the late 1980s, picked up the Academy Of Country Music Vocal Group Of The Year award in 1990 and achieved several Grammy and CMA nominations. Then, just when their records started garnering pop airplay, the band's very future fell into the balance when lead singer Larry Stewart quit to pursue a solo career and keyboard player Dave Innis followed a year later.

Talk was rife that Restless Heart would fall apart and that the three remaining members—Jennings, drummer John Dittrich and bassist Paul Greg—would return to their careers as studio musicians.

"We started hearing a few whispers in the industry," admits Dittrich. "Things like: 'Without Larry Stewart, they're dead.' That really clinched it. That's when we said, Damn the torpedoes. Full speed ahead. We'll do this, win, lose or draw!' It really did cause us to reach deep down in ourselves and come up with something new."

The whole Restless Heart sound had revolved around Stewart's distinctive lead voice and the tight, two, three and four-part harmonies that produced an unmistakable sound that was their very own. For a year, they soldiered on as a four-piece without Stewart, gigging behind their BIG IRON HORSES gold album of 1991, on which the slimmed-down quartet shared the lead vocals between them. It was a difficult year, with internal bickering that finally saw Dave Innis receive his marching orders at the end of 1992.

Following much heart-searching, Dittrich, Jennings and Gregg, decided to continue. They recruited two extra musicians, keyboard player Dwain Rose and guitarist/saxophonist Chris Hicks to fill out their basic live sound, but have no plans to add permanent members to the band.

"Larry was lead vocalist, but other than that, he had no real instrumental prowess," reckons Jennings. "When we were looking for a new singer, we finally realised that, instrumentally, everything was intact. So all we really needed was to have someone sing the verses. During rehearsals, we were all taking different lead parts, and we finally decided that maybe it was time to give everybody a little more freedom to stretch out and show what we could really do."

"Larry had always sung leads on all our hits," offers Paul Gregg. "Now everything isn't funnelled through one mouth. There are a few that we've had to drop from the shows, like Why Does It Have To Be Right Or Wrong, because its complex arrangement demanded five voices. But we're also fighting over who's going to sing what now! I do I'll Still Be Loving You, John handles Big Dreams In A Small Town and Greg took A Tender Lie."

Dave Innis' departure from the band was another blow. "Dave is an extremely talented musician," says Dittrich, picking his words cautiously. "But also very highly strung and capable of being cold and calculating one minute, and the most loving person you'd ever want to meet the next. The real problem was that he was drinking quite heavily and in the end it was affecting his performance."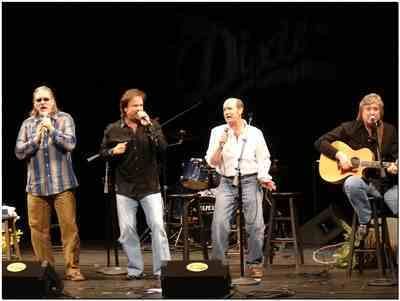 "Dave had started to take over the band," continues Jennings. "And after a while he crossed the line between being sharp, witty and talented, into becoming omnipotent. He became our spokesman and tried to dominate our music."

Becoming more self-reliant as a live band has had an effect on the remaining trio's approach to songwriting. Their new album, MATTERS OF THE HEART, also suggests that Restless Heart have become more self-sufficient since the line-up change?

"There's a first for Restless Heart on the new record," reveals Gregg. "John, Greg and I all got together in one room and finished a song! We always seem to get 'em started, then have problems getting a song finished. We were down to the last song to complete the album, and we had this one started. We went back through some demos, but this song I'd Cross The Line, kept coming back to us. Finally, we just figured, we'd better finish it off!"

Marc Beeson, writer of Restless Heart's Grammy-nominated crossover hit, When She Cries, also contributed to the new record, helping the band complete the song Sweet Whiskey Lies. "I had the chorus for that written for at least a year," laughs Dittrich. "I just carried it around in my head. When I sat down with Marc and Rick [Bowles, songwriter] we finished it in about 45 minutes. The song literally just poured out."

"Y'know, it's hard to believe how long we've been at this," ponders Dittrich. "I'm glad we've had the time to establish ourselves, put down some roots and really build a solid base. If you're asking me to define where we fit in, I'd have to say that we're survivors. We've managed to hang on in there and now we're the only band to survive the loss of two original members. We couldn't be happier with the way things have turned out."