First Published in Country Music Review, August 1973
Reg Lindsay
It's a sad fact, but Australian country artists mean absolutely nothing in Britain, yet Down-under there is a thriving country music scene that has been steadily growing larger since the end of the Second World War. One of the stalwarts of the Aussie scene is Reg Lindsay, who has been singing his own style of music for more than twenty years. He has survived better than most because he has kept up with the times. When he began he was yodelling with solo guitar accompaniment—that was what country music meant to most at the time. When the 1950s changed into the 1960s he had a small group rather reminiscent of so many of the groups in Nashville. He was singing the hits of the era and making a good job of them.
When the 1960s ran out he was still there, only now he was singing the songs of the new contemporary writers like Kristofferson, John Stewart, Joe South and Gordon Lightfoot. It's been Reg Lindsay's ability to keep pace with the changing musical patterns that have kept him at the top in Australia for so long.
Reg Lindsay sings about real people. If he has something to say, he says it. And Reg hasn't really got an 'image.' He is just a family man whose grandparents worked in the goldfields of Ballarat. He loves the Australian bush, but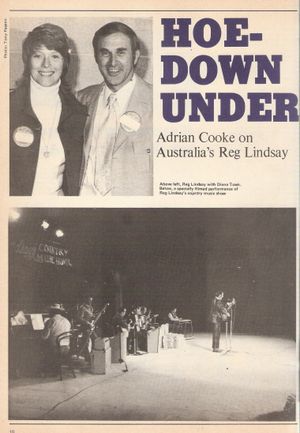 spends most of his life in television studios, recording studios, nightclubs, aeroplanes, and his thriving country style shop just out of Sydney.
As a child in the back blocks of New South Wales and later on in South Australia the Lindsay family used to pack up everything once a year and head off into the real bushland. At night Reg's father taught him to play the mouth organ as the small family camped under the stars.
Later Reg changed the mouth organ for the guitar. It was the best move he made. At first he was reluctant to perform in public, but this initial shyness wore off young Reg quicker than spitting. Liberated from school, Reg was soon astride an ancient motorcycle—guitar slung over shoulder— eager to see what the world had to offer. He worked for stock and station agents, studied wool classing and meat inspection. He drifted with seasonal workers, occasionally taking a high-toned city job, but preferred the bush, with which he had now developed a great affinity.
People told him he was just a drifter going nowhere—Reg just grinned and crouched a little lower over his guitar—he had a fair idea where he was going!
The youthful Reg Lindsay won talent contest after talent contest. He was soon hosting one of the first country music television shows in Australia. Travelling rodeo shows, national radio and promoters were after his services. He embarked on a non-stop entertainment trail which was to involve more than a million miles of air travel, along a trail which sometimes led to a small country hall packed to the rafters and sometimes to great city halls with audiences numbered in many thousands.
In those years his audiences were almost exclusively 'dyed-in-the-wool' country and western fans, but with the advent of television this was all to change. At the helm of his own national TV Show, Reg was soon guiding the format along the ever-broadening horizons of country music. He was working harder, travelling faster and further than ever before, and most important, enjoying every minute of it. Undoubtedly, this is the key to the Lindsay success story—this capacity for work.
Reg Lindsay has been around a long time in the Australian entertainment business. Thanks to the hardcore country music devotees who kept him going through the lean years, he has always been kept busy without having to stray from his beloved country music. His singing today reflects the maturity of a man who is as much at home in the sophisticated environment of a nightclub as he is in the front bar of a country pub.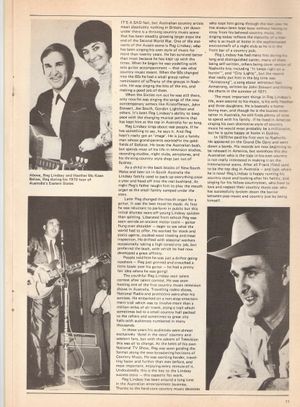 Reg Lindsay has had many hits during his long and distinguished career, many of them being self-written, others being cover versions of Nashville hits including It Keeps Right On A-hurtin' and City Lights, but the record that really put him in the big time was Armstrong, a song about astronaut Neil Armstrong written by John Stewart and hitting the charts in the summer of 1971.
The most important things in Reg Lindsay's life, even second to his music, is his wife Heather and three daughters. He is basically a home-loving man, and though he is the busiest entertainer in Australia, he still finds plenty of time to spend with his family. If he lived in America singing his own distinctive style of country music he would most probably be a millionaire, but he is quite happy at home in Sydney.
In 1970 he paid his first visit to Nashville. He appeared on the Grand Ole Opry and went down a storm. His records are now beginning to be released in America, but somehow this shy Australian who is the tops in his own country is not really interested in making it on the international scene. After all, Frank Ifield used to be the top dog in Australia—and look where he is now! Reg Lindsay is happy running his country store and looking after his family, and singing for his fellow countrymen, who love and respect their country music star who has successfully broken down the barriers between pop music and country just by being himself. Adrian Cooke