Trucking Success: Red's Teddy Bear Scores British Pop Chart Triumph
First published in Country Music people, August 1981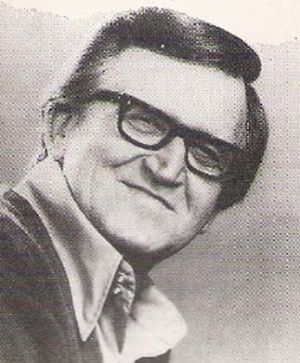 If a poll were taken of country music's detractors, undoubtedly the most common complaint would be about the over-sentimental songs—mostly in the story form—typified by Tammy Wynette's
D-I-V-O-R-C-E
, Melba Montgomery's
No Charge
, and now, of course, Red Sovine's
Teddy Bear
, which is currently enjoying an unexpected run in the British pop charts. The most common defence of these songs is that they represent the lives of 'ordinary' American people.
Not strictly true, of course. The drunks and adulterers, with their plastic passions and pains, people a fantasy world, which seems to come to life on daytime American TV; a never-ending series of soap operas, which tend to make Crossroads look like an also ran—a rape, divorce, abortion and murder guaranteed every hour. You've only got to look at Dallas to get the point.
I'm sure I'm not alone in having an inexplicable fascination for these grisly sagas; even better when they're cut down to three minutes, put to music and issued on record. Given a choice between a prime country weepie like Red Sovine's
Teddy Bear
and the latest onslaught from a heavy metal outfit, I'd pick Red everyday. And occasionally the British public will, if the current sales of
Teddy
Bear
are anything to go by. Even Terry Wogan's crocodile tears failed to stop Red's climb up the charts; if anything, they helped.
What about Red Sovine himself. Well fortunately the success of
Teddy Bear
in Britain has come too late for him to bask in its success, as he died of a heart attack on April 4 (Good Friday) last year, whilst driving in downtown Nashville. He was born on July 17, 1918 in Charleston, West Virginia, and christened Woodrow Wilson Sovine, though for years he was nicknamed the Old Syrup Sopper.
During a tour of Britain a few years back, Red explained to me how he got that unusual name, and how he made his start in country music.
"Back in the mid-1940s, I was making twelve thousand dollars a year as the 'super' down at a hosiery mill in West Virginia," he began. "That was a lot of money, but I walked away from it. I resigned and went to Shreveport. I had earlier gone down whilst on vacation and I'd auditioned for the Louisiana Hayride, more for the fun of it than anything else. And they said they'd hire me."
"When I moved down there in the fall of 1948, the guy I'd auditioned for had been fired, and nobody had known I was coming. I had a band, a new automobile, a new house-trailer and five thousand dollars in my pocket and no job. Well, the radio station decided to give me a ten-minute show at 5.05 each morning after the weather news."
"In about three months I had to send the wife and kids back to West Virginia. I let the band go, and I just didn't know what to do. Hank Williams and I had been doing the early morning shows together and he wanted to help me out. So he called this station in Montgomery, Alabama, where he'd worked for about twelve years, and he got me an audition, I knew they liked Hank down there, and at the time I could do a pretty good impersonation of him. So I sang two of his songs in the audition and I got the job."
When Red spoke, his voice rumbled out of his huge frame, and when he laughed his whole body shook and an ear-to-ear smile cracked his heavy face. Though his early days in the music business had been far from easy, Red could smile easily at the memories. He had one of those larger-than-life Nashville voices that made everything sound unreal.
"It was rough," he continued. "I got paid on Wednesdays and by the following Tuesday I often had to bum a dime from one of the announcers to buy a loaf of bread."
The turning point for Red came in 1949, shortly after Hank Williams recorded
Lovesick Blues
. It became a big-selling record and Hank was invited to become a regular on the Grand Ole Opry in Nashville. This led to a vacancy on the Louisiana Hayride in Shreveport, and Red was invited to fill it.
"I made them guarantee me 250 dollars a month," Red recalled. "I wasn't going to starve to death again. So I worked the Hayride and did the early morning radio show for Johnny Fair Syrup. And that's when we started the Syrup Soppers Club. People would write in to become members of the Syrup Soppers Club, and they'd receive a picture of me, a sample bottle of Johnny Fair's syrup, and a membership card with my signature, since I was the Chief Sopper. We wound up with 55,000 members. We'd never dream it would be that big."
"They paid me ten dollars a show, five days a week at 7.15am. In three month with just me and my guitar, I had increased the syrup sales by almost 250 per cent. And it was all due to the kids. They took to that Syrup Stoppers Club, just like they took to
Teddy Bear
."
It was, of course, the truck-drivin' songs like
Teddy Bear, Phantom 309, Giddyup Go
and
Freightliner Fever
that built up such a healthy following for Red Sovine in Britain, but the six-foot tall singer had began his hit-making back in 1955 when he teamed up with Goldie Hill for a duet of
Are You Mine
. Then he joined forces with Webb Pierce for two more successful singles.
Why Baby Why
and the immortal
Little Rosa
. The latter is a classic weepie and was a part of the Red Sovine stage act right up until the end. It also became a minor classic around the Liverpool country scene 20 years ago, and was a show-stopper for bands like the Hillsiders and Phil Brady and the Ranchers.
Over the years Red Sovine has made a sizeable impact with British country fans. Though he never enjoyed a regular run of hits on the American country charts, every few years he would come back with a big record, and in between he worked steadily on the road. In the mid-1960s he signed with Starday Records, a haven for those artists who seemingly appeared to be has-beens. He joined the likes of Johnny Bond, The Willis Brothers and the late Cowboy Copas, and for a while he enjoyed some notable hits.
Alongside the truck-drivin' songs already mentioned, he made the charts with songs like
Dream House For Sale, Class Of '49, I Didn't Jump The Fence
and
I Know You're Married, But I Love You Still
. Then during the early 1970s he slipped from the hit list altogether, and moved from Starday, which for a while became a dormant label, and signed with Chart Records.
This led to a Red Sovine revival, beginning with
It'll Come Back
, a top twenty hit in 1974, and followed by
Can I Keep Him Daddy
and
Daddy's Girl
. Shortly afterwards Starday Records were reactivated and Red's
Phantom 309
was re-issued and surprised many by making the charts. This led to Red re-signing with Starday, and in the early months of 1976
Teddy Bear
was released, and within weeks Red Sovine was at the top of the charts. He followed with minor hits like
Little Joe
,
Last Goodbye
and
Woman Behind The Man Behind The Wheel
, and Red had succeeded in putting truck-drivin' music back on the map, and had also brought CB radio into country music in a big way.
With the upsurge in truck-drivin' and the interest in CB radio being generated in Britain this year, it really was only a matter of time before a record took off in a big way, and it is a fitting tribute to the late Red Sovine and his classic weepie
Teddy Bear
should be the one that did it. Who knows, maybe the truckers will lead country music to a commercial foothold in Britain, and it will be thanks to Ole Red, the genial giant of country music, who always had a soft spot for children.