First published in Country Music People, June 1976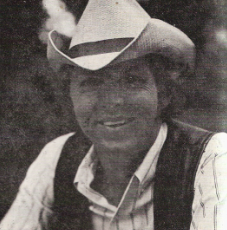 It has taken a long time, but now the most successful Nashville songwriter is almost as well-known as the artist who takes his songs into the charts. Take Red Lane. Like so many country writers, he writes songs that tell stories with strong lyrics. What Red Lane does is tell the kind of story that other writers seem to be attempting to tell. While these often let the stories run too long, Red knows the right cut-off point.
He was born near Bogalusa, Louisiana. When he was a youngster his father moved as far North as Michigan—a migrating worker following the crops. Many of the tales he heard from his father re-emerge in Red's songs. He is a country man. His music is strong with powerful lyrics dealing with life. They're songs about love, women, Jesus, music and memories.
Like
Charleston Cotton Mill
, a work song with a touch of protest and earthy realism, co-written with the underrated Dave Kirby. Or
One Row at a Time
, which had Dottie West sharing the writing credits and Merle Haggard recording it as an album track. It touches the links with the past and recalls that many of the country musicians today remember hard times of their childhood with both affection and hate. In Red Lane's songs these two contrasts come through to the listener in no uncertain way.
Red Lane's first introduction to the music business was as a guitarist. He messed around with songwriting, even sung a bit, but he was primarily a guitar picker. He hung about Nashville in the early 1960s and gained some lucrative session work before going out on the road with Justin Tubb's band. In 1967 he joined Dottie West's band, The Heartaches, as front man and MC. This proved useful as Dottie was quite an accomplished songwriter and with Red's assistance they co-wrote several well-known songs.
Country Girl
was a perfect showcase for Dottie herself,
The Funky Grass Band
proved successful for Porter Wagoner and the beautiful ballad,
If Loving Makes
Me Any Less Of A Lady
is one of my favourites from the pair.
Though Red Lane now writes much of his material alone, he has worked with some fine talents in the past. Like Wayne Kemp who co-wrote
Darling, You Know I Wouldn't Lie
, and Hank Cochran, who has shared the profits on many of Red Lane's creations.
In 1971 Red cut an album for RCA, THE WORLD NEEDS A MELODY, the title track becoming something of a minor classic in recent years with dozens of versions cropping up on various albums. Having always been a good musician and composer, this album did nothing more than re-affirm Lane's great talent. The songs were very strong and often unique in an oddly familiar way. It was country without apologies and without gimmicks.
Mississippi Woman
, a hit for Waylon Jennings, is an earthy bayou song about the eternal triangle which ends in a gruesome murder.
Valley Of The Never Done Good
is an original look at the life of a poor man with only dreams and plenty of work to be done. In contrast
It Always Rains On
Tuesday
is an unusual twist on a love affair which only two writers like Red Lane and Hank Cochran could have unravelled.
Often rated as some kind of underground writer, Red Lane is really just another country tunesmith. The difference between him and a hundred others is that he looks beneath the surface of his subjects and digs up interesting vignettes on different facets of life.
Somewhere To Come When It Rains
recorded by Merle Haggard is the best he has written. The song deliberately lacks the drive and instant impact to be found elsewhere and even after several times it failed to form much definition in my head. But listen closely and you'll realise that it's a classic. Red Lane is not just another writer of country hits—he creates classic country songs.