Razzy Bailey: Singer Turned Writer Turned Hitmaker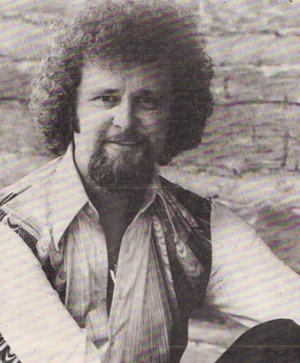 With so many fresh names emerging on the American scene, it is quite impossible for any country fan to keep pace with all the newcomers. It is just as difficult for a critic to be able to single out any individual artist as a big star for the future. In the past there have been several artists for whom I secretly had great hopes, only to see their careers fizzle out before they really got started.
Razzy Bailey has enjoyed a string of five consecutive top ten country hits during the last eighteen months, and he is well on his way to establishing himself as a major star. Throwing caution to the wind, I'm prepared to stick my neck out and state that Bailey is going to become one of the major pop-country artists of the 1980s.
Before making his debut on the country charts with
What Time Do You Have To Be Back To Heaven
in the summer of 1978, Bailey's career had been a succession of false starts. At the time, obviously disappointment was the order of the day for Razzy, but now with the helping hands of Bob Montgomery and RCA Records to give him encouragement and advice, he finds himself in the enviable position of being in his mid-thirties and still having everything before him.
He grew up on a farm in Five Points, Alabama. At the end of the working day, Razzy's father often strummed out original songs to the attentive youngster at his feet on the porch. From the black farm workers he gained a love of bottle-neck guitar and blues harmonica, but it was the regular Saturday night singing around a blazing fire at which Razzy got his first taste of entertaining.
From miles around, local fiddle, mandolin, guitar, banjo and harmonica players converged on the Bailey's farm to sit around the front porch and pick and sing until the early hours of Sunday morning. "I sang with the rest of the family," recalls Razzy, "but the truth is I was mostly just hollerin' back then."
This interest in music led to his father buying him a secondhand guitar. "It was a used five or six dollar guitar with a neck so warped it looked more like a bow and arrow than a guitar," says Razzy. But it was good enough for him to master the basics, and urged on by his parents he began to take lessons from a local schoolteacher.
During his high school days he joined the Future Farmers of America at Lafayette, Alabama. His sole purpose for joining was to be able to play in the FFA string band at the Georgia State contest at Auburn University. He even made enough money with the string band to be able to buy himself a car in his senior year of high school.
Following graduation he took his first real job as an entertainer in a local nightspot on the road from LaGrange to Columbus, Georgia. Four months later the club closed down and Razzy was out of a job. The closing had nothing to do with Razzy's music—the State highway department had closed the road, making it impossible for customers to reach the club easily—but it was quite a blow to Razzy's musical ambitions.
He gave up full-time entertainment and took a series of daytime jobs, including truck driving, selling insurance and being a furniture representative. In 1968, after four years away from a full-time music career, he decided to give the music business his full concentration. "Up until that time," he says, "I'd been out playing in local clubs about three nights a week, but I thought it was time to take the big jump and give it everything I had."
He formed a trio called Daily Bread. A two-week booking in Naples, Florida was extended to a six-month run and Razzy has been busy singing, writing and performing ever since. He was performing mainly the pop hits of the day in clubs throughout the South-east.
"I've always loved doing country," he recalls, "but back then it was a question of playing whatever kind of music that would get you work Rock'n'roll was in and club owners didn't want to hire unknown country acts."
Though he was forced to do little more than cover versions of well-known pop songs for many years, Razzy always had a dream of establishing himself as a performer in his own right. He worked on writing songs, making demo tapes and badgering music publishers. His first songwriting efforts he took along to Bill Lowery, a highly respected publisher in Atlanta. He had been responsible for discovering and grooming successful artists like Tommy Roe, Joe South and Billy Joe Royal. Lowery was quite impressed by some of Razzy's songs and in the late 1960s he worked with him in the studios on songs like
9,99,999 Tears
and
Stolen Moments
with Royal and South being just some of the musicians and singers who helped out on Razzy's initial recording efforts.
The next five or six years found Bailey recording for a number of different labels, and each time a major hit record eluded him. In 1972 he formed a new group called Razzy Bailey and the Aquariums and recorded some more of his own songs including
I Hate Hate
, an up-tempo r&b flavoured song which gained sufficient radio plays for MGM Records to sign him. At the time the new label was undergoing a shake-up and with only one release to his name Razzy found himself back at square one.
"I got so used to my songs being turned down and my efforts at recording deals falling through," he says, "that it just made me all the more determined to succeed." He secured a new deal with Capricorn Records in 1975 and recorded another of his own songs,
Peanut Butter
, this time with Bob Montgomery, the noted producer and song publisher guiding him. He was also signed as a writer to the House of Gold publishing firm and Montgomery gave this record a marked 'country' feel, which had been lacking on his previous recorded attempts.
This record also failed to make much impression, so once again he was dropped by a record label. Luckily the very next year Dickey Lee recorded one of his earlier songs,
9,999,999 Tears
, and took it to the top of the country charts. Lee then recorded
Peanut Butter
, and made the country top ten, at the same time establishing Razzy Bailey as a successful new writer in Nashville.
Razzy is quick to point out though that songwriting is not his first love. "I'd rather entertain and record than anything. I enjoy writing songs, too, but I have so many other things I'm trying to learn about my career that I just haven't had the chance to write regularly."
Delighted by the success that Dickey Lee enjoyed with the two Razzy Bailey songs, RCA had no hesitation in signing the singer-writer to a recording contract in January 1978. With Bob Montgomery still guiding him, Razzy went into the studios armed with some of the best new songs from Montgomery's publishing firm. His first RCA single,
What Time Do You Have To Be Back To Heaven
, was written by Steve Pippin and Johnny Slate. A well-crafted ballad with hooks and overdubs, this had no trouble in rising high on the country charts and setting Razzy on his way to establishing himself as a country star.
Pippin and Slate also penned his follow-up single,
Tonight She's Gonna Love Me (Like There Was No Tomorrow)
, a beautifully performed ballad that also charted strongly. Last April saw the release of his first album, IF LOVE HAD A FACE (released in Britain: RCA PL 13391). Titled after his third hit single, this had an assortment of sounds ranging from countryfied super-funk to gentle love ballads.
Surprisingly there are only two of Razzy's own songs included and both are worthy of praise.
Natural Love
is a mid-tempo tune with a strong soul feel that brought to mind memories of Brook Benton. He closes the album with
Is It Over
, a song that cleverly traces the last twenty-five years of popular music, ties it up with the death of Elvis Presley, and asks: 'Is It Over?'
This album with its thoughtful lyrics and polished arrangements held some pleasant surprises for me. Montgomery and Bailey succeeded in weaving a tapestry that is at all times interesting, enjoyable and totally satisfying. Razzy shows that the last twenty years of struggling to establish himself has given him strong interpretative powers, even if his voice is not particularly distinctive or powerful.
He turns in an excellent version of Tony Joe White's
That's The Way A Cowboy Rocks And Rolls
, and his fourth single,
I Ain't Got No Business Doin' Business Today
, has him in a more funky setting and he handles the song with ease.
In less than two years Razzy has enjoyed five major country hits, his latest single,
I Can't Get Enough Of You
, being another well-executed, mid-tempo ballad. And what of the future? "I just want to cut another hit record, and another and another one," he says.
"I'm more at peace with myself now than I was years back when I felt like I was getting nowhere," he says. "Lots of folks never heard of me until
What Time Do You Have To Be Back To Heaven
, so I tell them if 20 years in the business counts as 'overnight success' then I like it fine."
He should have a second album due for release any time now, and I will be eagerly looking forward to some more surprises. The freshness and vitality of that debut album mixed with the originality of his single releases has Razzy Bailey placed as one of those special artists in pop-country who is not afraid to experiment in the search for commercial success.