First published in Country Music People, August 1973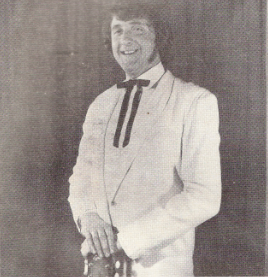 For years both critics and the public have complained that the British country music scene lacks both original song material and singers who don't carbon copy the styles of performers from across the Atlantic. I am one of these who have championed the cause for a more orignial approach from country performers in Britain, and during the past two or three years the message seems to be getting through.
From the early years of the 1960s when groups first began to take an interest in country music, it's been a steady succession of highly talented groups faithfully reproducing the sounds of Buck Owens, Johnny Cash, Merle Haggard and Marty Robbins. Naturally many country fans have quite rightly ignored these groups, which have, in the main part, been professional and very entertaining, but still only puppets copying somebody else's innovations. What the British scene has lacked more than anything else is talented songwriters. In Nashville there is an abundance of writers, and this is what makes the music from Nashville so alive, so different. In Britain we could only copy that sound. But at last writers are beginning to emerge in Britain and one of the most talented of these is Ray Dexter.
I first heard Ray in 1969 at a country music festival in London. He came on after a stream of other groups who all did the same old Buck Owens and Johnny Cash songs. Dexter was different though, at first it was his unusual voice that caught my attention. There was no attempt at a nasal twang. He was very expressive, making every word count, he meant what he was singing, no wonder, he wrote what he was singing. It wasn't a case of simple love songs. The lyrics were original, the tunes quite catchy, his only downfall was poor accompaniment.
It's been Ray Dexter's lack of a good backing group that's held him back. This isn't noticeable on his albums, which have been well-produced, leaving the words to be heard, the backing always there, always exciting, but definitely a backing.
Like so many of the people playing country music in Britain, Ray got his start back in the skiffle days of the 1950s working with a group called The Grass Hoppers, this then developed into the more exciting sounds of rock'n'roll with a change of name to The Sunsets. Ray continued singing and playing with pop and rock groups into the middle 1960s when he turned to his first love of country music. It was not really a wise move to make, country music was still in its infancy in Britain. It was laughed at, called 'cowboy music,' but Ray stuck at it and also turned his hand to writing songs.
It was his talent as a songwriter that really won his recording contract with the ill-fated Lucky Records. His first album, ALLIGATOR RIVER, contained eleven original compositions. Not just original because it was the first time they'd been performed, but because they were so unlike any other songs I'd heard. From the haunting
Wise Man Of Wisconsin
to the humorous
Alligator River,
Dexter proved that he could write interesting and imaginative lyrics. The backing was sensitive to his voice and the twin fiddles used behind him on most of the tracks were never out of place. What I really found so appealing about this first album was that I couldn't compare Dexter with any other singer or writer. It's so easy to say that so-and-so sounds like Buck Owens, or Johnny Cash, but this was not possible with Ray Dexter. Ray Dexter was himself.
Because of the failure of Lucky Records, Ray Dexter's second album followed almost eighteen months later, although the first one had been warmly received by critics and fans alike. COUNTRY SEASONS, released on the Phillips Pine Ridge country series, only contained seven of Dexter's songs, but two of these almost overshadowed the more famous songs like
Sunday Morning Coming
Down
and
Rose Garden
which Ray included.
Broken Timber
is one of the most unique songs of broken love I've heard, and Ray tells the tale with a sensitivity which puts him alongside some of the real greats from Nashville.
Flaxen-Haired Girl
has almost a folksy feel about it, but is in fact a tender love song in the modern country tradition.
Perhaps the surprises though are the inclusion of
Rose Garden
and
Sunday Morning Coming
Down
. Both are given very original renditions,
Rose Garden
slowed right down and Ray making the most out of the lyrics, with a pleading that I never knew existed in the song before.
Ray Dexter could be a big name in Britain and Nashville for both his songwriting and his singing, but he has always suffered by poor stage performance. He has had to tolerate guitarists who play too loud and drummers who believe they are the centre of attention, and this mixed with his shyness has always held him back. Last year I saw one of his shows for the first time in about nine months and I was knocked out. His group played with him not against him and he came out on stage to entertain. At the time I thought it a pity that he only included a mere handful of his own compositions, but he did have to entertain an audience who really wanted to hear Johnny Cash and Jim Reeves songs, and he proved that he could give them that. But for me he was best suited on his own songs,
Mississippi Messenger
being the highlight of his act. I was really impressed though by the way he had worked on presenting a personality on stage and not just a singer. You could tell he was really enjoying himself on stage, and he soon got the audience right behind him.
Soon after that show Ray's third album, GOIN' UP COUNTRY, was released on the Avenue label. It only included three of Ray's songs and seemed more of an attempt to present him as a singer. His version of
Before The Next Teardrop Falls
dwarfs all other versions I've heard from the States. The feeling he puts into that one little song shows what an artist he is. Perhaps though it's the way he takes pop material like Neil Diamond's
Solitary Man
and makes it sound so country with some pleasant steel guitar in the background.
Whether it be as a songwriter or an interpreter of other people's songs, Ray Dexter is proving all the time that there is no need to copy the American country music artists. He has developed a style all of his own, he can't really be compared with any other singer—he is just Ray Dexter.