Signature Sounds Recordings
****
Rachel Baiman mines a mainly acoustic singer-songwriter vein while avoiding a stylistic rut by veering back and forth between artistic formulas in a way that recalls Iris DeMent. A teenage State Fiddle Champion, Rachel has matured into a compelling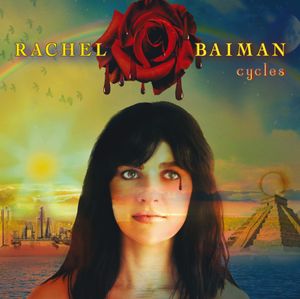 songwriter, presenting honest and powerful lyrics from a vibrant female perspective. The songs on this third full-length album deal with themes that are especially poignant at this unbelievable time in history, as she draws from love, loss, self-doubt, relationships and a yearning desire for the human race to prevail against numerous hardships. Revolving around the cycle of life, she once again showcases her intelligent songwriting with profound, intricate stories, often drawn from episodes from her own life and those of relations. Utilising broad brushstrokes, she creates vivid character portraits that we can easily relate to.  Throughout she presents a remarkable gift for relaying tenderness, vulnerability, and heartfelt emotion.
Though Rachel is Chicago born-and-raised and currently calls Nashville home, this album has not only a strong Australian connection, but also a mainly female involvement. Recorded at Melbourne's Purple Wayne Studios with production shared by Rachel (guitar, banjo, strings) and Olivia Hally (bass, guitar, piano). Supporting musicians include Melbourne drummer Bree Hartley, guitarists Cy Winstanley and Josh Oliver and background vocalists Maggie Rigby, Dan Parsons and Dan Watkins. The album was engineered by Alex O'Gorman and mixed by Shani Gandhi. The instrumental lines are just as much starring characters as are Rachel's vocals and the lyrics, each element serving a purpose in telling the album's varied stories.
The haunting title track opens the album with a melancholy and poignant feel with swirling background vocals way back in the mix. Inspired by her sister-in-law, who suffered a miscarriage, before finally giving birth to a healthy little boy, the lyrics paint an optimistic hope that each new generation can create a better environment for humanity than the one before. Rambling guitars set the scene for
Joke's On Me, a soothing meditation on the mysteries of life—how there's never enough hours in the day, we take one step forward and find ourselves pushed two back, however hard we work to better ourselves, it's never quite enough—the perfect sonic cushion to ease our increasingly chaotic day-to-day, it's even more relevant in light of the way every-day lives and goals have been turned upside down by the pandemic.
Inspired by the last few years of her grandmother's life, No Good Time For Dying, resonated strongly with me. A stark story of how a once active life can be turned into a bed-bound, non-existence at a stroke, it poses a difficult conundrum. Battling with feelings of grief and guilt she sings self-deprecatingly about wishing there could have been a better quality of life for her grandmother's last few years. Rachel's younger sister comes into When You Bloom (Colorado), a beautiful song about letting go of a loved one for them to make their own way into the big wide world. There's an element of loss and sadness in the lyrics that resolves itself in the shimmering notes of the tune and the gorgeous chorus. Other songs more closely focus on her own situations of doubts, hardships and risk. The somewhat bitter Hope It Hurts, is deeply personal and full of the self-doubt and a fear of rejection that is inherent in the music business, all wrapped up in an insistently hypnotic musical arrangement. With Wyoming Wildflowers she flexes her strength in creating flawless melodic choruses as she sings about racial intolerance in comparison to the beauty of the wide and varied American landscape.
The only outside song is Rust Belt Fields, which if I hadn't known better, could've assumed it was one of her own creations, so easily does it fit in lyrically and musically, with all the other tracks. Co-written by Slaid Cleaves and Rod Picott, it's a near-perfect portrait of the decaying landscape of a once great industrial nation, following the outsourcing of its manufacturing assets to cheap foreign labour. Well-textured instrumentation contrasts effectively with earthy tones as she wraps her vocals around the painful beauty of the lyrics, singing each line in a voice that's as fluid and unblemished as Alison Krauss.
June 2021