Rab Noakes & Brooks Williams - Should We Tell Him: Songs By Don Everly
Red Guitar Blue Music RGBM-2301
***1/2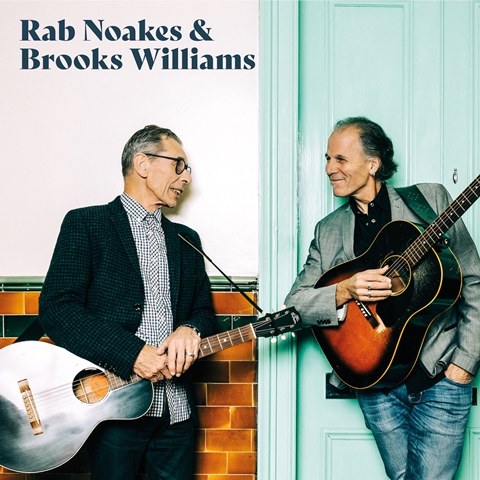 As a massive fan of both the Everly Brothers and Rab Noakes, I was eagerly looking forward to hearing this collection of songs by Don Everly, but on the initial first play-through I was somewhat disappointed and bewildered. The problem, I believe, is that I've spent years listening to these eleven songs either by the Everlys, or by Don himself, in full magical arrangements that for me remain timeless. The late Scottish folk singer-songwriter, along with American singer-songwriter-guitarist Brooks Williams, don't attempt to match the originals. Instead of using these classics as a springboard for modern adventures in composition, they stick to stripping them down to their rawboned essence. But they don't play up that rawness; instead they have really captured the essence of what these songs are all about. An extraordinary document that chronicles just how skilled, yet strangely underrated Don Everly, the songwriter was. At its best, this low-key set ensures that that remarkable gift and his influence will continue to live on.
Don Everly initially achieved fame as a songwriter, having penned Kitty Wells' 1954 country hit, Thou Shalt Not Steal, when he was 17. I would have liked to have heard at least a couple of songs that Don wrote that neither he nor the Everlys had recorded. In addition to Kitty Wells, several other acts, including Alexa James and Peter Belli, also recorded Don's songs that the Everlys didn't. Rab and Brooks 
subtly blend their guitars with Connor Smith's pedal steel and electric guitar, Hilary Brooks' piano and accordion, Kevin McClure's bass and Signy Jacobsctir's drums and not much more. For the most part, this instrumentation is settled but on occasion, like the funky I'm Not Angry, where excitement bubbles over, a song will turn into a lively affair. Sigh, Cry, Almost Die is a doleful toe-tapper, their smoke ring vocals encircle the track, dancing among the tension and heartbreak and much darker than the Everlys' original. In this pair's hands, even teen favourites Should We Tell Him and Hello Amy find a folky, darker foothold as though the songs have matured into adult themes over the past 50-odd years. 
With Since You Broke My Heart, there's a yield of slow-burning, swampy blues and soulful boogie rock, giving the song a much more lonesome feel. That's Just Too Much is eerie and forlorn, braiding the spooky grunge of an old Appalachian ballad in Brooks' gravely tone and with just the accompaniment of a haunting steel guitar.         
Album closer, It's All Over, a UK Top 10 hit for Cliff Richard in the 1960s, has a folky Dylan-esque simplicity, but a deadpan delivery that offsets a depressingly true refrain with mournful pedal steel weeping in the background as you find yourself at a funeral for someone you've never met. Those expecting an Everly Brothers-sounding record might well be bitterly disappointed, but those prepared to hear these songs stripped back to their basics and re-interpreted with a more rootsy approach will find much to explore. 
https://brookswilliams/should-we-tell-him
August 2023