Posey Hill - No Clear Place To Fall
Self-released
****1/2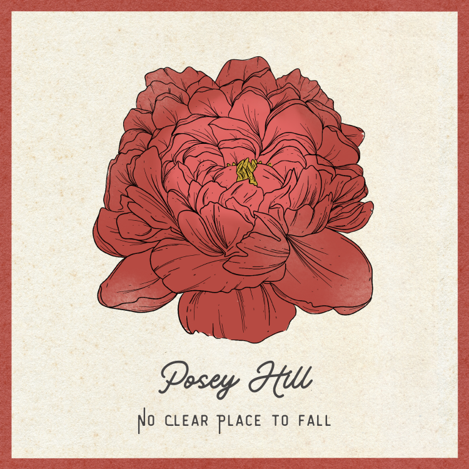 This family group, centered around the exquisite vocal interplay of sisters Kristian Miller, Erin Wisniewski and Megan Burnett, draw from the instrumentation and the storytelling traditions of bluegrass, and present these elements with a modern spin, as digested by a current act. Nevertheless, theirs is a rustic, rootsy sound that derives its appeal from a decidedly down-home delivery and an obvious reverence for a sound easily classified as that of a vintage variety. They're retro, they're groovy as their music swirls together the swampy swagger of the Bible Belt, the minor-key melancholy of lush romantic balladry and the raw stomp of a soulful r&b flavoured edge, which combined, is indicative of the group's particular brand of thoughtful song-smithing. Hailing from Donaldson, mid-Arkansas, the layered voices of Posey Hill act like a network of friends and family offering love and support. Kristian, Erin and Megan each deliver cogent lead vocals, their voices frequently blended to create an energised doubling effect (more so than just harmony). The sisters grew up surrounded by their father Doug Burnett—a local bluegrass singer-musician—and his passion for classic 1970s singer-songwriters and rock acts such as the Eagles, Bonnie Raitt, John Prine, Emmylou Harris, Linda Ronstadt and Fleetwood Mac. Bringing in more contemporary influences from the likes of the Highwomen, Turnpike Troubadors and Tyler Childers has led to Posey Hill creating their very own distinctive sound.
Joining the sisters in the band are dad Doug Burnett and his brother-in-law Chuck Hughes. Over the years they've attracted several talented local musicians including Bill Osteen (guitar, banjo), Todd Lambert (banjo), Scott Root (guitar), Dennis Thornton (mandolin), Tim Trawick (fiddle, mandolin), David Treadway (fiddle, mandolin) and Caleb Cobb (fiddle). For this latest album, recorded at Doghouse Studios, Nashville, they are joined by JP Ruggieri (guitar, steel), Chris Lippincott (guitar, steel), John McNally (guitar, steel, bass), Nick Bullock (bass, keys), Clark Singleton (bass), Hannah Holbrook (keys), Greg Herndon (keys), Aaron Schafer-Haiss (drums) and Brian Cox (drums), to create much more diverse and inventive musical arrangements than in the past. The opening steel guitar notes of The First Train, the opening song, sets the tone for what you're about to hear and where it will take you: sun-dappled, harmony-laced country of the highest quality. There's a focus to this track that foregrounds their lightness of touch and canny blend of electric and acoustic instrumentation.
They start I'm Too Old For This a cappella with glowing harmonies, then they develop a sense of urgency; there's something about their vocal performance that makes it feel so raw, so urgent to move on to something more substantial. I Can't Be Yours is a dramatic break-up ballad with a heartfelt lead vocal lifted on the chorus by layered harmonies and a piercing steel solo as the song breaks loose with handclaps and closes with full-bodied a cappella harmonies as it drives toward a brighter tomorrow. They travel to darker territories with Monster as they use a swirling organ to create a haunting melody, as the song creeps up low and slow and the sense of mystery sets the stage, before its hazy chorus welcomes in the band's incredible soul-drenched r&b-flavoured harmonies. They close this musical eclectic set with the delicate strains of Tomorrow Is Not Today, the trio sending the listener home with a sparse commingling of their three voices, inviting everyone to imagine themselves floating away into whatever is next.
August 2023