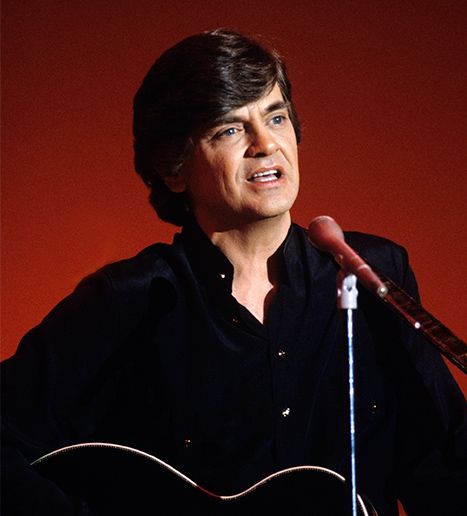 Phil Everly, one half of the legendary Everly Brothers, passed away on January 3, 2014, at Providence St. Joseph Medical Center in Burbank, California, at the age of 74. The cause of his death was complications attributed to chronic obstructive pulmonary disease (a combination of emphysema and bronchitis).
Throughout the late 1950s and early 1960s, Don and Phil, the Everly Brothers loomed larger than life on the pop-rock scene. Every single was a double-sided teenage delight and sold by the ton. Every gig was SRO, where adulatory fans would watch open-mouthed as the brothers, sporting gigantic quiffs and greased-back hair, would descend on the microphone and wail into it so closely that their lips would almost touch.
At their best, memories are freeze-frame moments of incandescence. First I knew of the Everly Brothers was a beat-up copy of
Claudette
and
All I Have To Do Is Dream
, left at my home by an older brother. The next time I crossed paths of Don and Phil was on the threshold of my adolescence at one of those acutely embarrassing school dances, supervised by teachers who had served in the Second World War and were completely out of touch with spotty teenagers. As some sort of compensation for their presence, they let us have the school's own beat group play. That band was probably terrible, but, to us then, they were almost as good as the Shadows, if only because they were right there in the hall and played shining guitars which was real cool. And they played this one great song,
Cathy's Clown
, and that rekindled my interest in the Everly Brothers.
Such tentative first steps towards 'adulthood,' away from parents in the direction of the opposite sex were the Everly Brothers' self-proclaimed musical territory.
Even if they were writing about lifestyles of more affluent communities over 3000 miles away, no one else got across the feelings of being a young teenager quite like they did, mostly because they were no real threat—they wore leather jackets and maybe sneered now and again, but they sung real pure, and deep down they respected their parents. But who cares about that—nobody else has ever made wholesome innocence as attractive as they did. Like I said, memories are precious things.
Fast forward to the mid-1990s to the Ryman Auditorium in Nashville. It was the first time I'd caught the Everlys in concert in almost a dozen years. The air crackled with electricity and everyone in attendance must have felt the jolt when Phil's distinctive high voice topped Don's soulful tenor on the opening medley of
Kentucky/Bowling Green
. It was a galvanising moment and one which would be repeated many times during the course of the evening. All of the hits, including
Bye Bye Love
, the one that launched the act in 1957, were performed. Propelled by the rich acoustic strains of their trademark Gibsons,
Cathy's Clown
and Phil's spirited
When Will I Be Loved
, Carole King's haunting
Crying In The Rain
, as well as the raucous Roy Orbison-penned
Claudette
and Little Richard's frenzied
Lucille
all hit their marks, as did the Felice and Boudleaux Bryant tunes
Wake Up Little Susie
and
All I Have To Do Is Dream
. Despite their age, both brothers looked great—their youthful voices still capable of touching that adolescent chord in us all.
Don & Phil, the Everly Brothers, influenced popular music in a way that no other brother duo has before or since. When they exploded onto the charts and into millions of teenage lives in 1957 they were initially regarded as a country act that crossed over into pop music. In time, the brothers enjoyed more success in pop music and less in country. But their close-knit harmonies and distinct sound had an influence on many country stars, including the Bellamy Brothers, Reba McEntire, Shania Twain and the Mavericks. 56 years on and they're still regarded as the torch bearers for a long line of sibling harmony groups that has included the Delmores, the Wilburns, and the Louvins, not to mention Simon & Garfunkel, who got their start as a blatantly Everlys-inspired duo called Tom and Jerry.
Isaac Donald Everly was born on February 1, 1937 in Brownie, Kentucky, with Philip following on  January 19, 1939 in Chicago. The sons of Ike and Margaret Everly, well-known local country performers, they were professionals way before their teens, schooled by their accomplished guitarist father, and singing with their family on radio broadcasts in Shenandoah, Iowa. In the early 1950s the Everly family moved to Knoxville, Tennessee and the brothers attended Knox West High School, continuing their musical development. After high school they moved to Nashville in the hope of landing a recording contract and caught the attention of Chet Atkins. As the brothers transitioned out of the family act and into a duo, family friend Chet Atkins became an early champion of the Everly Brothers. Despite his affiliation with RCA Records, it was Atkins who arranged a chance for the Everly Brothers to record for Columbia Records in early 1956. However, their first and only single for the label,
Keep-a-Lovin' Me
, was a flop, and they were quickly dropped from Columbia.
Atkins still encouraged the Everly Brothers to continue, and introduced them to Wesley Rose of Acuff-Rose music publishers. Impressed with the duo's song-writing talents, Rose told them that if they signed to Acuff-Rose as songwriters, he would also get them a recording deal. Kitty Wells had chart success with Don's
Thou Shalt Not Steal
, and other country acts recorded their songs. The duo signed to Acuff-Rose in late 1956 and there they met songwriters Boudleaux and Felice Bryant. By early 1957 Rose had introduced them to Archie Bleyer, who was looking for artists for his Cadence Records label. The Everlys signed to Cadence, and entered the recording studio for their first Cadence session in February 1957.
Chet Atkins produced the session which included the Bryants'
Bye Bye Love
which had been turned down by several country acts, including Johnnie & Jack, an RCA act produced by Atkins. The song became a huge international success for the Everly Brothers, topping pop and country charts in America and also topping the UK charts against several bland British cover versions. They enjoyed a phenomenal three-year run on Cadence, and alongside the teen hits (most of which were also huge country successes), they recorded the memorable SONGS OUR DADDY TAUGHT US album. It was a superb collection of Appalachian ballads, several of them having their origins in old English folk music. For many teenagers, this album proved to be their initiation into the world of country music.
By this time, Don and Phil had both become proficient songwriters, but were often not allowed to record their own songs. Though most of their hits had been penned by the Bryants, it was Don's
('Til) I Kissed You
, that brought them back into the top ten in 1959, after the relative failure of
Take A Message To Mary
. The brothers were itching to have more artistic control, and that came about in 1960 when they left Cadence for the then-new Warner Bros. label. Their first release, the self-penned
Cathy's Clown
, demonstrated a much heavier sound and is without peer as one of the greatest pop records of the early 1960s. It spent five weeks at the top of the American pop charts, was a UK chart-topper, but missed out completely on the country charts.
But then they got drafted into the marines and lost momentum, Things got worse when they lost the services of ace songwriters the Bryants when the Everlys fell out with their manager Wesley Rose, who also administered the Acuff-Rose music publishing company. As a result, for a period in the early 1960s, the Everlys were shut off from Acuff-Rose songwriters. These included not only the Bryants, who had written the majority of the Everlys' hits, but also Don and Phil themselves, who were still contracted to Acuff-Rose as songwriters.
With proven sources of hit material unavailable, from 1961 through early 1964 the Everlys recorded a mix of covers and songs by other writers in order to avoid paying royalties to Acuff-Rose. They also used the collective pseudonym 'Jimmy Howard' as writer and/or arranger on two tracks, a move that was ultimately unsuccessful, as Acuff-Rose legally assumed the copyrights to these songs once the ruse was discovered.
About this same time, they also set up their own record label, Calliope Records, to release independent solo projects. Using the pseudonym 'Adrian Kimberly,' Don recorded a big-band instrumental version of
Pomp And Circumstance
(better known in the UK as
Land Of Hope And Glory
) that was arranged by Neal Hefti, and charted in the American top 40 in mid-1961. Further instrumental single releases credited to Kimberly followed over the next year, but none of these follow-ups charted. Phil, meanwhile, formed a group called the Keestone Family Singers which also featured Glen Campbell and Carole King. Their lone single,
Melodrama
, failed to chart, and by the end of 1962, Calliope Records was no more.
Nevertheless, during the next two years the Everlys could hardly do anything wrong on the British charts scoring with
So Sad (To Watch Good Love Go Bad), Walk Right Back, Ebony Eyes, Crying In The Rain
and
That's Old Fashioned (That's The Way Love Should Be)
. Their first couple of Warner albums, IT'S EVERLY TIME and A DATE WITH THE EVERLY BROTHERS, were way ahead of their time and full of classic songs and performances. They released a dynamic revival of
Temptation
, a Tin Pan Alley standard that had been a hit for Bing Crosby in the 1930s. It became a hypnotic gem in their musical hands as they gave the song a driving rock beat. I remember my parents being aghast in 1961 as the single raced to the top of the UK charts. It was all too much for the more sedate American record buyers, where the record stiffed. The 'yeah-yeahs' had a profound effect on the Beatles, and there was hardly a British teenager that was not captivated by the sheer dynamism of this track, surely one of the greatest rock records of the early 1960s. Way ahead of its time, this was the perfect link between American rock'n'roll and the British beat boom. Not country, by any means, but the most perfect blend of mountain harmonies and city rock'n'roll that has ever been recorded.
By this time they had moved a long way from country, were based mainly in California and had started dabbling in drugs. To compound the whole trauma they were no longer teenagers and were trying to adjust to the adult medium on their albums. Suddenly it was all tough going, They dipped into most musical bags in search of good material. Moving away from the teen-angst hits that had made Don and Phil into rock'n'roll heroes around the world, they were experimenting in the studio and in 1961 released a pair of albums—BOTH SIDES OF AN EVENING and INSTANT PARTY— though they didn't sit too comfortably alongside their well-known hit singles, they did demonstrate the brothers skill at pushing musical boundaries.
50 years on, their arrangements of
Mention My Name In Sheboygan, Muskrat
and
Step it Up And Go
sound absolutely exhilarating. The latter was given a good old-fashioned rock'n'roll treatment with driving rhythms. Some of the ballads, like
Little Old Lady, True Love
and
When I Grow Too Old To Dream
, stuck closer to convention. As always, the harmonies were close and sweet throughout.
Though they were releasing fine albums, their sales had dipped disastrously. Their singles stalled on the US charts in 1963, although in the UK they continued to make a big impact right through to 1965's chart-topping
The Price Of Love
. Their pair of 1965 albums, BEAT'N'SOUL and ROCK'N'SOUL were quite dynamic, but again years ahead of their time and were even dismissed out-of-hand by long-time Everly fans. The 1966 album, TWO YANKS IN ENGLAND, was a reflection of the Everlys' popularity in the UK. It was recorded in England with backup by The Hollies, who had not only been influenced by Don and Phil, they also wrote many of the album's songs.
In the late 1960s the Everly Brothers helped pioneer country-rock with such classic songs as
Bowling Green
and
It's My Time
, recorded the superb GREAT COUNTRY HITS and in 1968 released the ROOTS album. An overlooked collection of the recorded history of a country family growing up with a down-home radio programme of their own, it was very much a catalyst for all that the Everly Brothers stood for.
However, by the end of the 1960s, the Everly Brothers were no longer hitmakers in either North America or the United Kingdom, and in 1970, after ten years, their contract with Warner Bros lapsed. In 1970, they were the summer replacement hosts for Johnny Cash's American television show. That same year Don Everly released SUNSET TOWERS, his first solo album, but it was not a success. The Everly Brothers resumed performing in 1971, and signed a contract with RCA Victor Records.
Though they'd been out of the limelight, in reality Don and Phil were at their creative peak, and their two RCA albums, STORIES WE COULD TELL and PASS THE CHICKEN AND LISTEN, were sadly overlooked classics. The 24 tracks effortlessly criss-cross country, bluegrass, country-rock and what today is termed Americana. The impeccable song choice, inspired musical arrangements, the Everly's almost-otherworldly harmony singing and overall production still stands the test of time and both albums sound just as good today, and in my view have worn better than some of their better-known hits. Amongst the songwriters featured are such legends as Dennis Linde (three little known songs with
Ridin' High
being a true country-rock classic), Jesse Winchester (the incredible
Brand New Tennessee Waltz
), John Sebastian, Rod Stewart (the definitive
Mandolin Wind
), Roger Miller (
Husbands and Wives
), Lee Clayon (
Ladies Love Outlaws
), John Prine (
Paradise
), Kristofferson (
Breakdown
and
Somebody Nobody Knows
), Guy Clark (
A Nickel For The Fiddler
) and Gene Thomas (my two favourites—
Lay It Down
and
Watching It Go
). Then there's the Everlys' own songs. Don's
I'm Tired of Singing My Song In Las Vegas
so apt for them at the time and Phil's excellent
Up In Mabel's Room
.
Don and Phil had problems living inside each other pockets—they had been singing together on local radio since they were seven and nine years old, and by 1973 they'd reached an explosive point where Phil Everly walked off stage vowing never to work again with his older brother. They broke up shortly thereafter, amidst much acrimony. Reportedly, they did not speak to each other for almost a decade, except at their father's funeral.
At the time Phil had been in the midst of working on his first solo album, STAR SPANGLED SPRINGER, which was released on RCA the following year. I bought the album as an import when it was first released on vinyl. It has remained my all-time favourite Everly solo album. Phil Everly had customarily been well appreciated as shadow dancer to Don's misanthropic ego and talent. As the recognised harmony voice, it was always thought that he possessed the weaker voice. This album was an eye-opener as not only did he emerge as a powerful and distinctive vocalist, but also a skilled songwriter penning seven songs in partnership with Terry Slater plus two entirely by himself.
Produced by Duane Eddy, the album had particular unfulfilled potential in the form of a single called
The Air That I Breathe
, which did, of course, sell vast quantities in the Hollies' cover version. Phil Everly's recording, the template for the Hollies, remains the definitive version, yet sadly has hardly been heard by the mass public. STAR SPANGLED SPRINGER, which was a considerable critical success, sadly died a death from lack of promotion.
If remaining as the Everly Brothers meant that the brothers had to remain trapped in a time-warp, then it was all to the good that they finally did split and go their separate ways. In any case, it would seem that working together had not been as smooth as it sounded from the varnished product of a finished Everlys' record.
They went their separate ways, embarking upon solo careers. Apart from spasmodic successes, they never made a big impression as solo artists. Don's BROTHER JUKEBOX in 1977 was a fine country album, resulting in some success on the country charts. He toured for a time with his band Dead Cowboys, with Albert Lee providing the harmonies for his versions of old Everly Brothers' hits. In 1979, Don recorded
Everytime You Leave
, a duet with Emmylou Harris for her BLUE KENTUCKY GIRL album.
Phil, meanwhile, recorded more frequently than Don, but with no real chart success until the 1980s. He sang backup vocals on one song for Roy Wood's 1975 album MUSTARD and two songs for Warren Zevon's self-titled 1976 album. He also wrote
Don't Say You Don't Love Me No More
for the hit 1978 Clint Eastwood comedy film, Every Which Way But Loose in which he performed it as a duet with co-star, Sondra Locke. He also wrote
One Too Many Women In Your Life
for the 1980 sequel, Any Which Way You Can where he could be seen playing in the band behind Sondra's performance.
Then, in 1983, Phil enjoyed significant UK success as a soloist with the album PHIL EVERLY, recorded mainly in London. Session musicians on the album included Dire Straits guitarist Mark Knopfler, Rockpile drummer Terry Williams, and keyboard player Pete Wingfield. The track
She Means Nothing To Me
, featuring Cliff Richard as co-lead vocalist, was a UK Top 10 hit, and
Louise
reached the Top 50 in 1983.
After a decade apart, the brothers reunited in 1983—"sealing it with a hug," Phil said at the time. Their reunion concert at London's Royal Albert Hall on September 23, 1983, was instigated by guitarist Albert Lee (who was also the concert's musical director). This concert spawned a well-received live album and video. The brothers then returned to the studio as a duo for the first time in over a decade, resulting in the album EB '84. Produced by Dave Edmunds, the lead single
On The Wings Of A Nightingale
, written by Paul McCartney, was a minor success and returned them to the charts.
They then earned a final charting country music hit with
Born Yesterday
in 1986 from the album of the same name. The brothers also sang vocals with Paul Simon on the Grammy award-winning title track to Simon's album GRACELAND. That same year the Everly Brothers were among the first 10 artists inducted into the Rock and Roll Hall of Fame. During the ceremony, they were introduced by Neil Young, who observed that every musical group he belonged to had tried and failed to copy the Everly Brothers' harmonies.
Even though the brothers had not produced a new studio album since 1989's SOME HEARTS, they toured and performed throughout the 1990s. They collaborated with other performers, usually singing either backup vocals or duets. Phil was especially active in this regard. In 1990 he recorded
On Top Of The World
a vocal duet with Dutch singer René Shuman. In 1994, a 1981 live BBC recording of
All I Have To Do Is Dream
, featuring Cliff Richard and Phil sharing vocals, was a UK Top 20 hit. In 2006, Phil sang a duet,
Sweet Little Corrina
, with country singer Vince Gill on his album THESE DAYS.
In 1997 the brothers were awarded the Grammy Lifetime Achievement Award. In addition, they were inducted into the Country Music Hall of Fame in 2001 and the Vocal Group Hall of Fame in 2004. Their pioneering contribution to the genre has also been recognised by the Rockabilly Hall of Fame. In 1998, the brothers recorded the song
Cold
for the concept album of Andrew Lloyd Webber and Jim Steinman's Whistle Down the Wind, and the recording was later used in stage versions as a 'song on the radio.' That same year, Bye Bye Love—The Everly Brothers musical depiction of their lives and careers was staged at Nashville's Ryman Auditorium for several months.
They joined Simon & Garfunkel as the featured act in Simon and Garfunkel's Old Friends reunion tour of 2003 and 2004. As a tribute to the Everly Brothers, Simon and Garfunkel opened their own show and had the Everlys come out in the middle. The live album of the tour, OLD FRIENDS: LIVE ON STAGE, contains Simon and Garfunkel discussing the Everlys' influence on their career and features all four performers joining in on
Bye Bye Love
.
Until his death, Phil Everly was involved with his own musical instrument accessories company. Everly Music Company produces products designed by Phil and Jason Everly, Phil's eldest son, for guitar and bass.
The Everly Brothers' sound was characterised by harmony singing which contrived to be velvety and whining at the same time, and which was matched with pounding, open-chord guitars and songs which perfectly caught the era's mood of teenage frustration.  They profoundly influenced 1960s-era groups and singer-songwriters ranging from Beatles John Lennon and Paul McCartney, who early in their careers called themselves the Foreverly Brothers, to Simon and Garfunkel, the Byrds, the Hollies and the Beach Boys. Perhaps even more powerfully than Elvis Presley, the Everly Brothers melded country with the emerging sound of 1950s rock'n'roll.
Mixing country-style harmonies with a rockabilly sound, the Everlys became one of the first acts to achieve true pop-country crossover success. It seems hard to believe that it's been more than 55 years since they burst upon the world with such teen classics as
Bye, Bye Love, Wake Up Little Susie
and
All I Have To Do Is Dream
. It's just as incredible to realise that their chart success spanned less than ten years and that in 1972, they were deemed washed-up, over the hill and suitable only for the oldies market.
It's of course true that the Everly Brothers had their problems growing up. What a shame they didn't get on for so long, and that in later years of the partnership they couldn't find material to match things like
When Will I Be Loved
or
Cathy's Clown
. Yet when they did pull out a beauty like
On The Wings Of A Nightingale
, the world was agog with indifference.
Now of course, we can look back over their 60 year career in music and fully appreciate just how good they were, not just in those few hit-laden days, but even during the years when they were not on the charts or selling millions of records. A classic record should not be a classic just because it sold well; there are plenty of classic Every Brothers' songs buried on albums, which need to be rediscovered. Many have been in recent years with contemporary renditions being recorded by the likes of Alison Krauss and Robert Plant, the Chapin Sisters, Reba McEntire, Norah Jones, Billie Joe Armstrong and many others.
Unwittingly Don & Phil, the Everly Brothers, brought sunshine and hope in those austere days of the late 1950s when British teenagers attempted to break free of the restraints of the post-war years. It was a time when the music of America spelt a way of life that could only be dreamt of in the drab streets of Britain. As Dansette record players blasted out the divine sounds of
Bye, Bye Love, Wake Up Little Susie, Til I Kissed You,
and of course,
All I Have To Do Is Dream
, we all knew that there was a different and better life out there, and the music held the key. The Everly Brothers' sound is a timeless sound, one that contains both the soul of country music and the heart of rock'n'roll. It will live on for years and years to come.
Read more about Phil Everly:
The Everly Brothers - 
First published in Country Music People magazine – August 1973