Paul Overstreet - Whatever Happened To....
First published in Country Music International, May 1996
He's just released his first solo album in four years, but this one-time Nashville hit-maker never stopped working
Paul Overstreet, one of Nashville's most successful songwriters, enjoyed a run of Top 10 country hits as a singer from 1987 through to 1991, before fading from the scene.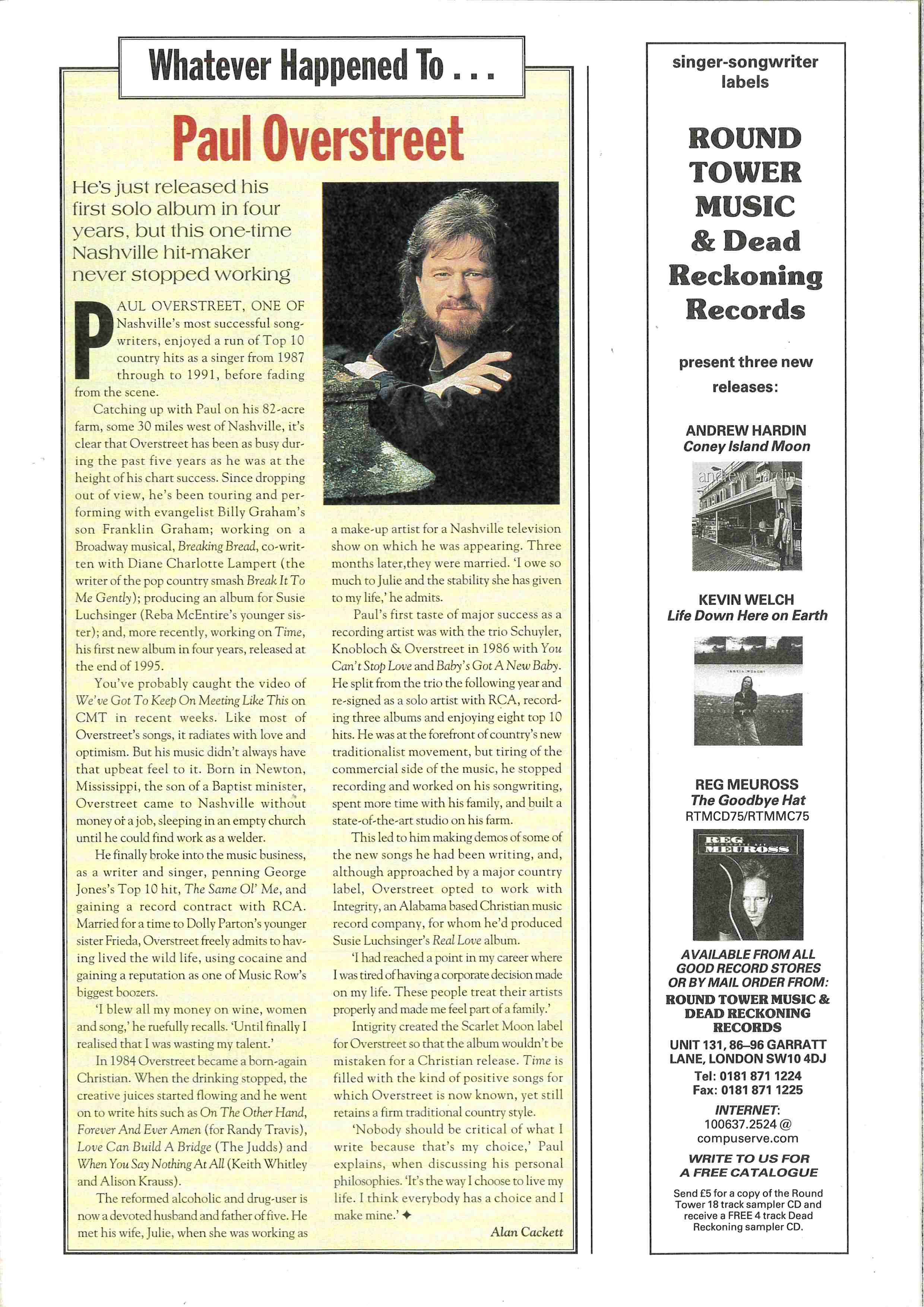 Catching up with Paul on his 82-acre farm, some 30 miles west of Nashville, it's clear that Overstreet has been as busy during the past five years as he was at the height of his chart success. Since dropping out of view, he's been touring and performing with evangelist Billy Graham's son Franklin Graham; working on a Broadway musical, Breaking Bread, co-written with Diane Charlotte Lampert (the writer of the pop country smash Break It To Me Gently); producing an album for Susie Luchsinger (Reba McEntire's younger sister); and, more recently, working on TIME, his first new album in four years, released at the end of 1995.
You've probably caught the video of We've Got To Keep On Meeting Like This on CMT in recent weeks. Like most of Overstreet's songs, it radiates with love and optimism. But his music didn't always have that upbeat feel to it. Born in Newton, Mississippi, the son of a Baptist minister, Overstreet came to Nashville without money or a job, sleeping in an empty church until he could find work as a welder.
He finally broke into the music business, as a writer and singer, penning George Jones' Top 10 hit, The Same Ol' Me, and gaining a record contract with RCA. Married for a time to Dolly Parton's younger sister Frieda, Overstreet freely admits to having lived the wild life, using cocaine and gaining a reputation as one of Music Row's biggest boozers.
"I blew all my money on wine, women and song," he ruefully recalls. "Until finally I realised that I was wasting my talent."
In 1984 Overstreet became a born-again Christian. When the drinking stopped, the creative juices started flowing and he went on to write hits such as On The Other Hand, Forever And Ever Amen (for Randy Travis), Love Can Build A Bridge (The Judds) and When You Say Nothing At All (Keith Whitley
and Alison Krauss).
The reformed alcoholic and drug-user is now a devoted husband and father of five. He met his wife, Julie, when she was working as a make-up artist for a Nashville television show on which he was appearing. Three months later, they were married. "I owe so much to Julie and the stability she has given to my life," he admits.
Paul's first taste of major success as recording artist was with the trio Schuyler, Knobloch & Overstreet in 1986 with You Can't Stop Love and Baby's Got A New Baby. He split from the trio the following year and re-signed as a solo artist with RCA, recording three albums and enjoying eight top 10 hits. He was at the forefront of country's new traditionalist movement, but tiring of the commercial side of the music, he stopped recording and worked on his songwriting, spent more time with his family, and built a state-of-the-art studio on his farm.
This led to him making demos of some of the new songs he had been writing, and, although approached by a major country label, Overstreet opted to work with Integrity, an Alabama based Christian music record company, for whom he'd produced Susie Luchsinger's Real Love album.
"I had reached a point in my career where I was tired of having a corporate decision made on my life. These people treat their artists properly and made me feel part of a family."
Integrity created the Scarlet Moon label for Overstreet so that the album wouldn't be mistaken for a Christian release. TIME is filled with the kind of positive songs for which Overstreet is now known, yet still retains a firm traditional country style.
"Nobody should be critical of what I write because that's my choice," Paul explains, when discussing his personal philosophies. "It's the way I choose to live my life. I think everybody has a choice and I make mine."