Patty Loveless - Second Time Around
Heartache, divorce, a secret marriage… all this and Elvis Presley too. It sounds like the key ingredients for an American soap opera or, better still, another country music rags-to-riches story
"I met Dolly Parton when she was 26 and I was 14, and she's been like a big sister to me in this business. She used to show me how to put my make-up on in the bathroom backstage at the old Ryman. She's a real long-time friend," reminisces Patty Loveless.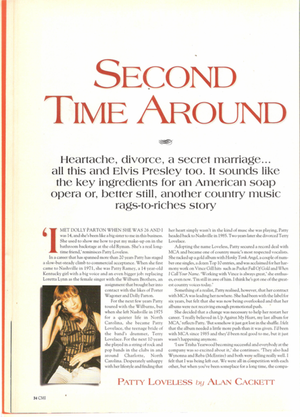 In a career that has spanned more than 20 years Patty has staged a slow-but-steady climb to commercial acceptance. When she first came to Nashville in 1971, she was Patty Ramey, a 14 year-old Kentucky girl with a big voice and an even bigger job: replacing Loretta Lynn as the female singer with the Wilburn Brothers, an assignment that brought her into contact with the likes of Porter Wagoner and Dolly Parton.
For the next few years Patty toured with the Wilburns, but when she left Nashville in 1975 for a quieter life in North Carolina, she became Patty Lovelace, the teenage bride of the band's drummer, Terry Lovelace. For the next 10 years she played in a string of rock and pop bands in the clubs in and around Charlotte, North Carolina. Desperately unhappy with her lifestyle and finding that her heart simply wasn't in the kind of music she was playing, Patty headed back to Nashville in 1985. Two years later she divorced Terry Lovelace.
Adopting the name Loveless, Patty secured a record deal with MCA and became one of country music's most respected vocalists. She racked up a gold album with HONKY TONK ANGEL, a couple of number one singles, a dozen Top 10 entries, and was acclaimed for her harmony work on Vince Gill hits such as Pocket Full Of Gold and When I Call Your Name. "Working with Vince is always great," she enthuses, even now. "I'm still in awe of him. I think he's got one of the greatest country voices today."
Something of a realist, Patty realised, however, that her contract with MCA was leading to nowhere. She had been with the label for six years but felt that she was now being overlooked and that her albums were not receiving enough promotional push.
She decided that a change was necessary to help her restart her career. "I really believed in UP AGAINST MY HEART, my last album for MCA," reflects Patty. "But somehow it just got lost in the shuffle. I felt that the album needed a little more pish than it was given. I'd been with MCA since 1985 and they'd been real good to me, but it just wasn't happening anymore."
"I saw Trisha Yearwood becoming successful and everybody at the company was so excited about it," she continues. "They also had Wynonna and Reba (McEntire) and both were selling really well. I felt that I was being left out. We were all in competition with each other, but when you've been someplace for a long time, the company might not be as excited about you as they are about someone new. I figured it was the right time for me to move on."
Though her contract with MCA still had some time to run, Patty asked the label for her release. They reluctantly agreed. With her new husband, Emory Fordy Jr, guiding her music, Patty started shopping around for a new record deal. Gordy had previously been the bass player with Elvis Presley and Emmylou Harris' Hot Band and was now a well-respected Nashville producer who had worked with George Jones, Aaron Tippin and many others. Along with MCA's Tony Brown, he had been co-producing Patty's recordings for several years and was now ready to take over the reins completely.
Patty and Emory Gordy Jr's story actually began as early as 1973. Patty was in the audience at an Elvis concert at the Municipal Auditorium in Nashville. She noticed that Elvis' bass player didn't quite fit in with the rest of the band. His hair was way past his shoulders and he wasn't wearing the same colour coordinated outfit as the others. "He kind of surprised me because he wasn't wearing a uniform, like the rest of the band. He had the same pair of pants on as the other guys, but his shirt was hanging out,"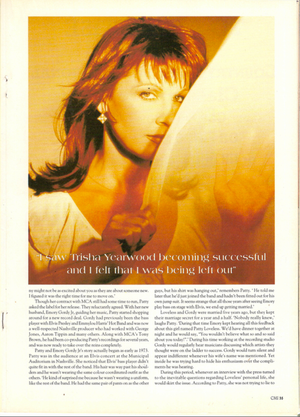 remember Patty. "He told me later that he'd just jointed the band and hadn't been fitted out for his own jump suit. It seems strange that all of those years after seeing Emory play bass on stage with Elvis, we end up getting married."
Loveless and Gordy were married five years ago, but they kept their marriage secret for a year and a half. "Nobody really knew," laugh Patty. "During that time Emory kept hearing all this feedback about this girl named Patty Loveless. We'd have dinner together at night and he would say, 'You wouldn't believe what so and so said about you today!'" During his time working at the recording studio Gordy would regularly hear musicians discussing which artists they thought were on the ladder to success. Gordy would turn silent and appear indifferent whenever his wife's name was mentioned. Yet inside he was trying hard to hide his enthusiasm over the compliments he was hearing.
During this period, whenever an interview with the press turned to the inevitable questions regarding Loveless' personal life, she would skirt the issue. According to Patty, she was not trying to lie to her fans, it was just that the couple felt that some friends close to them would have been 'affected' by the news of their marriage. When the veil of secrecy was finally lifted, Loveless was relieved and started to open up during interviews.
Many labels fight shy of taking on husband-and-wife partnerships, but two years ago Patty landed a deal at Epic Records, a label with only one female country singer, Tammy Wynette, on its roster.
Patty had already started recording her first Epic album when her clear-water voice turned ragged. A throat doctor discovered that an aneurysm had developed on her vocal chords. Voice-saving laser surgery was to be the only solution, but it would mean severall months of little or no singing or talking.  Unbelievably, Patty remained totally silent for a month.
"I was able to start whispering at first," she explains. "I had voice therapy and slowly started to sing scales. Then, a couple of months after the operation we went back into the studios."
Patty rarely writes her own songs, but she and Emory know how to pick and arrange their choice of material. "It's important to look for songs that you're really going to enjoy singing, because they maybe songs that you do for the rest of your career. I just want to make music that people can look back on in 20 years time and say, 'Now that was a really good album.'"
Patty's first epic album, ONLY WHAT I FEEL, has become her biggest selling record ever. The first single, Blame It On Your Heart, a popping Bakersfield boogie, presented her with a return to the top spot of the country charts. But the song that really ignited the album was How Can I Help You Say Goodbye. A moving song about losing loved ones, there were no initial plans to release it as a single. The album had stopped selling and it seemed as if Patty's change of label wasn't going to herald a turnaround in her fortunes. Then a decision was made to release How Can I Help You… as a single and to build a full-scale promotional campaign around it.
The label's efforts paid off. The single gained extensive radio play, due largely to numerous requests from the general public rather than it being picked for any radio station playlist, and suddenly the album took off, steadily climbing the pop charts and eventually earning Patty her first platinum disc. "It's unbelievable what that song has done and how many people it has reached," she says. "People have written to me, and they just want to share their thoughts about what they've been through."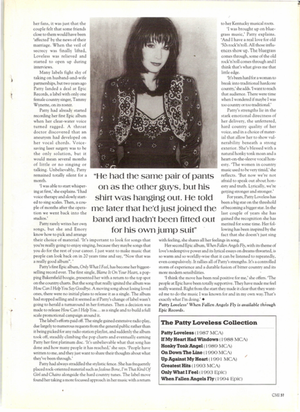 Patty had always straddled the stylistic fence. She has frequently placed rock- oriented material such as Jealous Bone, I'm That Kind Of Girl and Chains alongside the hard country tunes. The label move found her taking a more focussed approach in her music with a return to her Kentucky musical roots.
"I was brought up in the bluegrass music," Patty explains. "And I have a real love for the old '50s rock'n'roll. All those influences show up. The bluegrass comes through, some of the old rock'n'roll comes though and I think that's what gives me that little edge."
"It's been hard for a woman to break into traditional hardcore country," she adds. "I want to reach that audience. There were times when I wondered if maybe I was too country or too traditional."
Patty's strengths lie in the stark emotional directness of her delivery, the unfettered, hard country quality of her voice, and in a choice of material that allows her to show vulnerability beneath a strong exterior. She's blessed with a natural honky tonk moan and a heart-on-the-sleeve vocal honesty. "The women in country music used to be very timid," she reflects. "But now we're not afraid to speak out about honesty and truth. Lyrically, we're getting stronger and stronger."
For years, Patty Loveless has been a big star on the threshold of becoming a bigger star. In the last couple of years she has gained the recognition she has merited for some time. Her following has been inspired by the fact that she doesn't just sing with feeling, she shares all her feelings in song.
Her second Epic album, WHEN FALLEN ANGELS FLY, with its theme of love's redemptive powers and its lyrical essays on dreams thwarted, is so warm and so worldly-wise that it can be listened to repeatedly even compulsively. It rallies all of Patty's strengths. It's a controlled storm of experience and a durable fusion of bitter country and its more modern sensibilities.
"I think the move has been really positive for me," she offers. "The people at Epic have been totally supportive. They have made me feel really wanted. Right from the start they made it clear that they wanted me to do the music I was known for and in my own way that's exactly what I'm doing."
First Published in International January 1995