Patty Loveless & Jo El Sonnier - Sounds Familiar
First published in the Country Music International, July 1996
Tracing the history of those country songs that keep coming back time and time again
Tear-Stained Letter by Patty Loveless & Jo-El Sonnier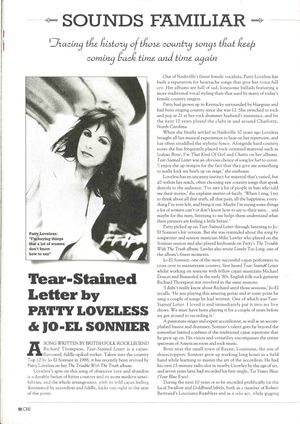 A song written by British folk-rock legend Richard Thompson, Tear-Stained Letter is a Cajun-flavoured, fiddle-spiked rocker. Taken into the country Top 10 by Jo-El Sonnier in 1988, it has recently been revived by Patty Loveless on her THE TROUBLE WITH THE TRUTH album.
Loveless' spin on this song of obsessive love and abandon is a durable fusion of bitter country and its more modern sensibilities' and the whole arrangement, with its wild Cajun feeling dominated by accordion and fiddle, kicks you right in the seat of the pants.
One of Nashville's finest female vocalists, Patty Loveless has built a reputation for heartache songs that give her voice full cry. Her albums are full of sad, lonesome ballads featuring a more traditional vocal styling than that used by many of today's female country singers.
Patty had grown up in Kentucky surrounded by bluegrass and had been singing country since she was 12. She switched to rock and pop at 21 at her rock drummer husband's insistence, and for the next 10 years played the clubs in and around Charlotte, North Carolina.
When she finally settled in Nashville 10 years ago Loveless brought all her musical experiences to bear on her repertoire, and has often straddled the stylistic fence. Alongside hard country tunes she has frequently placed rock-oriented material such as Jealous Bone, I'm That Kind Of Girl and Chains on her albums. Tear-Stained Letter was an obvious choice of song for her to cover. "I enjoy the up-tempos for the fact that they give me something to really kick my heels up on stage," she enthuses.
Loveless has an uncanny instinct for material that's varied, but all within her reach, often choosing raw country songs that speak directly to the audience. "I've met a lot of people in bars who told me their stories," she explains matter-of-factly. "When I sing, I try to think about all that truth, all that pain, all the happiness, everything I've ever felt, and bring it out. Maybe I'm saying some things a lot of women can't or don't know how to say to their men ... and maybe for the men, listening to me helps them understand what their partners are feeling a little better."
Patty picked up on Tear-Stained Letter through listening to Jo-El Sonnier's hit version. But she was reminded about the song by songwriter and session musician Mike Lawler who played on the Sonnier session and also played keyboards on Patty's THE TROUBLE WITH THE TRUTH album. Lawler also wrote Lonely Too Long, one of the album's finest moments.
Jo-El Sonnier, one of the most successful Cajun performers to cross over to mainstream country, first heard Tear-Stained Letter whilst working on sessions with fellow Cajun musicians Michael Doucet and Beausoleil in the early 1980s. English folk-rock guitarist Richard Thompson was involved in the same sessions.
"I didn't really know about Richard until those sessions," Jo-El recalls. "He was playing this amazing guitar and at some point he sang a couple of songs he had written. One of which was Tear-Stained Letter. I loved it and immediately put it into my live shows. We must have been playing it for a couple of years before we got around to recording it."
A passionate singer and expert accordionist, as well as an accomplished bassist and drummer, Sonnier's talent goes far beyond the somewhat limited confines of the traditional Cajun repertoire that he grew up on. His vision and versatility encompasses the entire spectrum of American roots and rock music.
Born near the small town of Rayne, Louisiana, the son of sharecroppers, Sonnier grew up working long hours as a field hand while learning to master the art of the accordion. He had his own 15-minute radio slot in nearby Crowley by the age of six, and seven years later had recorded his first single, Tes Yeaux Bleus (Your Blue Eyes).
During the next 10 years or so he recorded prolifically for the local Swallow and Goldband labels, both as a member of Robert Bertrand's Louisiana Ramblers and as a solo act, while gigging each weekend throughout southern Louisiana and east Texas. For a time he billed himself as 'The Cajun Valentino', even going as far as to wear an Arabian headdress on stage.
At the time Sonnier spoke and sang mostly in French and started learning English mainly from country recordings. But his strong French accent was something of a handicap in the music industry. By the age of 26 he had decided that regional fame had its limitations and moved on to California where work was slow and he ended up as a sideman jobbing around the South-West, before heading on to Nashville. Here Sonnier managed to establish himself as an in-demand session musician and skilled songwriter, having his material recorded by the likes of Johnny Cash, George Strait, John Anderson and Mel McDaniel.
It was when Sonnier returned to California and started touring with a band known simply as Jo-EI Sonnier & Friends (which featured some of the West Coast's highest-paid players, including Albert Lee, David Lindley and pedal steel supremo 'Sneaky' Pete Kleinow) that his fortunes changed.
Elvis Costello saw his show and recruited Sonnier for his KING OF AMERICA album. He then signed to RCA in Nashville in 1987 and released the successful COME ON JOE album, which featured special guest Steve Winwood on organ. The title track dented the country charts, while the follow-up singles, No More One More Time and Tear-Stained Letter, both hit the Top 10. The latter was also accompanied by Sonnier's first video.
With his exciting mixture of Louisiana swamp-rock and French Cajun tunes and a tight-knit, powerhouse band, Sonnier built up a reputation as one of the best live acts around. But he has never really duplicated the raw magic of his live shows on record. His stint on RCA came to an end in 1991 when he joined Capitol/Liberty Records, but he was unable to dent country radio and returned to his first love of traditional Cajun with a rock influence.
"When you play Cajun music there's a lot of blues, a lot of happiness and a lot of tears," he explains simply. "It's all feeling and I'm playing from the heart. I don't feel that there can be any compromise."
The song's writer, London-born Richard Thompson, was heavily involved in the British folk-rock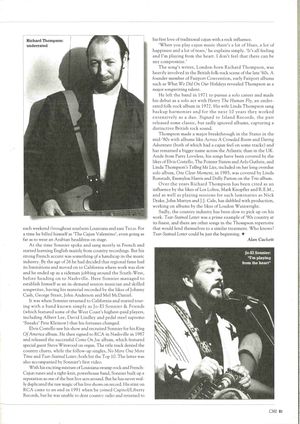 scene of the late 1960s. A founder member of Fairport Convention, early Fairport albums such as WHAT WE DID ON OUR HOLIDAYS revealed Thompson as a major songwriting talent.
He left the band in 1971 to pursue a solo career and made his debut as a solo act with HENRY THE HUMAN FLY, an underrated folk-rock album in 1972. His wife Linda Thompson sang backup harmonies and for the next 10 years they worked extensively as a duo. Signed to Island Records, the pair released some classic, but sadly ignored albums, capturing a distinctive British rock sound.
Thompson made a major breakthrough in the States in the mid-1980s with albums like ACROSS A CROWDED ROOM and DARING ADVENTURE (both of which had a Cajun feel on some tracks) and has remained a bigger name across the Atlantic than in the UK. Aside from Patty Loveless, his songs have been covered by the likes of Elvis Costello, The Pointer Sisters and Arlo Guthrie, and Linda Thompson's Telling Me Lies, included on her long overdue solo album, ONE CLEAR MOMENT, in 1985, was covered by Linda Ronstadt, Emmylou Harris and Dolly Parton on the TRIO album.
Over the years Richard Thompson has been cited as an influence by the likes of Los Lobos, Mark Knopfler and R.E.M., and as well as playing sessions for such luminaries as Nick Drake, John Martyn and J.J. Cale, has dabbled with production, working on albums by the likes of Loudon Wainwright.
Sadly, the country industry has been slow to pick up on his work. Tear-Stained Letter was a prime example of 1990s country at its finest, and there are other songs in the Thompson repertoire that would lend themselves to a similar treatment. Who knows? Tear-Stained Letter could be just the beginning ...