First published in Country Music People, July 1974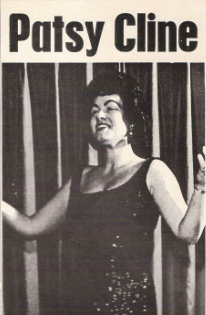 Of all the many fine country singers, there are few who have touched me as deeply as Patsy Cline. I first got caught on to the Patsy Cline voice during the summer of 1961. At the time I was deeply involved as a fan on pop music. I was preoccupied with following the next release of such 'all-time greats' as Bobby Vee, Johnny Tillotson, Dion, The Everly Brothers and a handful of other teen idols. Country music as such, meant very little to me. I knew it existed, but my ideas of what it was like had been formed by misleading press articles that centred around how 'sick' the music was. It was a time when country music in Britain was at an all-time low. A few discs like Ferlin Husky's
Drunken Driver
and Bob Luman's
Let's Think About Livin'
had given the music a false image that was certainly both misconceived and certainly held it back from gaining any respectability or popularity.
I was tuned in to Radio Luxembourg one evening, it was just about the only radio station that any self-respecting pop fan ever listened to, when dj Tony Hall introduced a record that was shooting up the American pop charts. It was Patsy Cline and
I Fall to Pieces
, a record that really pulled at my young emotions. It was a disc that contained that intangible quality that really got to my innermost feelings. No one mentioned to me that it was country music—all I knew was that it was a record I just had to have. Three days later it was mine. You see I moved fast in those days to obtain the record that I wanted, after all, in a few weeks it would be out of favour, replaced by the next record that caught my fancy. But Patsy didn't follow the norm. Her record was still out and being played come Christmas time. Patsy was more than just another of my idols. She had the quality, the style and the voice that you just couldn't tire of.
During the next couple of years Patsy Cline led me through a series of traumatic emotions with a series of singles that have never been surpassed for quality and sheer listening pleasure. I remember eagerly awaiting her follow-up to
I Fall To Pieces
. That one had been a Harlan Howard song, tinged with a vocal that carried just the right amount of hurt and despair. Patsy was clearly being handled with care, true the production of her records at the time was hardly down-homey country, but her choice of material could never be faulted. Her next release, Willie Nelson's
Crazy
was a masterpiece. Patsy was years ahead of the time with her phrasing, it was a record that was total in its emotions. It got through to you and somehow you knew and understood that Patsy had lived through the experiences she was singing about. She had a realism about her style and an aching stridency in her voice that cannot be just conjured up—it's inbred.
Her third release in Britain,
She's Got You
almost put her into the pop charts. It was another piece of ballad mastery and proved beyond doubt that she had the talent to cross over the boundaries of pop and country without losing any of that country edge to her voice. By now I had obtained her first British album release SHOWCASE, a collection of pop/country standards all marked by that distinctive Cline style that lifted the overworked songs to a new dimension. The production by Owen Bradley, for the early 1960s, was both inventive and completely out of context with the rest of the sounds emerging from Nashville. He allowed Patsy's vocals a great deal of freedom, weaving the background chorus by The Jordanaires intricately amongst the guitar picking of Grady Martin and other notable Nashville pickers. The album had a note of sophistication about it, but Patsy's natural and untrained voice kept it safely in the country field. The edge on her vocal gave even straight pop songs like
True Love
a country lilt and when she tackled Buck Owens'
Foolin'
Around
there was no mistaking her traditional country roots.
In the early 1960s, Patsy Cline, more than any other person, paved the way for the glut of female country singers that built up to a deluge before the end of the decade. In the 1950s there were only three or four female country singers of any note, and the undisputed queen was Kitty Wells. Patsy Cline not only threatened Kitty Wells' position, but de-throned her and enabled other girl singers like Connie Smith, Dottie West, Jan Howard and Tammy Wynette to come to Nashville and successfully seek a career in country music.
Patsy's phrasing and the production of her recordings was always striving for greater things and her second British album release, SENTIMENTALLY YOURS achieved even more, artistically than its predecessor. It allowed more room for her emotionally controlled ballad styling that was fast replacing the more up-tempo material she had been cutting in the past. She made definitive versions of
That's My Desire, Your Cheatin' Heart
and
Lonely Street
, and came up with an exciting arrangement of
Heartaches
, that breathed new life into the old master.
The problem Patsy faced now was finding suitable material for single releases. She needed new songs, but there just weren't the writers in Nashville at the time to provide the sort of material she required. For some strange reason she ignored the songs of Willie Nelson, the only writer really equipped to match her phrasing with the suitable lyrics and melody. Instead she released the slightly sub-standard
When I Get Thru' With You
followed by the underrated Carl Perkins penned
So Wrong
.
Naturally at this time Patsy Cline was becoming one of the hottest names on the American country scene. She was a much in-demand performer, being one of the few people ever to have merged artistic brilliance with commercial success simultaneously. It was when she had the world at her feet that disaster struck. Her promising career was cut tragically short on March 5, 1963, by an airplane crash that also took the lives of Cowboy Copas and Hawkshaw Hawkins.
Nashville was shocked by this disaster. And as is so often in this case, Patsy achieved almost a cult following. For many people it wasn't until after her death that the history of her career was fully realised. Though her albums had always pointed to older songs recorded back in the 1950s, it was an impossible task in the early 1960s to track down any titles, let alone get hold of the discs. It wasn't long before her early recordings began fetching inflationary prices, and her record releases began to flood the British market.
On digging back into her past I often found I was greatly disappointed by these earlier recordings. Her vocals I just couldn't fault, Patsy's voice could never be replaced. No it was the production— it just didn't suit her at all. She began recordings in 1956 for the Four Star Label, a small company that spawned the careers of many country singers in the 1950s. Her winning appearance on the Arthur Godfrey Talent Scout Contest brought her to the attention of a much wider audience than previously. Decca, who handled the distribution for Four Star were quick to bring Patsy onto their own label and give her the full promotion. In 1957 she hit the country charts with
Walkin' After
Midnight
. This initial success was followed by
A Poor Man's Roses, Stop The World
and
Come On
In
. These were all up-tempo songs, and though they had a basic country instrumentation, compared with her later recordings, the production was just plain messy.
The poor quality of these recordings could hardly be blamed on Patsy. She was at the time an unknown struggling to make a living out of something she loved dearly—country music. Her recordings were on a shoe-string budget, the company were just hoping that one of the cheap, off-the-cuff recordings would take-off in a commercial way. Yet there was no real thought for commercial or artistic quality. That all came much later.
A few weeks before Patsy Cline's untimely death she had put the finished touches to her third album since the commercial success of
I Fall To Pieces
. The result, PORTRAIT OF PATSY CLINE again demonstrated just how far she was progressing with country music. Bob Wills' immortal
Faded Love
seemed tailor-made for Patsy and once again she was relying on the great old songs. Moon Mullican's
I'll Sail My Ship Alone
, Ray Price's
Crazy Arms
and a really wonderful, soulful treatment of
Someday You'll Want Me To Want You
. But somehow Patsy managed to find new songs to include and though
Who Can I Count On
and
When You Need A Laugh
were hardly great songs, they achieved a degree of greatness because of the magic that Patsy brought to them.
There have been many female country singers since Patsy Cline who have endeared the quality of their vocals to me, but none have that certain magic, that quality that Patsy had of reaching into my innermost soul and touching something special. She managed the impossible with just a handful of singles and four albums (the fourth was a special British compilation TRIBUTE TO PATSY CLINE released shortly after her death and containing all of the singles that had not been on albums). Patsy Cline was one of the great stylists of country music, yet really her career lasted only two short years from the spring of 1961 until her death in 1963. Though her material recorded before
I Fall To Pieces
should not be dismissed, it never reached the heights of that which followed. It had little to do with placing Patsy Cline among the all-time greats of country music, but was a foundation for a short but brilliant career that was so influential in the following years.