Pam Tillis - Walking Tall
First Published in Country Music International – August 1998
It's been a tough year for Pam Tillis but despite breaks with both husband and management, she's touring frantically in the wake of her dynamic new album, EVERY TIME. "I'm working like a mad woman!" she tells a sedate Alan Cackett.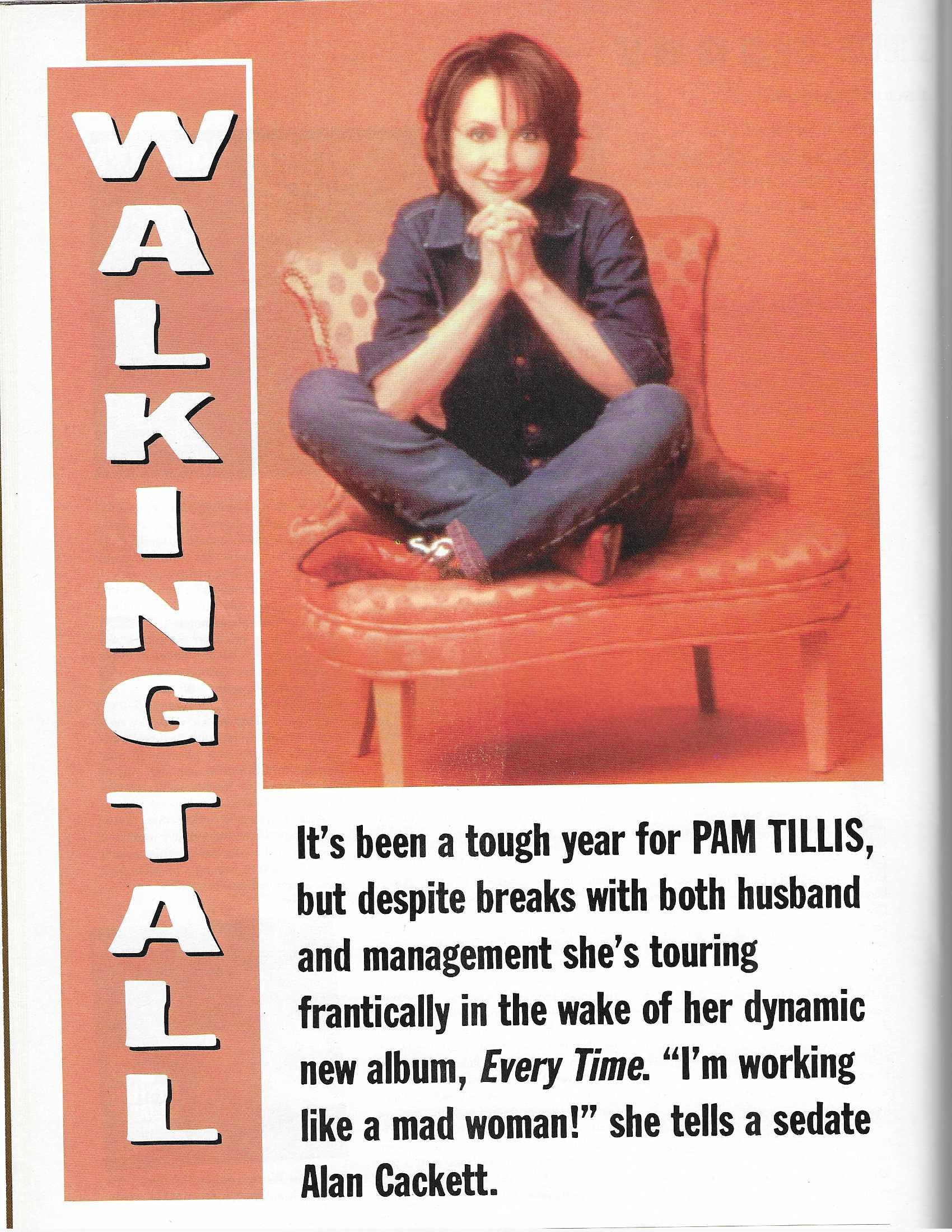 "You find out real quick that when things aren't right at home, all the other stuff doesn't matter. You always find true happiness in your relationships. Having a good solid home life, I don't think that's the most important thing in anyone's life."
In a year of what she describes as cataclysmic personal and professional upheaval, Pam Tillis has gone through the painful dissolution of both her marriage and longtime management. She was out on the road on her tour bus when CMI caught up with her, somewhere in Missouri, obviously tired and, between yawns, confiding about the turmoil of her personal life and the struggles of establishing and maintaining her successful career, yet still finding time to spend some of her spare moments browsing around local antique stores.
Tillis's second marriage to Music Row songwriter Bob DiPiero on Valentine's Day 1991 coincided with her first country Top Ten entry with the sassy Don't Tell Me What To Do, the record that established her at the forefront of the new breed of independent, strong-willed 1990s Nashville women singers.
"We're luckier than most people," she says of her current relationship with DiPiero. "We are still good friends. There never really was any shouting and screaming—we just drifted apart. He is a great person and a wonderful father. Some business marriages last forever and others end up being real nasty. I guess ours fell somewhere in between."
The failed marriage hit Tillis hard, but she puts on a brave face, making light of her experiences, fully realising that life on the road for a wife is not a good basis for building a successful relationship. "It's hard for a guy to catch you when you're going to 90 miles an hour," she laughs.
"I've been around the music business all my life," she continues, stifling another early morning yawn, "so I keep my feet on the ground most of the time. But it's hard to stay grounded in a personal relationship. Sometimes you find yourself being pulled in all different directions. Being out on the road, you can be shattered, and you're in a different place every day. You're like: 'Oh my gosh, where are we? What day is this?' But you have to just keep it all in perspective." 
With Pam Tillis, what you see is what you get. The charm, sincerity and approachability that make her such a genuinely likeable person are interwoven into every song she sings. She has perfected an unerring reliability for crafting classy radio hits, many of which she has co-written. Surprisingly, for her latest album, EVERY TIME, she has eschewed her own songwriting in favour of those of her well-respected Music City peers. 
"It felt a little strange," she explains, "but over this past couple of years I've undergone a lot of trauma, and I didn't want the album to seem like self-therapy; I didn't want it to be too dark. I felt like ALL OF THIS LOVE was a very dark album for me. I wanted something more of a SWEETHEART'S DANCE, with lots of energy and a positive vibe, even though it had songs about all different angles of relationships."
EVERY TIME ventures into the catalogues of other songwriters, reflecting a strong interest in the best and most individualistic present-day composers. Savannah Snow's Hurt Myself is a down-in-the-mouth, reflective pain-killer, Leslie Satcher's Whiskey On The Wound packs even more hurt-and-heartbreak, and Jamie O'Hara's Lay The Heartache Down is another feel-sorry-song dressed up in a trad-country arrangement.
But it's not all heartache; Tillis could never be accused of being one-dimensional. On A Great Disguise, she sings with heartfelt warmth and conviction in a style that bridges the traditions of yesteryear with a contemporary attitude, while the opening I Said A Prayer is an out-of-character rockin' country tune. "At first I thought I couldn't do this record," Tillis says. "But in the end I just rolled up and went into the studio every day and surrounded myself with people I felt comfortable with. It felt like when I first started out in the business."
"This is one of those pedal to the metal years for me," she continues, "I'm working like a madwoman, both out of the dictates of the business and my own personal drive. I even have a new look. My hair is real short now—it's the first time I've had it like this. I just felt it was time for some sort of change."
The change is the most apparent in her music. She self-produced her last studio album, ALL OF THIS LOVE, but decided to co-produce EVERY TIME with Billy Joe Walker. "I am really proud of his new album," she enthuses. "We started working together with the Greatest Hits record, working on the two new tracks that were both Top Ten hits. He's a real good editor and he trims back any of my excesses. You've got to have somebody on hand like that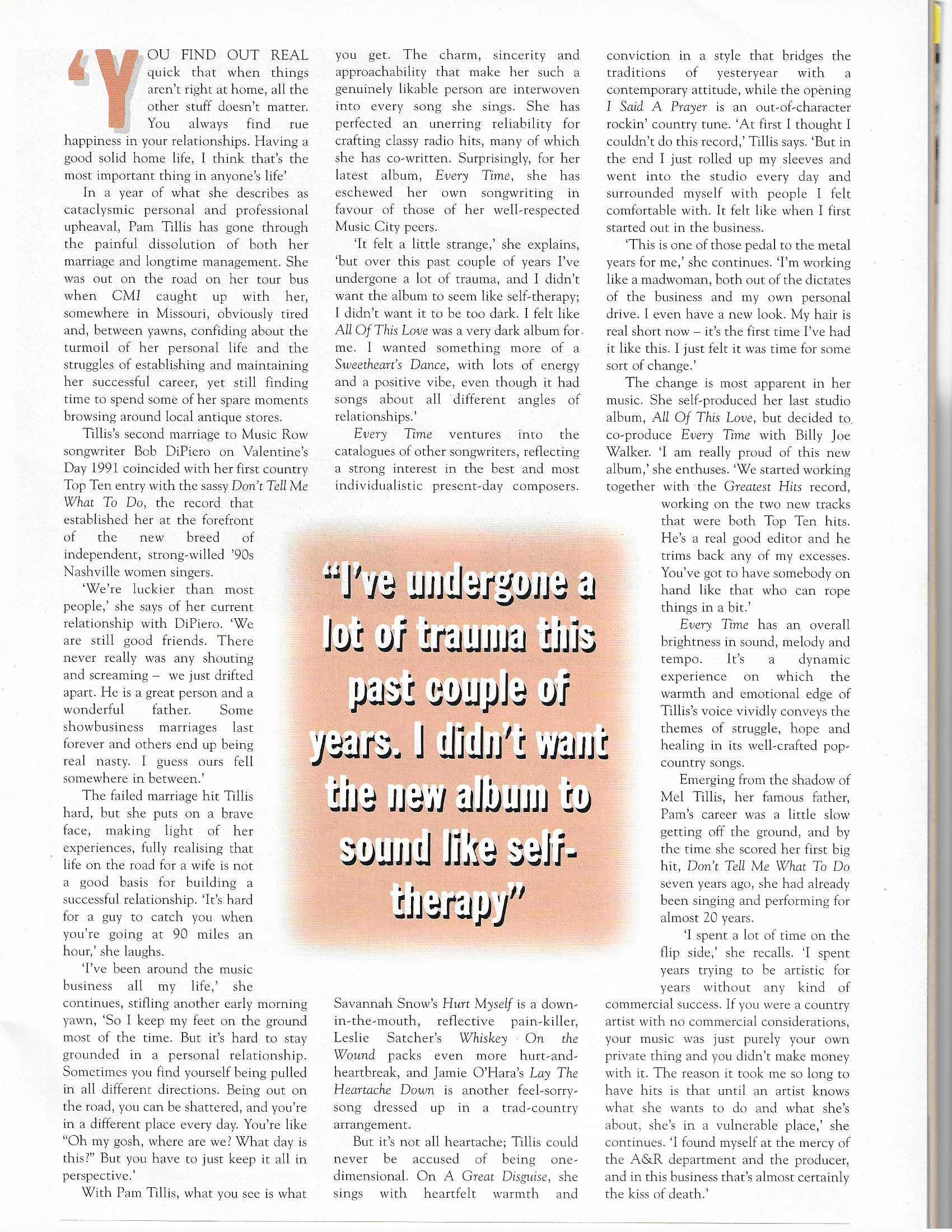 who can rope things in a bit."
EVERY TIME has an overall brightness in sound, melody and tempo. It's a dynamic experience on which the warmth and emotional edge of Tillis' voice vividly conveys the themes of struggle, hope and healing in its well-crafted pop-country songs.
Emerging from the shadow of Mel Tillis, her famous father, Pam's career was a little slow getting off the ground, and by the time she scored her first big hit, Don't Tell Me What To Do seven years ago, she had already been singing and performing for almost 20 years.
"I spent a lot of time on the flip side," she recalls. "I spent years trying to be artistic for years without any kind of commercial success. If you were a country artist with no commercial considerations, your music was just purely your own private thing and you didn't make money with it. The reason it took me so long to have hits is that until an artist knows what she wants to do and what she's about, she's in a vulnerable place," she continues. "I found myself at the mercy of the a&r department and the producer, and in this business that's almost certainly the kiss of death."
Pam Tillis knows where she came from, and she respects and loves that place. But she also enjoys pushing forward into new areas, breaking taboos and testing herself and her talent. "I grew up in the old Nashville," she explains. "So I understand the roots and traditions of the music better than most of the people here now. I still go out to writer's nights, though—that's where I heard Leslie Satcher. She writes a lot of traditional country. Harlan Howard calls her 'The Great Hope of Nashville.' Things come out in her songs that I just don't hear in other Nashville songwriters."
Vibrant, creative and distinctly individual, Pam Tillis stands tall on her own, drawing support and a host of enterprising ideas from a multiplicity of sources. Music is important to her life, but her first priority has always been family, especially her son, Ben. For several years she raised him as a single mother. Now, at 20 years old, he's at an age to pursue his own dreams, but his proud mother is not going to let go of her son without some kind of reassurance that he is ready to stand on his own two feet. She even called her publishing company Ben's Future Music, just to make sure that he has a solid financial foundation, but she admits there has been some turmoil and heartache in raising him.
"We went through some difficult times—he was in his teen years and we kinda got off track," she says philosophically. "It wasn't a big crisis, just a communication breakdown. We had to work hard to get our relationship back on track."
But despite the family sacrifices Pam has maintained close contact with her son and with the other members of her family. Now that she's in the spotlight herself, her recollections of her father's celebrity have helped to give her a better understanding of what life in the fast lane is all about.
"I think that has been nice for my relationship with dad," she says. "Our understanding of each other has been furthered as a result of all of this. I do feel that I can understand him better now and commiserate with him and ask him for advice on things I'm going through. I'm fortunate to have the benefit of his experience."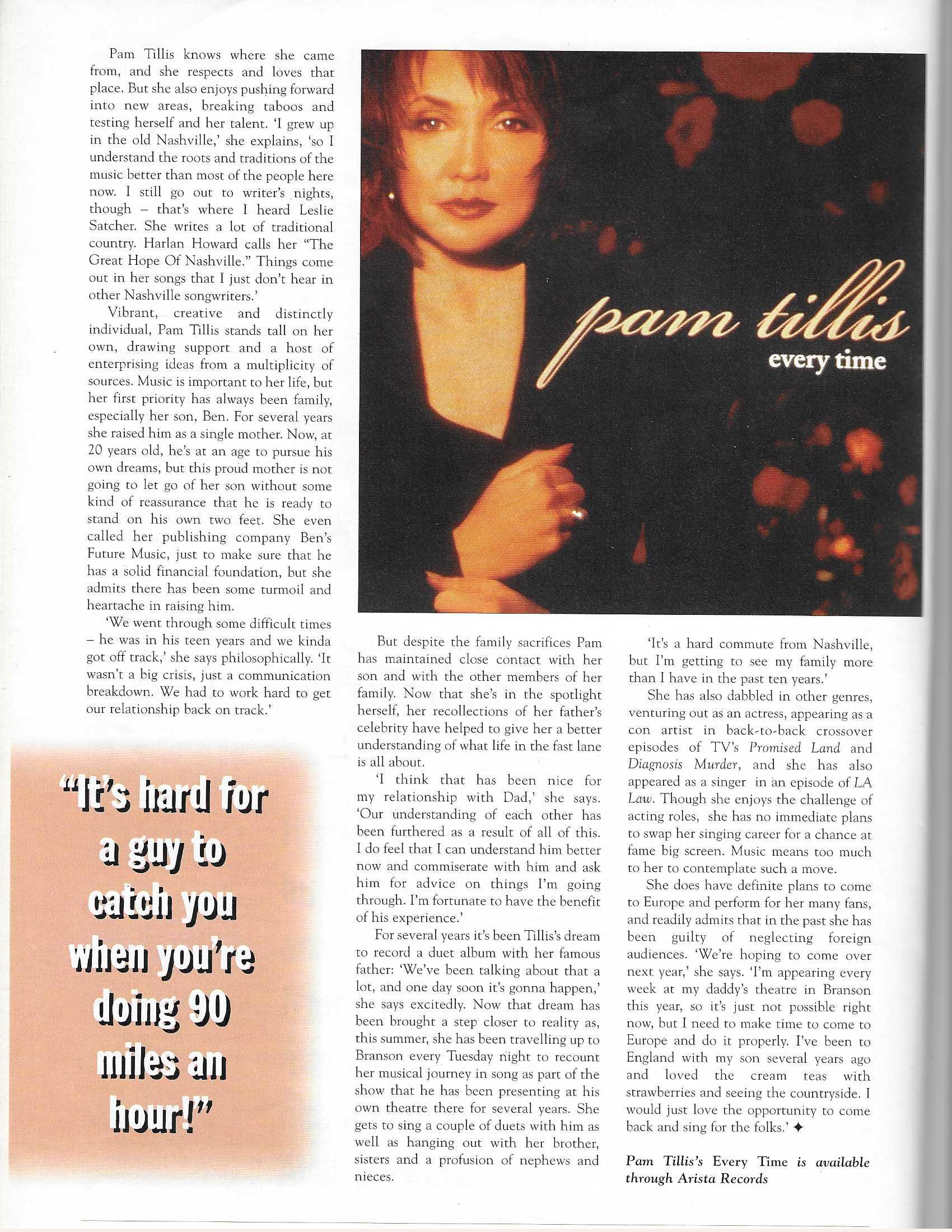 For several years it's been Tillis' dream to record a duet album with her famous father: "We've been talking about that a lot, and one day soon it's gonna happen," she says excitedly. Now that dream has been brought a step closer to reality as, this summer, she has been travelling up to Branson every Tuesday night to recount her musical journey in song as part of the show that he has been presenting at his own theatre there for several years. She gets to sing a couple of duets with him as well as hanging out with her brother, sisters and a profusion of nephews and nieces.
"It's a hard commute from Nashville, but I'm getting to see my family more that I have in the past ten years."
She has also dabbled in other genres, venturing out as an actress, appearing as a con artist in back-to-back crossover episodes of TV's Promised Land and Diagnosis Murder, and she has also appeared as a singer in an episode of LA Law. Though she enjoys the challenge of acting roles, she has no immediate plans to swap her singing career for a chance at fame on the big screen. Music means too much to her to contemplate such a move.
She does have definite plans to come to Europe and perform for her many fans, and readily admits that in the past she has been guilty of neglecting foreign audiences. "We're hoping to come over next year," she says. "I'm appearing every week at my daddy's theatre in Branson this year, so it's just not possible right now, but I need to make time to come to Europe and do it properly. I've been to England with my son several years ago and loved the cream teas with strawberries and seeing the countryside. I would just love the opportunity to come back and sing for the folks."