Pam Tillis - The Story So Far
First Published in Country Music International, July 1997
A look at the Pam Tillis' albums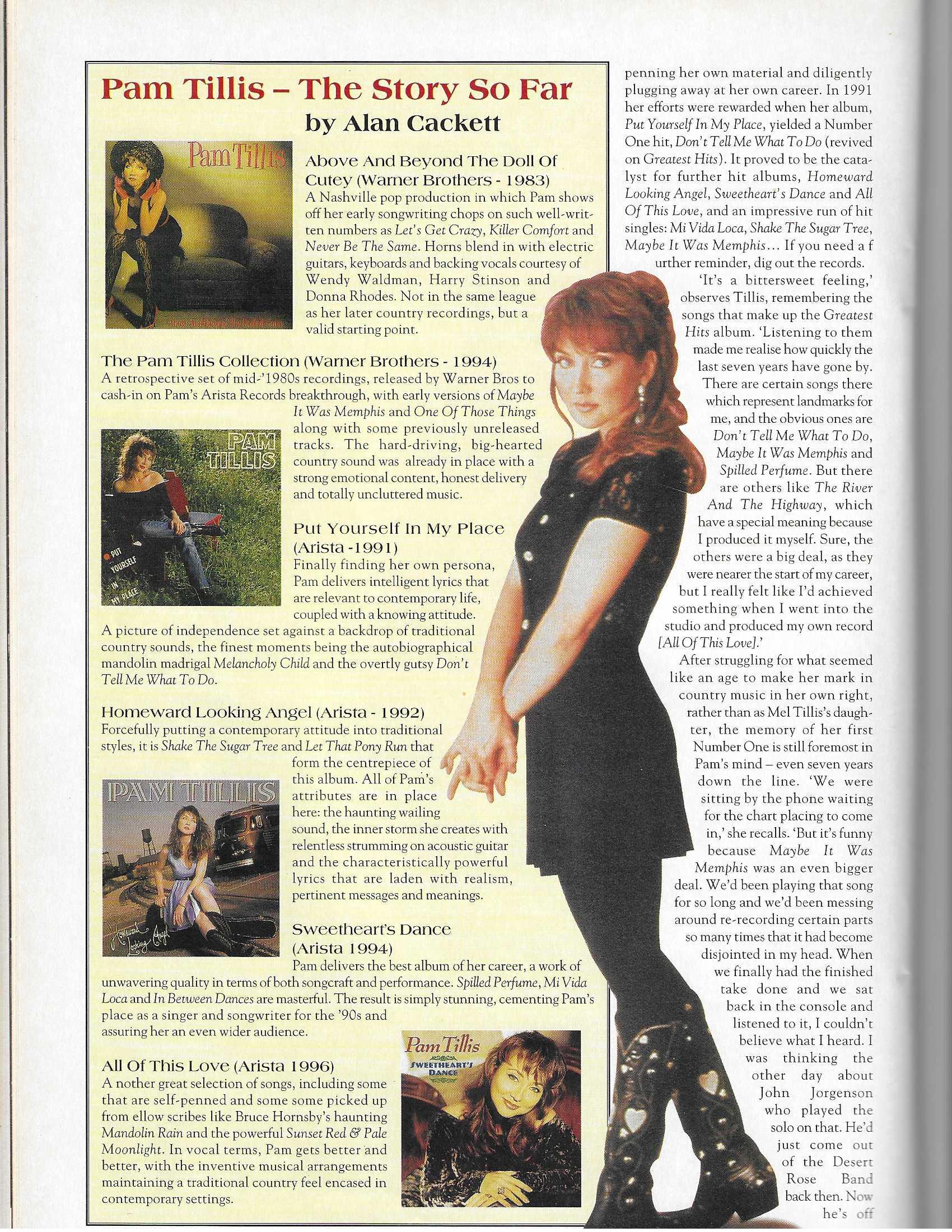 ABOVE AND BEYOND THE DOLL OF CUTEY (Warner Brothers – 1983)
A Nashville pop production in which Pam shows off her early songwriting chops on such a well-written numbers as Let's Get Crazy, Killer Comfort and Never Be The Same. Horns blend in with electric guitars, keyboards and backing vocals courtesy of Wendy Waldman, Harry Stinson and Donna Rhodes. Not in the same league as her later country recordings, but a valid starting point.
THE PAM TILLIS COLLECTION (Warner Brothers – 1994)
A retrospective set of mid-1980s recordings, released by Warner Brothers to cash-in on Pam's Arista Records breakthrough, with early versions of Maybe It Was Memphis and One Of Those Things along with some previously unreleased tracks. The hard-driving, big-hearted country sound was already in place with a strong emotional content, honest delivery and totally uncluttered music.
PUT YOURSELF IN MY PLACE (Arista – 1991)
Finally finding her own persona, Pam delivers intelligent lyrics that are relevant to contemporary life, coupled with a knowing attitude. A picture of independence set against a backdrop of traditional country sounds, the finest moments being the autobiographical mandolin madrigal Melancholy Child and the overtly gutsy Don't Tell Me What To Do.
HOMEWARD LOOKING ANGEL (Arista – 1992)
Forcefully putting a contemporary attitude into traditional styles, it is Shake The Sugar Tree and Let That Pony Run that form the centrepiece of this album. All of Pam's attributes are in place here: the haunting wailing sound, the inner storm she creates with relentless strumming on acoustic guitar and the characteristically powerful lyrics that are laden with realism, pertinent messages and meanings.
SWEETHEART'S DANCE (Arista – 1994)
Pam delivers the best album of her career, a work of unwavering quality in terms of both songcraft and performance. Spilled Perfume, Mi Vida Loca and In Between Dances are masterful. The result is simply stunning, cementing Pam's place as a singer and songwriter for the 1990s and assuring her an even wider audience.
ALL OF THIS LOVE (Arista – 1996)
Another great selection of songs, including some that are self-penned and some picked up from fellow scribes like Bruce Hornsby's haunting Mandolin Rain and the powerful Sunset Red & Pale Moonlight. In vocal terms, Pam gets better and better, with the inventive musical arrangements maintaining a traditional country feel encased in contemporary settings.