Sweet Heart Of The Rodeo
First Published in Country Music International - September 1994
Pam Tillis is country music's first 10-year overnight sensation and one of the new breed of female country artists, matching raunchy honky-tonk grit with southern belle soul
For years the Nashville doors were firmly closed to women in country music. True, there have always been female performers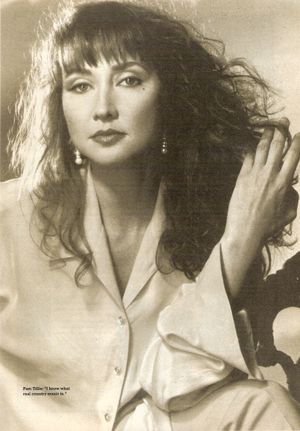 working within country music, but for the most part, they were moulded and marketed by men, and rarely stepped outside of the age-old stereotype of their traditional roles within the proprieties of Southern rural life.
Those Southern morality standards were still firmly in place when such legendary country ladies as Loretta Lynn, Tammy Wynette and Dolly Parton started to make an impact in the late 1960s. Even though they would often write their own material, they still relied on men to, not only guide their careers, but also protect them from the pitfalls of the big wide world.
There has been an unwritten rule in American country radio for years not to play two female records in a row, and it has only recently been accepted that female stars were actually good enough to headline the major concert tours that criss-cross the American interstates.
The 1990s has seen many of these old prejudices swept away as talented female artists such as Reba McEntire, Mary-Chapin Carpenter and Tanya Tucker have taken control of their careers and proved to be as successful as their fellow male performers. The seeds for these changes were first planted in the early 1980s when the likes of Gail Davies, Rosanne Cash and K.T. Oslin first moved to Nashville and rebelled against the old-fashioned constraints placed upon the fairer sex.
At the same time, a young Pam Tillis was also trying to make her mark in country music. The daughter of veteran country performer Mel Tillis, Pam had grown up in Nashville and during her teen years had been a member of the Stutterettes, the backing vocalists for her father's road show. She could see that unwittingly she was being pushed into the kind of country music career she was neither ready nor really wanted.
"I struggled in my early years to have my own identity," Pam recalls. "It was expected that I would naturally like the country music my father was involved in, but as a child I was listening to the Beatles, then later came singer/songwriters, and Carole King proved to be a big influence. But it was the southern rock of the Allman Brothers and Lynyrd Skynyrd that my daddy just didn't understand. I'm sure he wondered just where he'd gone wrong."
"In the end I just had to try my own thing," she continues. "So I left Nashville with a jazz pianist friend, and for a time I was playing in a fusion group in San Francisco. It was good at the time and I'm sure it gave me a lot more freedom, vocally. Though it may seem a bit weird, I think I really got the confidence I needed from singing jazz."
A move back to Nashville in the mid 1980s saw Pam land a record deal with Warners and a songwriting contract with Tree, one of the largest publishing companies in Music City. Though she released some great singles, Pam was unable to make an impression on the charts. But she did enjoy some success as a writer, emerging alongside Pam Rose, Mary Ann Kennedy and Beth Nielsen Chapman as women writing songs for and about women.   
Pam's songs were being recorded by such stars as Juice Newton, Chaka Khan and Conway Twitty. Whilst working on the demo for Someone Else's Trouble Now, which became a hit for Highway 101, she was offered a recording contract with the new Arista Nashville label. "In the past, I don't think there was a strong woman's point of view in country music at all. The woman singers were still cutting a lot of men's songs, and women writers were not getting a look-in. Now we have some really talented writers like Pam Rose, Mary Ann Kennedy and Gretchen Peters, all making their mark. This has been an important development. For a female performer to make a big impact, you've got to attract the women fans. In fact, you've gotta be their voice."
Tillis became country music's 10-year overnight sensation when her Arista debut single, Don't Tell Me What To Do, raced into the US country Top 10 in the early months of 1991. Further success with One Of Those Things and Maybe It Was Memphis resulted in Pam's Arista album, PUT YOURSELF IN MY PLACE, gaining a gold disc, and the singer emerging as one of the great female country stylists of the 1990s.
That initial success was consolidated with the next album, HOMEWARD LOOKING ANGEL, which contained not only hit singles, Shake The Sugar Tree, Let That Pony Run and Cleopatra, Queen Of Denial, but was proof, if it was needed, that Pam Tillis was a very talented singer and songwriter, destined to be around for some time.      
"I've been around Nashville a long time," Pam explains, "and in recent years it has changed. There are a lot of artists in town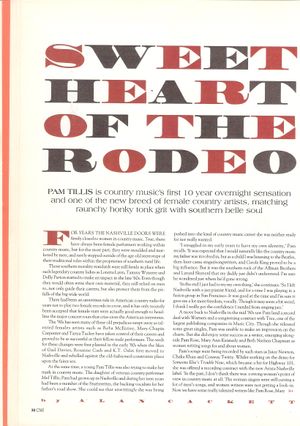 who've had a couple of good songs, then just gone. It's reached saturation point and there are only so many acts that can consistently sell records. The fans are still loyal, but sometimes radio can suddenly decide not to play you anymore, and without that kind of exposure, you're just not going to reach those fans."
It is the uncertainty about the future that pushes Pam to write, perform and produce the very best that she can. She strives to be unique but refuses to be confined to any one style or sound. That is what makes her albums stand out from the pack. She presents a rich country hybrid which encompasses traditional country, rockabilly, folk, honky-tonk, country-rock, melodic pop and so much more.
"I know what real country music is, and I have a real love for it. But I've always been open to all kinds of music. I love to sing everything, including things that might seem kind of progressive or experimental. I like being on both sides of that fence and bringing it all to the table."           
This kind of outlook has helped to take her music beyond the boundaries of country into the broader pop spotlight and put a contemporary attitude into the traditional styles. Both on stage and in the studio, Pam Tillis is helping the re-defining what it means to be a woman in country music; matching raunchy honky-tonk grit with southern-belle soul.
What she has been progressively working towards seems to have all come together on her most recent album, SWEETHEART'S DANCE. There's not a weak moment in sight and the choice of songs is varied and musically entertaining, whilst adding up to a singular personality and outlook. Throughout, Pam sounds confident, so that on the rollicking I Was Blown Away, her artfully mischievous voice comes through loud and clear, then when she slows it down for a heart-tugging Spilled Perfume, you can really feel the hurt.
Co-producing with Steve Fishell, who played a major role in Radney Foster's superb DEL RIO 1959, Pam set out to create a "more upbeat, accessible album with my own stamp on it," concentrating on songs that were rooted in strong emotions and everyday lives. "We went for strong, seamless songs, and we wanted them to come across without too much fuss. I hope people see it as an honest album that has equal doses of raw energy, fun and tender vulnerability."
Surprisingly, for a singer with a reputation as a writer, this album only includes three Tillis originals. The rest have come from a varied assortment of writers; Pam ignoring the usual Nashville formula of sticking to a small and successful body of writers, to go out on a limb and find the best songs available to suit her aims and purpose.
"I heard so many great songs that I wanted to do, and I was afraid that if I didn't cut them now, somebody else would," she says. "'I wanted to paint a landscape and not a self-portrait this time. In a lot of ways I've accomplishing things on this new record that I'd been trying to pull off on the last two albums."
"I got the idea for the song, Mi Vida Loca, while channel surfing," she explains 'I caught a piece of the Geraldo Rivera Show about girl gangs. One very tough young lady had a tattoo that said: 'Mi Vida Loca.' Geraldo asked her about it and she said: 'It's Spanish for my crazy life.' While I have no intention of getting a tattoo anytime, I know a good title when I hear one."
"These Spanish words, like so much of that language, have a beautiful ring. It presented a bit of a challenge for me since I don't speak a word of Spanish. Audiences everywhere have been really receptive to this Tex-Mex sound, especially when I explained what the title means."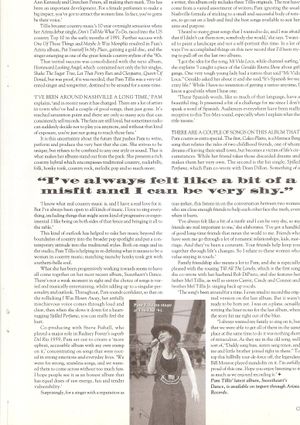 There are a couple of songs on this album that Pam counts as extra special. The first, Calico Plains, is a Matraca Berg song that relates the tales of two childhood friends, one of whom dreams of leaving their small town, but becomes a victim of life's circumstances. While her friend takes those discarded dreams and makes them her very own. The second is the hit single, Spilled Perfume, which Pam co-wrote with Dean Dillion. Something of a tear-jerker, this listens in on the conversation between two women who are close enough friends to help each other face the truth, even when it hurts.
"I've always felt like a bit of a misfit and I can be very shy, so my friends are real important to me," she elaborates. "I've got a handful of good long-time friends that mean the world to me. Friends have seen me go through a lot of romantic relationships, kids, marriage. And they've been a constant. Your friends help keep you together through life's changes. So I relate to these women who value staying in touch."
Family friendship also means a lot to Pam, and she is especially pleased with the rousing Till All The Lonely, which is the first song she co-wrote with her husband Bob DiPiero, and also features her father Mel Tillis, as well as sisters Carrie, Cindy and Connie and brother Mel Tillis Jr. singing back-up vocals.
"The song's been around for a time. I even tried to record the original version on the last album. But it wasn't ready to be born yet. I was on a plane, actually writing the liner notes for the last album, when the story hit me right out of the blue."
"I always wanted my family to sing it, but that we were able to get all of them in the same place at the same time to do it was nothing short of miraculous. As they say in the old song, well sort of: 'Daddy sang bass, sisters sang tenor and me and little brother joined right in there.' To top this hillbilly tour-de-force off, the legendary Bill Monroe played mandolin on it. I'm awfully proud of this one. Hope you enjoy listening to it as much as we enjoyed recording it."