Pam Gadd & Wild Rose - Whatever Happened To.....
First Published in Country Music International – February 1998
Having trodden the bluegrass broads with the Coon Creek Girls and Wild Rose, Kentucky gal Pam Gadd finally achieved the recognition she has so long sought with one of last year's finest solo bluegrass albums.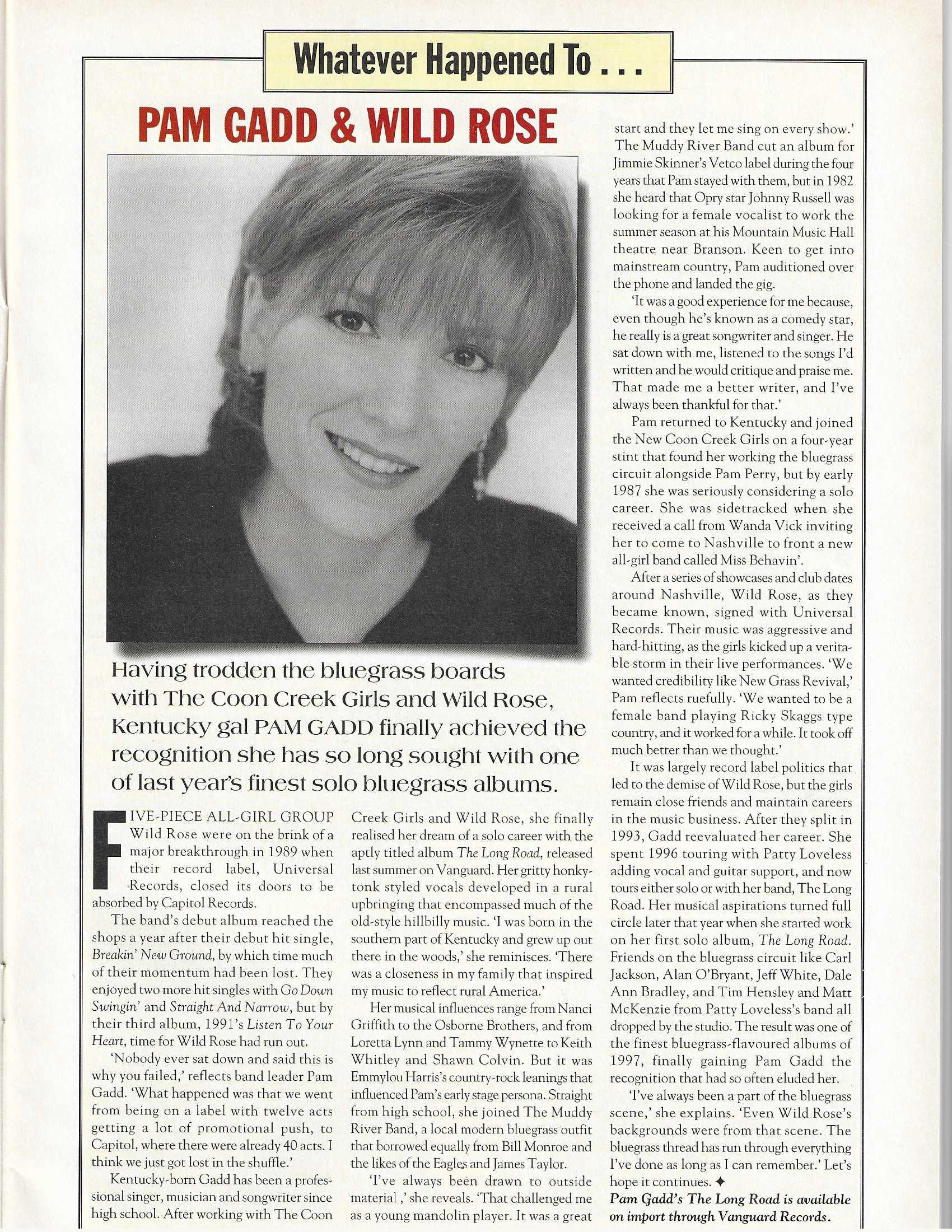 Five-piece all-girl group Wild Rose were on the brink of a major breakthrough in 1989 when their record label, Universal Records, closed its doors to be absorbed by Capitol Records.
The band's debut album reached the shop a year later after their debut hit single, Breakin' New Ground, by which time much of their momentum had been lost. They enjoyed two more hit singles with Go Down Swingin' and Straight And Narrow, but by their third album, 1991's Listen To Your Heart, time for Wild Rose had run out.
"Nobody ever sat down and said this is why you failed," reflects band leader Pam Gadd. "What happened was that we went from being on a label with twelve acts getting a lot of promotional push, to Capitol, where there were already 40 acts. I think we just got lost in the shuffle."
Kentucky-born Gadd has been a professional singer, musician and songwriter since high school. After working with the Coon Creek Girls and Wild Rose, she finally realised her dream of a solo career with the aptly titled album THE LONG ROAD, she released last summer on Vanguard. Her gritty honky-tonk styled vocals developed in a rural upbringing that encompassed much of the old-style hillbilly music. "I was born in the southern part of Kentucky and grew up out there in the woods," she reminisces. "There was a closeness in my family that inspired my music to reflect rural America."
Her musical influence ranges from Nanci Grifftith to the Osborne Brothers, and from Loretta Lynn and Tammy Wynette to Keith Whitley and Shawn Colvin. But it was Emmylou Harris' country-rock leanings that influenced Pam's early-stage persona. Straight from high school, she joined the Muddy River Band, a local modern bluegrass outfit that borrowed equally from Bill Monroe and the likes of the Eagles and James Taylor.
"I've always been drawn to outside material," she reveals. "That challenged me as a young mandolin player. It was a great start and they let me sing on every show." 
The Muddy River Band cut an album for Jimmer Skinner's Vetco label during the four years that Pam stayed with them, but in 1982 she heard that Opry star Johnny Russell was looking for a female vocalist to work the summer season at his Mountain Music Hall theatre near Branson. Keen to get into mainstream country, Pam auditioned over the phone and landed the gig.
"It was a good experience for me because, even though he's known as a comedy star, he really is a great songwriter and singer. He sat down with me, listened to the songs I'd written and he would critique and praise me. That made me a better writer, and I've always been thankful for that."
Pam returned to Kentucky and joined the New Coon Creek Girls on a four-year stint that found her working the bluegrass circuit alongside Pam Perry, but by early 1987 she was seriously considering a solo career. She was sidetracked when she received a call from Wanda Vick inviting her to come to Nashville to front a new all-girl band called Miss Behavin'.
After a series of showcases and club dates around Nashville, Wild Rose, as they became known, signed with Universal Records. Their music was aggressive and hard-hitting, as the girls kicked up a veritable storm in their live performance. "We wanted credibility like New Grass Revival," Pam reflects ruefully. "We wanted to be a female band playing Ricky Skaggs type country, and it worked for a while. It took off much better than we thought."
It was largely record label politics that led to the demise of Wild Rose, but the girls remain close friends and maintain careers in the music business. After they split in 1993, Gadd reevaluated her career. She spent 1996 touring with Patty Loveless adding vocal and guitar support, and now tours either solo or with her band. the Long Road. Her musical aspirations turned full circle later that year when she started work on her first solo album, THE LONG ROAD. Friends on the bluegrass circuit like Carl Jackson, Alan O'Bryant, Jeff White, Dale Ann Bradley, and Tim Hensley and Matt McKenzie from Patty Loveless' band all dropped by the studio. The result was one of the finest bluegrass-flavoured albums of 1997, finally gaining Pam Gadd the recognition that had so often eluded her.
"I've always been part of the bluegrass scene," she explains. "Even Wild Rose's backgrounds were from that scene. The bluegrass thread has run through everything I've done as long as I can remember." Let's hope it continues.