Owen Bradley - The Nashville Cats
First published in Country Music International, May 1996
A pioneer spirit in the Nashville music industry of the 1940s and 1950s, his love of music and the craft of production hasn't diminished over the years.
Owen Bradley, one of Nashville's first and possibly most important record producers, is credited with having more to do with the creation of the famed 'Nashville Sound' and the growth of Music City's studios than anyone else in country music.
A former band-leading pianist, Bradley had worked with one of the most popular dance bands in the Nashville area during the 1940s, producing his first session with Ernest Tubb in 1947. After which he went on to produce countless sessions with artists such as Red Foley, Webb Pierce, Brenda Lee, Patsy Cline, Loretta Lynn, Bill Anderson, Conway Twitty and k.d. lang. Even now, at 80 years of age, Bradley can't keep away from the studios, and is currently working on new projects with Brenda Lee and Jimmy Dean's wife, Donna Dean.
As a tribute to his production talents, MCA Nashville have just released THE NASHVILLE SOUND …OWEN BRADLEY, which collects 10 Bradley-produced recordings by the likes of Kitty Wells, Jack Greene, Ernest Tubb, Patsy Cline and Conway Twitty, among others. Iťs unusual for a producer's work to be recognised in this way, and Bradley still can't understand all the praise that has been heaped on him over the years.
"We were just doing our job, trying to keep the bosses happy," he explains modestly, recalling his early days in Nashville working for Decca Records. "Decca's country producer Paul Cohen was my teacher. The first person he asked me to record was Ernest Tubb. He'd given me some instructions, but it was a bit like learning to fly a plane at first. I'd always said to Paul, 'When you move up I'd like to have your job.' Anyway, after about 10 years of me producing, Paul was promoted and I took the job. Making records was a big mystery to me at first. Making a record and turning it into a disc that could be played seemed to be a secret process in the late 1940s early 1950s."
Bradley learnt his trade while flying by the seat of his pants. A talented musician with a good ear, he could see changes taking place in the entertainment business and wanted to be at the forefront of these new developments.
Along with his brother, famed session guitarist Harold Bradley, Owen had broken into films in the early 1950s, producing military recruitment movies shot at the Bradley Studios under the titles, Community Jamboree and Country Style. These films usually featured the country stars of the day singing their current hits, and could be viewed as the forerunner of today's videos.
When Bradley started working as a producer, most country records were recorded by musicians all playing simultaneously. What Bradley did was to bring a little musical organisation into the proceedings. With the rise of Nashville as a recording centre, and the beginning of what was to become known as 'The Nashville Sound,' the producer's job became a matter of defining an overall sound, arranging the music and refining the actual process of recordings.
The rise in popularity of rock'n'roll and rockabilly music in the mid-1950s started to have an adverse effect on the sales of traditional country records. Though Bradley started directing some of his singers, like Webb Pierce, towards the new sound, he knew that changes were needed to maintain the sales of country music. Gradually, the harsh fiddles, whining steel guitars and heavily accented honky-tonk vocal inflections were de-emphasised and in many cases eliminated in favour of string sections, background vocals and vocalists who took their cues from the likes of Patti Page and Perry Como as well as Kitty Wells and Lefty Frizzell.
If rockabilly was rural dance music, then country became primarily easy listening music. Whereas hot pickin' had once been a virtue in a country band, now the musicians were there primarily to provide what could best be termed a cushion on which the producer could rest the lead voice. To Bradley, a society bandleader, this new sound was a natural enough step in the evolution of the music.
"I was raised in my early years on rural country music," he explains. "Then I got into popular music and then back into country music, then I even started to appreciate classical music and jazz. Wouldn't it be terrible if you were to listen to the same kind of music all the time? I think people who do that miss out on a lot."
As he became more assured in the studios, Bradley started to favour more voices to get a lush sound, peaking with the torchy Patsy Cline. He also insists that the 'Nashville Sound' was not a sound so much as a way of doing things.
"In most cases you get a more inspired performance if you can get all the pickers at one time and get them to play to each other. It's like a contest, with the singer versus the orchestra. It's magic when you get everybody doing it. Something happens and you can feel it in the studio and you can feel it on the record too."
Over the years Bradley has been involved with some of the greatest pop and country records ever made. His first major success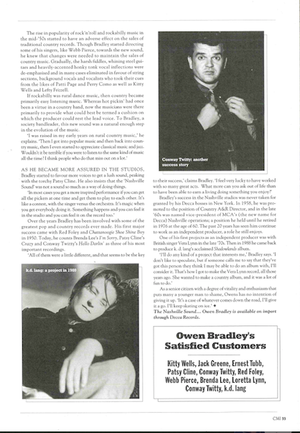 came with Red Foley and Chattanoogie Shoe Shine Boy in 1950. Today, he counts Brenda Lee's I'm Sorry, Patsy Cline's Crazy and Conway Twitty's Hello Darlin' as three of his most important recordings.
"All of them were a little different, and that seems to be the key to their success," claims Bradley. "I feel very lucky to have worked with so many great acts. What more can you ask out of life than to have been able to earn a living doing something you enjoy?"
Bradley's success in the Nashville studios was never taken for granted by his Decca bosses in New York. In 1958, he was promoted to the position of Country A&R Director, and in the late 1960s was named vice-president of MCA's (the new name for Decca) Nashville operations; a position he held until he retired in 1976 at the age of 60. The past 20 years has seen him continue to work as an independent producer, a role he still enjoys.
One of his first projects as an independent producer was with British singer Vera Lynn in the late 1970s. Then in 1988 he came back to produce k. d. lang's acclaimed SHADOWLANDS album.
"I'll do any kind of a project that interests me," Bradley says. "I don't like to speculate, but if someone calls me to say that they've got this person they think I may be ab le to do an album with, I'll consider it. That's how I got to make the Vera Lynn record, all those years ago. She wanted to make a country album, and it was a lot of fun to do."
As a senior citizen with a degree of vitality and enthusiasm that puts many a younger man to shame, Owens has no intention of giving it up. "It's a case of whatever comes down the road, I'll give it a go. I'll keep skating on ice."