Outlowe Country: The Songs of Nick Lowe
One of my favourite albums of 2012 is without doubt LOWE COUNTRY: The Songs of Nick Lowe a superb tribute to one of the UK's finest 'unknown' songwriters. When I saw the schedule of events for the 2012 Americana Music Festival & Conference I was amazed and delighted to see that there was to be a live radio broadcast featuring some of the artists involved in the tribute album. Not only that, as a conference badge holder I could attend the broadcast. SiriusXM Satellite Radio were going to transmit the show and the live broadcast was to take place at the SiriusXM Music City Theatre at the Bridgestone Arena Tower literally just across the road from our hotel in Downtown Nashville. It said 'limited seating' in the schedule, so we arrived a good 30 minutes early and joined a patient queue of around 20 dedicated music fans. We were informed that it couldn't be guaranteed that we'd get a seat, or even get into the broadcast.

An officious looking young lady came down from the studio above and collected those who had entered a Facebook promotion – by this time the queue was growing at an alarming rate, but we were near the front, so were in good spirits. A few minutes went by and the lady emerged again from the lift with a list of the next batch of lucky people to be whisked up to the studio. We weren't on that list. In fact we weren't on any list, as we were not aware that we should have registered a week before. Nevertheless, we stood our ground and watched in dismay as the lady returned a couple more times and took parties of lucky people in that all-important pod that was the route to the studio.

We were now getting a little anxious, as the 4pm start time had passed five minutes ago. We were with the last half-dozen waiting when the lady emerged again from the pod, this time with an officious looking man. They huddled and whispered and after an excruciating two minutes announced to us that we could be transported in that magical pod to the studio, but there was no guarantee that we'd get into the hallowed broadcast. It was deadly quiet as we zoomed upwards. Apprehension was high as we were guided into the small compact studio. There didn't appear to be any empty seats, but magically with a little re-organisation we were all seated just seconds before the show went live on air.

Over the years I've attended literally dozens of live broadcasts and radio concerts, mainly here in the UK with the BBC. Generally they are extremely well-organised and everything runs to time like clockwork with total professionalism. To my trained eye, this looked a little like a shambles and I began to wonder if my excitement and anticipation were about to be dashed. The presenter ambled up to the mic to the left of the stage and announced in typical over-the-top American showbiz hype that absolutely anything goes on SiriusXM and so we were invited to make as much noise as possible. This was America and so it came as no surprise that the 50 or so people in attendance went totally wild.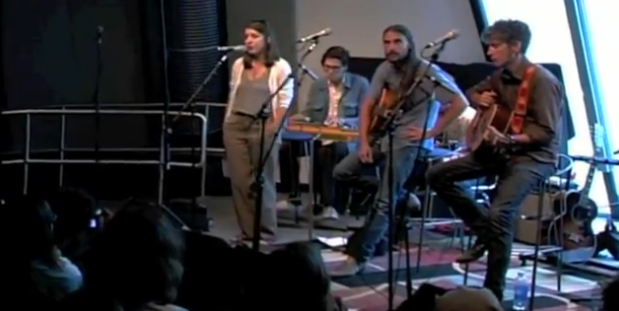 Across the small stage with the skyline of Nashville in the background there was Caitlin Rose, Robert Ellis, Colin Gilmore and to the far right, Amanda Shires. Behind them sat the small band of musicians. As on the album, Caitlin set things in motion with her sensitive rendition of Lately I've Let Things Slide, a shaky start evolved very quickly into a superb heartfelt performance. All my doubts went flying out that window behind the musicians and I relaxed into sublime heaven to witness a loose, but thoroughly enjoyable performance. After some informal chat she passed the mantle to Robert Ellis, who sang a delightfully acoustic version of the tongue-in-cheek All Men Are Liars with Caitlin adding exquisite harmonies. My favourite track off the album, I knew by now that the anxious and uncertain 40-minute wait to get in had been well worth it.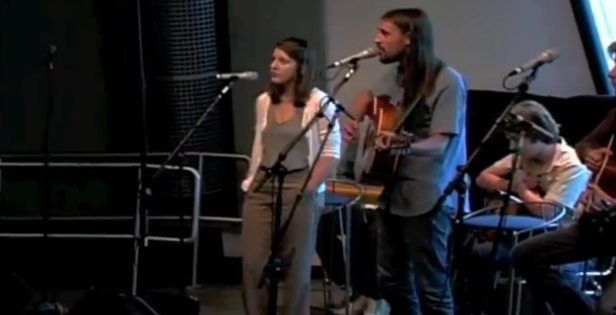 Then it was time for Jimmie Dale Gilmore's son Colin Gilmore to sing You Make Me. Not the greatest vocalist, but he turned in a fine version. Then it came time for the cheeky Amanda Shires, who'd been adding fiddle flourishes in the background up until now to step forward and perform her totally unique take on I Love The Sound Of Breaking Glass. The way she's taken this well-known song, slowed it down and put her own stamp on it is pure musical genius.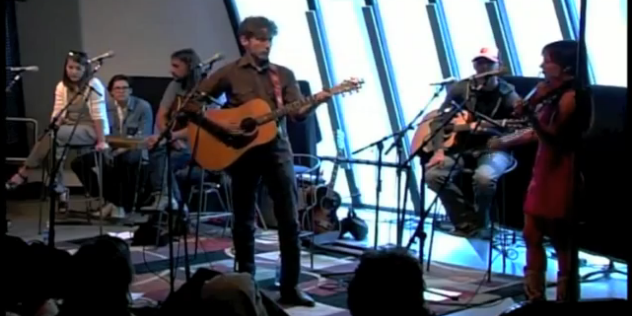 Like a singer-songwriter in-the-round concert the four singers sung their own songs in turn. I was a little disappointed as I'd hoped to hear more Nick Lowe songs, but then again the other nine tracks on the album were performed by singers who were not at the broadcast. When it came to the end, they did return to Nick Lowe for an ensemble rendition of (What's So Funny 'bout) Peace, Love and Understanding. Though very loose and a little shambolic due to under-rehearsal, it worked, with members of the audience singing the chorus lustily to end the hour-long broadcast on a high. Definitely one of the genuine highlights of my 2012 trip to Nashville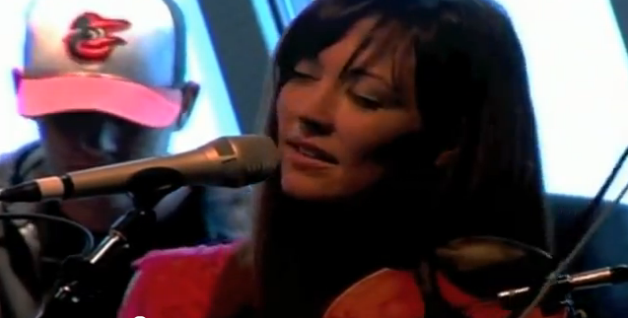 Click here to view the exclusive video footage of the live broadcast.

LOWE COUNTRY: The Songs of Nick Lowe - Fiesta Red Records FR-002