Olivia Newton-John - Back With A Heart
First Published in Country Music International – May 1998
Olivia Newton-John—fresh-faced Eurovision singer of the 1970s, hard-edged, aerobic siren of the 1980s and the girl from England who turned Music Row upside down before turning her back on country and making it big in the movies. Now, more than 20 years after scoring her first chart hit, she's back celebrating the relaunch of the cult movie Grease and the release of a new Nashville album to boot. "She's not trying to rebuild a fire," songwriter Gary Burr tells Alan Cackett, "She's hoping to start a new one."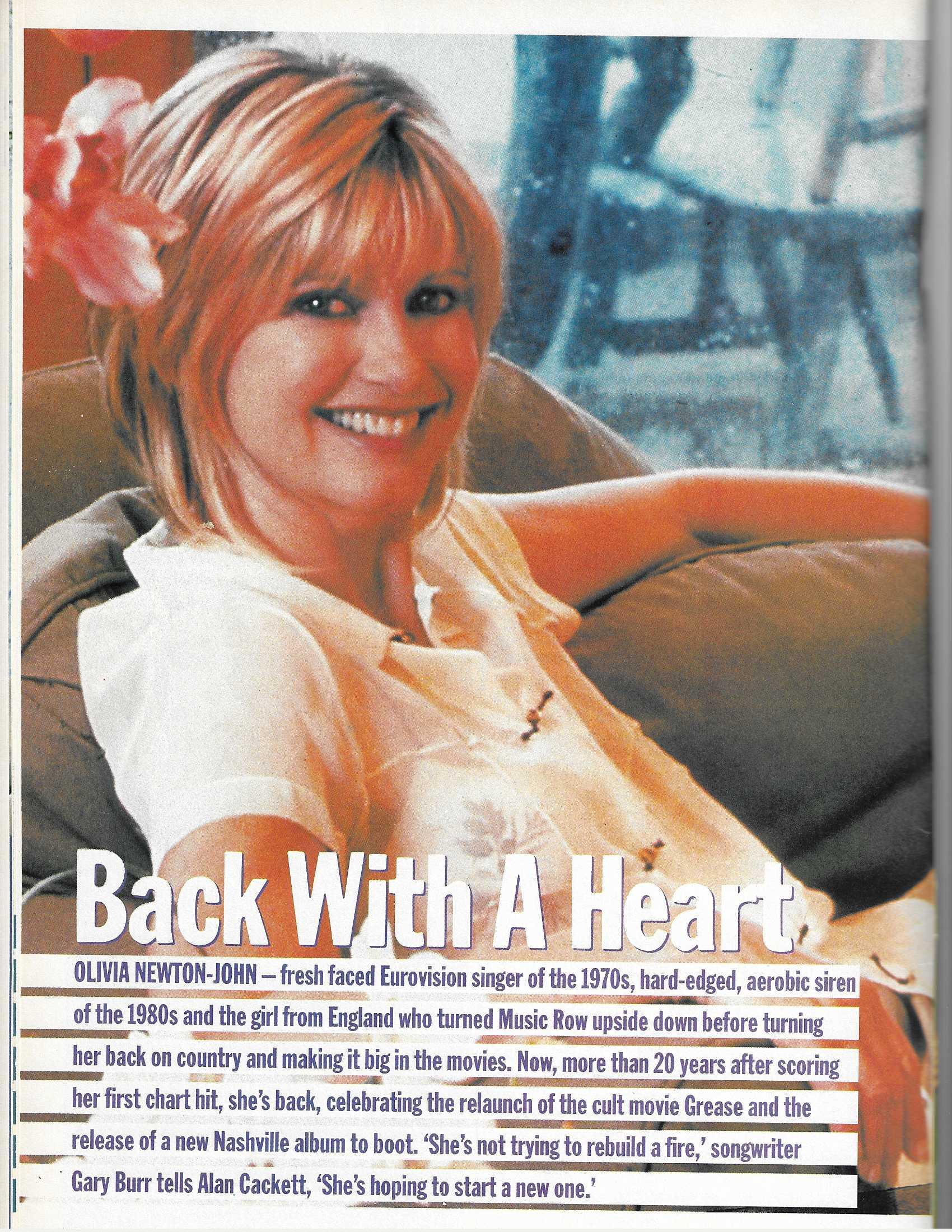 Olivia Newton-John is a reticent star who has spent a lifetime trying to shun publicity and all the trappings that go with a showbiz career. During the 1970s the singer with the innocent, drop-dead, girl-next-door look became a world-wide superstar with a certain amount of cool English reserve. Reluctantly, as a timid teenager, she entered and won a major talent contest. Reluctantly, she took the first prize trip from Australia to Britain to find fame and fortune. And a few years later, again reluctantly, she became a country star, stirring up major controversy along the way.
That was more than 23 years ago. But, after a long absence, Olivia Newton-John has returned to Nashville, co-writing with leading country tunesmiths, recording a country album with such Music Row notables as Don Cook, Tony Brown and Gary Burr, and making a series of concert appearances.
"She did a concert here a few months ago," recalls Burr. "Right before she signed her deal. It was a very country line-up: she walked out on stage and that place exploded. It was as if they had been waiting, saying:, 'Where have you been?' She got the only standing ovation of the night. I think she's going to be totally embraced by the country audience."
Being embraced by a country audience is nothing new for Olivia Newton-John. Almost 25 years ago she became virtually the only British act to penetrate the American country scene but, as with today, the chances of a British act winning out in the American country music stakes was pretty unlikely. Though the deck seemed stacked heavily against her, she was the one who broke through and emerged victorious as Britain's gift to the American country music fraternity.
Granddaughter of Nobel Prize-winning German physicist Max Born, Olivia Newton-John was born in Cambridge, England, though her childhood years were spent in Melbourne, Australia, where her family moved when she was five. She had her first showbiz experience at the age of 12, when an older sister persuaded her to enter a Hayley Mills look-alike contest. She didn't win.
Olivia's initial entrance into the music business came a little later when she formed a schoolgirl quartet and started performing solo in a local Melbourne coffee house. Shortly after celebrating her sixteenth birthday, she entered another talent contest, which was organised by television celebrity Johnny O'Keefe. This time she emerged as the winner, but the prize—a trip to London- had to be delayed because of her education commitments.
She solved that problem by dropping out of school, arriving in London in 1966 and forming a singing-dancing partnership with another Australian girl, Pat Carroll. This was short-lived, as Carroll's work permit expired and she was forced to return home.
Further attempts at making it in showbiz included several TV guest spots, a couple of dud singles and a duet record with Cliff Richard. Around 1968, she became a member of Toomorrow, a group thrown together by Monkee-creator Don Kirshner for movie stardom in the film Toomorrow, a science fiction musical that both critics and public wisely forgot about quickly.
In 1970, for the first time since arriving in Britain, Newton-John embarked upon a solo career after meeting fellow Australian John Farrar. Along with fellow Shadows member Bruce Welch, he got Olivia into the recording studios to produce a sugary version of Bob Dylan's If Not For You, which became her first British hit.
"It was at the beginning of 1971 when I made my first solo record," she says. "It was a hit—and it was unbelievable. It was also a hit in America, but I didn't go across then. I worked with Cliff Richard a lot, did a fair number of TV appearances. I didn't do a lot of live work until 1974, when everything started happening in America."
It was her romantic involvement with producer/fiancee Bruce Welch that led to appearances on the Cliff Richard TV shows. But she split from Welch, which led to John Farrar taking over the reins as producer. He was the one who brought a country flavour to Olivia's recordings. "John Farrar is a great country fan," she explains. "He frequently tried to duplicate sounds he had heard on his favourite country records."
There was more than just a smattering of the country sound and feel about early British hits like Banks Of The Ohio and Take Me Home Country Roads, and with bona fide country acts such as Faron Young, Lynn Anderson and Glen Campbell all courting British chart success, it seemed the right move for Newton-John to cash-in. Whether through cold calculation or pure accident, it opened the doors to world-wide superstardom.
She made a surprise breakthrough in the States with Let Me Be There, a song penned by the late John Rostill, who tragically committed suicide in early 1974. It was one of the real sleepers of the 1970s, taking months to make it, initially on the country charts, reaching number seven, then crossing over to the pop charts. It eventually amassed sales well past the million mark.
"It was released twice in England, but nothing happened," Olivia reveals. "Then it was released in the States, but it took six months before it really took off. I don't really know why it made it in country music, other than it had that flavour to it. It had a sort of rhythm guitar and a chorus and a verse, though we didn't record it strictly as a country song. We just recorded it as a pop song. I just couldn't believe it when it happened."
In early 1974 Olivia won a Grammy for Best Country Female Vocal and also the Academy of Country Music award as the most Promising Female Vocalist. She first visited Nashville in August 1974, with her third country hit, I Honestly Love You on its way to top 10. Much to the consternation of some members of the Nashville music community, the proverbial red carpet was rolled out, with record company luncheons and meetings with Music Row executives like the late Owen Bradley, who had masterminded the pop-crossover hits of Patsy Cline, Brenda Lee and Bill Anderson.
By this time there were murmurs of discontent all around Music Row, reaching fever pitch at the CMA awards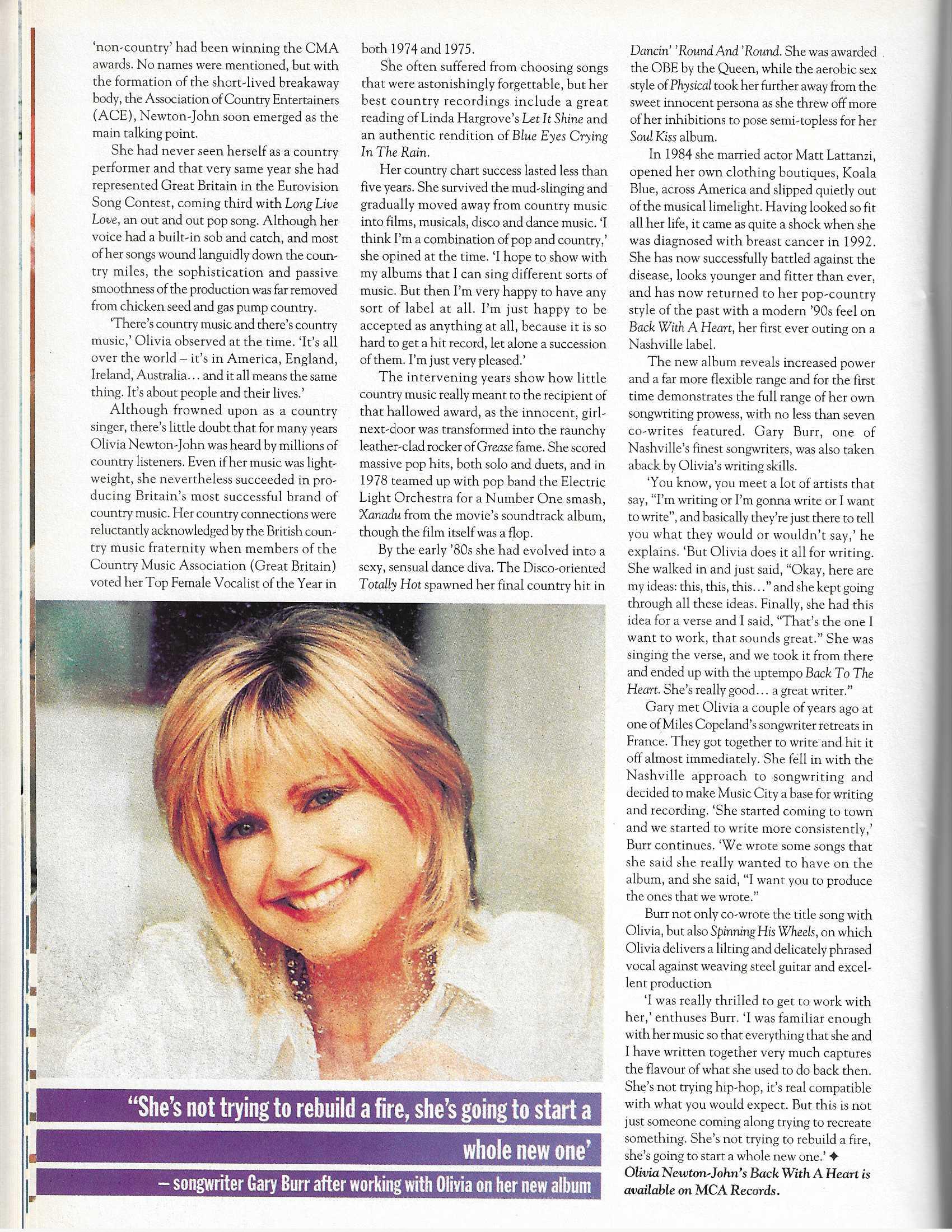 when she received the ultimate honour of being voted Top Female Vocalist of the Year. One of the most vocal in denouncing the award was Dolly Parton, who less than three years later would head down the same pop-country highway. A number of Nashville entertainers claimed that they lacked adequate representation in the CMA and stated that artists who were 'non-country' had been winning the CMA awards. No names were mentioned, but with the formation of the short-lived breakaway body, the Association of Country Entertainers (ACE), Newton-John soon emerged as the main talking point.
She had never seen herself as a country performer and that very same year she had represented Great Britain in the Eurovision Song Contest, coming third with Long Live Love, an out and out pop song. Although her voice had a built-in sob and catch, and most of her songs wound languidly down the country miles, the sophistication and passive smoothness of the production was far removed from chicken seed and gas pump country.
"There's country music and there's country music," Olivia observed at the time. "It's all over the world—it's in America, England, Ireland, Australia ... and it all means the same thing. It's about people and their lives."
Although frowned upon as a country singer, there's little doubt that for many years Olivia Newton-John was heard by millions of country listeners. Even if her music was light-weight, she nevertheless succeeded in producing Britain's most successful brand of country music. Her country connections were reluctanly acknowledged by the British country music fraternity when members of the Country Music Association (Great Britain) voted her Top Female Vocalist of the Year in both 1974 and 1975.
She often suffered from choosing songs that were astonishingly forgettable, but her best country recordings include a great reading of Linda Hargrove's Let It Shine and an authentic rendition of Blue Eyes Crying In The Rain.
Her country chart success lasted less than five years. She survived the mud-slinging and gradually moved away from country music into films, musicals, disco and dance music. "I think I'm a combination of pop and country," she opined at the time. "I hope to show with my albums that I can sing different sorts of music. But then I'm very happy to have any sort of label at all, because it is so hard to get a hit record, let alone a succession of them. I'm just very pleased."
The intervening years show how little country music really meant to the recipient of that hallowed award, as the innocent, girl-next-door was transformed into the raunchy leather-clad rocker of Grease fame. She scored massive pop hits, both solo and duets, and in 1978 teamed up with pop band the Electric Light Orchestra for a number one smash, Xanadu from the movie's soundtrack album, though the film itself was a flop.
By the early 1980s she had evolved into a sexy, sensual dance diva. The disco-oriented TOTALLY HOT spawned her final country hit in Dancin' 'Round And 'Round. She was awarded the OBE by the Queen, while the aerobic sex style of Physical took her further away from the sweet innocent persona as she threw off more of her inhibitions to pose semi-topless for her SOUL KISS album.
In 1984 she married actor Matt Lattanzi, opened her own clothing boutiques, Koala Blue, across America and slipped quietly out of the musical limelight. Having looked so fit all of her life, it came as quite a shock when she was diagnosed with breast cancer in 1992. She has now successfully battled against the disease, looks younger and fitter than ever, and has now returned to her pop-country style of the past with a modern 1990s feel on BACK WITH A HEART, her first ever outing on a Nashville label.
The new album reveals increased power and a far more flexible range and for the first time demonstrates the full range of her own songwriting prowess, with no less than seven co-writes featured. Gary Burr, one of Nashville's finest songwriters, was also taken aback by Olivia's writing skills.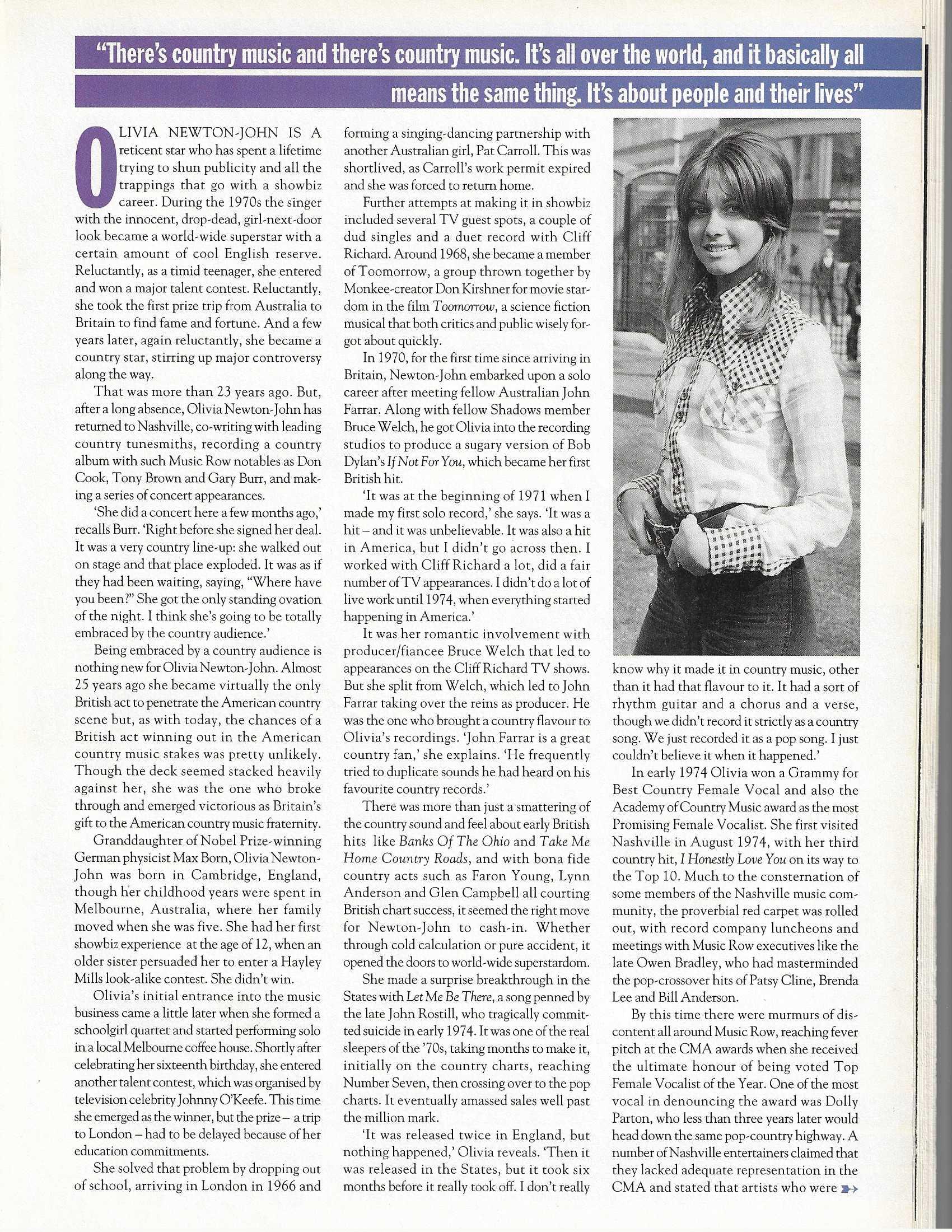 "You know, you meet a lot of artists that say: 'I'm writing or I'm gonna write or I want to write,' and basically they're just there to tell you what they would or wouldn't say," he explains. "But Olivia does it all for writing. She walked in and just said: 'Okay, here are my ideas: this, this, this ...' and she kept going through all these ideas. Finally, she had this idea for a verse and I said: 'That's the one I want to work with, that sounds great.' She was singing to the verse, and we took it from there and ended up with the up-tempo Back To The Heart. She's really good ... a great writer."
Gary met Olivia a couple of years ago at one of Miles Copeland's songwriter retreats in France. They got together to write and hit it off almost immediately. She fell in with the Nashville approach to songwriting and decided to make Music City a base of writing and recording. "She started coming to town and we started to write more consistently," Burr continues. "We wrote some songs that she said she really wanted to have on the album, and she said: 'I want you to produce the ones that we wrote.'"
Burr not only co-wrote the title song with Olivia, but also Spinning His Wheels, on which Olivia delivers a lilting and delicately phrased vocal against weaving steel guitar and excellent production.
"I was really thrilled to get to work with her," enthuses Burr. "I was familiar enough with her music so that everything that she and I have written together very much captures the flavour of what she used to do back then. She's not trying hip-hop, it's real compatible with what you would expect. But this is not just someone coming along trying to recreate something. She's not trying to rebuild a fire, she's going to start a whole new one."