Olivia Lane - Heart Change
Self-released
****
Houston-born, country-pop singer Olivia Lane has been pursuing her passion for music for more than 15 years. In her early teens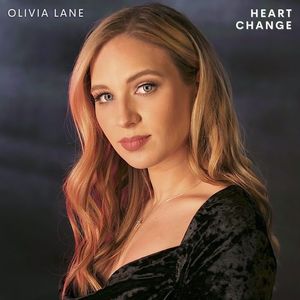 she took up guitar and at 16 moved with her family to Los Angeles to be nearer a music centre. She studied singing and songcraft at the University of California and in 2013 moved to Nashville, where she began co-writing and building her career. Over the next few years, she released a series of singles and EPs, mainly upbeat, modern pop-infused country numbers full of optimistic, somewhat light-weight lyrics. Very much in control of her career, she built a sizeable online following and set about touring regularly, landing opening spots for Randy Houser, Frankie Ballard, Wynonna and others. She also ventured out to building a UK following with several headlining tours. On her second full-length album, the 30-year-old Texan both evolves as a singer-songwriter and grows in confidence, addressing heavy emotional themes with candour and grace. The songs are inherently personal, with most offerings spun from the dual perspective of romance and reconciliation. The clean production throughout allows such confessions to hit home on every shot.
She has co-written the majority of the songs with such Music Row tunesmiths as Matt Nolen, Roxie Dean, Skip Black, Steve Fee and Jesse Reeves. Displaying her vocal diversity, Olivia soars on the up-tempo tunes, delivers the heart-rending ache on ballads of lost love and captures the playfulness of a playground-type rhyme  with a joyous seriousness. While she establishes a commanding presence on the album's bold numbers, she exudes just as much conviction in its quieter moments, like the emotion-packed Break. Her vocal contains a fierceness that's a perfect fit for her passion-packed lyrics. There's a smooth flow to the mid-tempo Nothing Changes, a song that captures the real feelings of a complicated relationship that many of us have also felt. On I Let The Devil In, the one song that she wrote by herself, the feelings are stronger, the emotions deeper, the lyrics closer to the heart.
Olivia also shows that she can spin a good story song, reaching back into her own family roots with Lois Lane. A song inspired by her grandmother, who really shared her name with Superman's love angle, is turned cleverly into Olivia's own hopes and ambitions. Her sober, deliberate singing indicates a fierce intent to maintain control in Same Old Story, which outlines how a first date in a bar is going to turn out. This woman has been burnt too many times to be careless. But then she throws caution to the wind in the percussive Why Don't We, which also showcases her penchant for writing infectious songs that resonate on a universally emotional level. She maintains that infectious stance with the hand-clapping Sweet Sister, exuberant and cathartic and intoxicating, this one swims around your head after just one spin.
The title song finds her striving for an idyllic change in a deeply imperfect world. Her voice sings of hope, expectations, falling short, accepting reality and that fixing oneself is a positive way of moving forward. Inspired by her own experiences when stress and anxiety led to her losing her voice, the song feels like new territory for her as she allows a hint of urgency to creep into her voice. This album portrays Olivia Lane as a confident and credible artist clearly capable of courting widespread crossover appeal. Whether the ambience in her songs welcomes in elements of carefree pop, country-leaning arrangements or unembellished acoustic instrumentation, she sketches truth throughout every song.
October 2021