Nicolette Larson - Whatever Happened To.......
First published in the Country Music International, July 1996
After working with everyone from Neil Young to Linda Ronstadt and enjoying a string of solo hits, the West Coast's finest harmony singer swapped music for motherhood.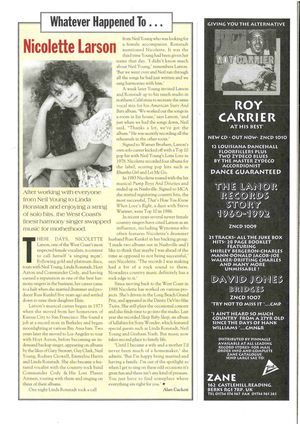 These days, Nicolette Larson, one of the West Coast's most respected female vocalists, is content to call herself 'a singing mom.' Following gold and platinum discs, tour with Neil Young, Linda Ronstadt, Hoyt Axton and Commander Cody, and having earned a reputation as one of the best harmony singers in the business, her career came to a halt when she married drummer and producer Russ Kunkel five years ago and settled down to raise their daughter Elsie.
Larson's musical career began in 1973 when she moved from her hometown of Kansas City to San Francisco. She found a job at a record store in Berkeley and began moonlighting at various Bay Area bars. Two years later she moved to Los Angeles to tour with Hoyt Axton, before becoming an in-demand backup singer, appearing on albums by the likes of Gary Stewart, Guy Clark, Neil Young, Rodney Crowell, Emmylou Harris and Linda Ronstadt. She also became a featured vocalist with the country-rock band Commander Cody & His Lost Planet Airmen, touring with them and singing on three of their albums.
One night, Linda Ronstadt took a call from Neil Young, who was looking for a female accompanist. Ronstadt mentioned Nicolette. It was the third time Young had been given her name that day. "I didn't know much about Neil Young," remembers Larson. "But we went over and Neil ran through all the songs he had just written and we sang harmonies with him."
A week later Young invited Larson and Ronstadt up to his ranch studio in northern California to recreate the same vocal mix for his AMERICAN STARS AND BARS album. "We worked out the songs in a room in his house," says Larson, "and just when we had the songs down, Neil said: 'Thanks a lot, we've got the album.' He was secretly recording all the rehearsals in the other room."
Signed to Warner Brothers, Larson's own solo career kicked off with a Top 10 pop hit with Neil Young's Lotta Love in 1978. Nicolette recorded four albums for the label, scoring pop hits such as Rhumba Girl and Let Me Go.
In 1983 Nicolette toured with the hit musical Pump Boys And Dinettes and ended up in Nashville. Signed to MCA she started registering country hits, the most successful, That's How You Know When Love's Right, a duet with Steve Wariner, went Top 10 in 1986.
In recent years several newer female country singers have cited Larson as an influence, including Wynonna, who often features Nicolette's drummer husband Russ Kunkel in her backing group. "I made two albums out in Nashville and I like to think that maybe I was ahead of the time as opposed to not being successful," says Nicolette. "The records I was making had a bit of a rock sound to them. Nowadays country music definitely has a rock edge to it."
Since moving back to the West Coast in 1988 Nicolette has worked on various projects. She's driven in the Long Beach Grand Prix, and appeared in the Danny De Vito film Twins. She still plays the occasional concert and also finds time to go into the studio. Last year she recorded SLEEP BABY SLEEP, an album of lullabies for Sony Wonder, which featured special guests such as Linda Ronstadt, Neil Young and Graham Nash. But music now takes second place to family life.
"Until I became a wife and a mother I'd never been much of a homemaker," she admits. "But I'm happy being married and having a family. I'm out of the spotlight so when I get to sing on these odd occasions it's great fun and there isn't any kind of pressure. You just have to find someplace where everything sits right for you."