Neal McCoy - Hillbilly Rapper
First Published in Country Music International, October 1996
Neal McCoy had two platinum albums to his name, and is regarded by many as one of country music's best performers. But he remains an outsider in Nashville. It's a songwriting town, and McCoy is not into writing. In fact, he's not even into country music. Entertaining is this guy's forte.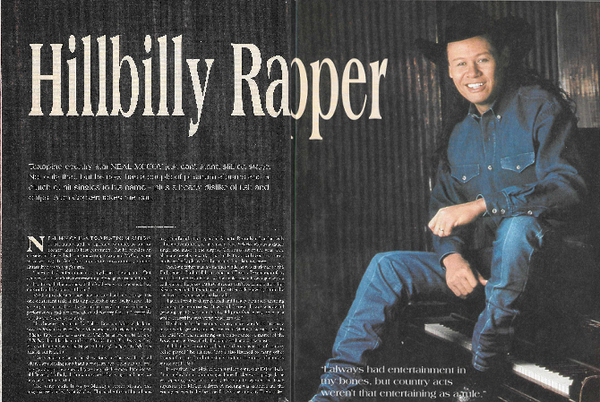 "I always had entertainment in my bones," he explains. "But country acts weren't that entertaining. Some guys just stand there and go through the motions. If that's all you want, you could buy a record and listen to it at home."
McCoy just doesn't know how to stand still on a stage. His one consistent trait is his unpredictable and lively show. His strengths lie in his showmanship and his entertaining performances and, for some die-hard country fans, he's probably too close to Vegas for comfort.
His show careens from the Bobby Day-cum-Michael Jackson novelty Rockin' Robin to Paper Moon and his hilarious, fun-loving Hillbilly Rap, a clever version of The Theme From Beverly Hillbillies that blends a little of 'Day-O' from The Banana Boat Song with rap pioneers the Sugar Hill Gang's Rapper's Delight. It's absurd, but it works.
"I've been doing that in my shows for years," he says. "It started when I was looking for a band a few years ago. They had this real ugly guy doing it as a spoof. I guess they tried to make him like an old Beverly Hillybilly. I threw in some other songs, and now we have a lot of fun with it."
The song made it on to McCoy's latest album, the imaginatively titled NEAL McCOY. This is the first of his albums to gain a British release, and if Atlantic Records in London feels a little adventurous, it may even issue Hillybilly Rap as a dance single and make it the surprise Christmas hit of the year. The ultimate novelty record, it has little to do with country music, but is perfectly placed for the current line-dancing craze.
McCoy's father met his mother while he was stationed in the Philippines. "I'm half Filipino and half Texan. Texapino, in fact, but also I have Irish blood, so that makes me a brown guy with a bad temper," he jokes. At first it seems a strange combination, but Neal never felt different from the other kids growing up in the small east Texas town of Jacksonville.
"I guess I took it all for granted and I really didn't see anything strange," he reminisces. "It was all I knew. It was wonderful growing up. Other than eating Filipino food every once in a while, everything was pretty Americanised."
He also admits to the fact that country music wasn't his favourite music while growing up. He preferred Michael Jackson and, in the mid-1970s was something of a disco dancer, a master of the Hustle and Le Freak, and a big fan of soul and dance music.
"I did listen to country, because there was a lot of country being played," he reflects. "But I also listened to many other kinds of music. I didn't get my foot in the door of country music until 1981."
It was then that McCoy won a talent contest at Dallas' Belle Starr nightclub at which singer Janie Fricke was a judge. Janie was opening shows for Charley Pride, and suggested the black superstar give McCoy a listen. A meeting was arranged and the youngster eventually became Pride's opening act. The gig lasted nearly seven years.
"I wanted to sing all my life, but I didn't really care what format it was gonna be in," McCoy explains. "I didn't get any breaks in any kind of music, but when I met Charley, I realised that he was as big an artist as I could meet in any format, so I was gonna try and get into that."
He spent several years learning the ropes of country music, including making some early recordings for the ill-fated 16th Avenue Records, and even touring Britain a few years ago. It proved to be an invaluable education for the young performer.
"Charley obviously has an older crowd, more laid-back and reserved, because that's his following," he reflects. "I played much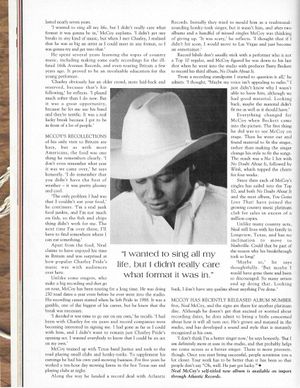 softer than I do now. But it was a great opportunity, because he let me use his band and they're terrific. It was a real lucky break because I got to be in front of a lot of people."
McCoy's recollection of his only visit to Britain are hazy, but as with most Americans, the food was one thing he remembers clearly. "I don't even remember what year it was that we came over," he says honestly. "I do remember that you didn't have the best of weather—it was pretty gloomy and cool."
"The only problem I had was that I couldn't eat your food," he continues. "I'm a real junk food junkie, and I'm not much on fish, so the fish and chips thing didn't work for me. The next time I'm over there, I'll have to find somewhere where I can eat something."
Apart from the food, Neal claims to have enjoyed his time in Britain and was surprised at how popular Charley Pride's music was with audiences over here.
Unlike some singers, who make a big recording and then go on tour, McCoy has been touring for a long time. He was doing 250 road dates a year even before he ever went into the studio. His recording career started when he left Pride in 1988. It was a gamble, one of the biggest of his career, but he knew that the break was necessary.
"I decided it was time to go out on my own," he recalls. "I had been with Charley for six years and record companies were becoming interesting in signing me. I had gone as far as I could with him, and I didn't want to remain just Charley Pride's opening act. I wanted everybody to know that I could be an act on my own."
McCoy teamed up with Texas band Justice and took to the road playing small clubs and honky-tonks. To supplement his earnings he had his own yard-mowing business. For five years he worked ten-hour days mowing lawns in the hot Texas sun and playing clubs at night.
Along the way he landed a record deal with Atlantic Records. Initially they tried to mould him as a traditional sounding honky-tonk singer, but it wasn't him, and after two albums and a handful of missed singles McCoy was thinking of giving up. "It was scary," he reflects. "I thought that if I didn't hit soon, I would move to Las Vegas and just become an entertainer."
Record labels don't usually stick with a performer who is not a Top 10 regular, and McCoy figured he was down to his last shot when he went into the studio with producer Barry Beckett to record his third album, NO DOUBT ABOUT IT.
"From a recording standpoint I started to question it all," he admits. "I thought, 'maybe my voice isn't appealing to radio.' I just didn't know why I wasn't able to have hits, although we had good material. Looking back, maybe the material didn't fit me as well as it should have."
Everything changed for McCoy when Beckett came into the picture. The first thing he did was to see McCoy on stage. Then he went out and found material to fit the singer, rather than making the singer change his style to fit the songs. The result was a No 1 hit with No Doubt About It, followed by Wink, which topped the charts for four weeks.
Since then each of McCoy's singles has sailed into the Top 10, and both NO DOUBT ABOUT IT and the next album, YOU GOTTA LOVE THAT! have joined the growing country music platinum club for sales in excess of a million copies.
Unlike many country acts, Neal still lives with his family in Longview, Texas, and has no inclination to move to Nashville. Could that be part of the reason why his breakthrough took so long?
"Maybe so," he says thoughtfully. "But maybe I would have gone there and been discouraged. So many artists end up doing that. Looking back, I don't have any qualms about anything I've done."
McCoy has recently released album number five, NEAL McCOY, and the signs are there for another platinum disc. Although he doesn't get that excited or worried about recording dates, he does admit to being a little concerned about how it will all turn out. He's grown and matured in the studio and has developed a sound and style that is instantly recognised as his own.
"I don't think I'm a better singer now," he says honestly. "But I am definitely more at ease in the studio and that probably helps me come across as a better singer. There is more pressure, though. Once you start being successful, people scrutinise you a lot closer. Your work has to be better than it has been so that people don't say 'Oh, well. He just got lucky.'"